Gilded Newport #11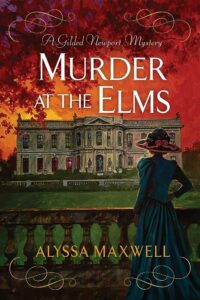 Murder at the Elms is the eleventh book in Alyssa Maxwell's Gilded Newport series, featuring intrepid newspaper reporter Emma Cross, who solves mysteries among Newport's elite.  Emma is a poor relation of the Vanderbilts, so she is intimately familiar with the high society of Newport, while at the same time having sympathy for the working class.  This is the first book I had read in the series, so I don't know the details of Emma's life and upbringing, but from the hints that are given in this novel, it sounds like her branch of the family fell on hard times, and she grew up in an area of Newport that was relatively far from the Gilded Age mansions.  When this book begins, in 1901, she is newly married to newspaper heir Derrick Andrews, and together they own the Newport Messenger.  From what I gather, Derrick's family objected to his marrying her, I assume because she was a poor relation.  But at the same time some of the working-class people among whom she grew up have rejected her because of her wealthy relations.  So, Emma has a foot in both worlds, without really feeling a part of either.
After returning from their honeymoon in Italy, Emma and Derrick have been invited to a musicale at The Elms, the newly-opened mansion belonging to coal baron Edward Berwind, who was a real person.  He owned the White Star ship line, to which the Titanic belonged.  Of course, at the time this book takes place, that was in the future.  The Elms was one of the first houses to be wired for electricity.  Berwind, in the novel, is a demanding taskmaster to his servants, allowing them no time off.  Shortly before the musicale, the servants decide to go on strike.  Only one, a Portuguese chambermaid named Ines, decides not to join the strike.  She confides in Emma, who is there to cover the strike for the Messenger, that she is all alone in America and would have nothing left if she lost her job.  Emma is sympathetic, while at the same time agreeing with the other servants' decision to strike, and offers Ines a place in her home, Gull Manor, which Ines declines.  The Berwinds promptly fire all the striking servants and replace them, giving time off to the new servants, which is what the strikers were asking for in the first place.
At the musicale, Ines' body is found at the bottom of the coal tunnel, and Emma feels a sense of guilt that she didn't try harder to get her to come to Gull Manor.  She and Derrick help Detective Jesse Whyte, a childhood friend of Emma's, to find the killer.  Unlike police detectives in many series featuring amateur sleuths, Jesse welcomes Emma's help, although some of his colleagues do not.  As it turns out, Ines was not as innocent, or as alone in the world, as Emma had thought at first.  She had been going out to meet a man, Rudolfo, a Portuguese laborer who did menial jobs at The Elms.  Soon Rudolfo is found dead as well.
The mystery deepens when a diamond necklace, which supposedly belonged to Marie-Antoinette, is stolen from one of the Berwinds' guests, investment banker Rex Morton.  Morton's wife, Silvie, did not even know her husband had the necklace, and he says he will be ruined if it is not found.  It appears that Ines stole it from Morton's safe and hid it away before she was killed.  Morton is not forthcoming about how the necklace came to be in his possession, and Emma and Derrick suspect he obtained it on the black market.  The Mortons have tensions in their marriage, as do another couple who are guests of the Berwinds, Charles Gilchrist and his much-younger wife Kay.  All these people act suspiciously and keep secrets from each other.
Meanwhile, Orville Brown, a reporter for a rival newspaper, stirs up trouble among the Berwinds' servants.  Amid the chaos, a gardener is killed by a falling statue, and Brown flees the scene, making him look guilty.  Emma suspects he was the one behind the original servants' strike.  As a former colleague of Jesse's, who has left the police, points out to Emma, though, Brown does not seem like the type who is capable of violence.  Instead, he incites others to commit it.  Emma reluctantly agrees.  I suspect Brown has been a nemesis of hers in the earlier books.  As it turns out, Brown is having an affair with an Irish maid who was one of the leaders of the strike.  She was the one who had threatened Ines at the beginning.  But Emma doesn't see her, either, as capable of murder.  She suspects the gardener saw something when Ines was killed, and that his death is related to the others.  And how are the murders and the theft of the necklace related?  Emma is determined to find out.
Murder at the Elms is a delightful book, and a complex mystery with many twists and turns, and plenty of suspects.  I love Emma's character.  She is a fiercely independent woman with a strong sense of justice and great sympathy for the poor, despite being from an upper-class background.  Since I haven't read the previous books, I don't know the history of her and Derrick's relationship, but it seems that they have known each other for a long time, and that she rejected an earlier proposal of his, probably because she wanted to maintain her independence.  Emma and Derrick clearly love each other very much, but Emma is having a hard time adjusting to married life.  As she says, she's been single for longer than most women of the time.  Although her age is not mentioned, I imagine her to be in her late twenties.  She also feels that she and Derrick don't have a home that truly belongs to them both.  Emma has her house, Gull Manor, but she feels awkward about her and Derrick living as a couple there, especially in front of her servants.  Derrick has his bachelor lodgings, which were originally part of Emma's parents' house before they fell on hard times, but Emma doesn't feel right about living there.  I would love to know that story, which I suspect is a complicated one.  From the hints in this book, it sounds like Derrick bought the lodgings after Emma rejected his first proposal, to show his love for her.  Much to my satisfaction, these problems are resolved by the end of the book, but to say more would be a spoiler.
I admit that I was reluctant to take this book on at first, because it's the eleventh in a series where I hadn't read any of the others.  There are other series where I didn't start with the first book, but I don't think I've ever started so late in a series before.  I had heard so many good things about this series, though, that I decided to try it, and I admit that I was tempted by the beautiful cover as well.  I'm glad I read it.  Since this book marks a new beginning for Emma and Derrick as a couple, it can be read on its own, and the hints Alyssa Maxwell gives about their earlier life make me all the more intrigued.  I would love to go back and read the earlier books.  I love the details that Maxwell gives the reader about life in Gilded Age Newport.  She makes you want to go to Newport and visit the mansions she writes about.  From what I gather, each book takes place in a different mansion.  It is a great premise, and Emma is a strong protagonist.  I highly recommend this book. – Vicki Kondelik