Charlotte James #1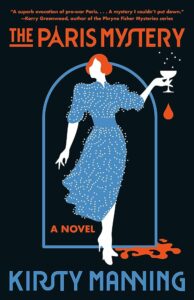 Following a massive upheaval in her life, Charlotte "Charlie" James moves to 1938 Paris to take a new job at The Times as a correspondent. Kirsty Manning's debut novel, The Paris Mystery, follows Charlie as she gets settled in the city of love. With help from her new glamorous friend, the paper's receptionist Violet, Charlie puts on a glittering dress and sets out to make friends with Lady Eleanor Ashworth.
Lady Ashworth is a philanthropic, wealthy woman, whose main interest is in making things beautiful. She and her husband, Lord Ashworth, a British blueblood, run with a crowd of the French elite, including military men, designers, and financiers. Charlie's first assignment is covering one of Lady Ashworth's lavish parties, a circus themed affair for the cream of society. But things don't go as planned, and a rich but unpleasant investor turns up dead.
A new, extremely talented photographer The Times was eying is on the top list of suspects, along with his paramour, a fellow female reporter. But things aren't as straight forward as they seem, even though reporter Milly was holding the murder weapon. Lady Ashworth's relationship with the photographer was complicated, and the victim's financial dealings were far from straight and narrow. A lot of people, including his often cheated on wife, had a reason to want him dead.
The complicated layers of Paris – which is indeed the city of love, everyone was sleeping with everyone – make the relationships between the characters even more of a snarl. Even recently divorced Charlie is drawn to an attractive, and very married, military man. Though she considers herself more demure than the Parisians, Charlie is quite in touch with and aware of her sexuality. One imagines she'll have many romantic interludes in the future.
This is a light romp through glitzy Paris with a little murder on the side. It definitely dips its toes into the romance genre, too. And, given that we start in media res with Charlie, she already feels like a lived in protagonist. It's easy to see her carrying further books to come.
– Margaret Agnew