Meg Lanslow #33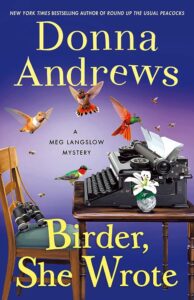 I am very excited to be able to review Donna Andrews thirty-third book, Birder She Wrote. Since I started reading cozies I have always been drawn in by the adventures of Meg Langslow and her quirky and endearing family. Birder She Wrote hits on a theme any and all can relate to: irritating neighbors. Meg's own are so infamous in Caerphilly they have their own nick name: NIMBY, which stands for "not in my back yard." As the Mayor's part time assistant of special projects, Meg finds herself directly in the path of the NIMBYS often. What makes them particularly difficult is that they moved to the countryside without understanding at all what living in a rural area really meant. Or that the others who lived there are farmers, which means many a sight, smell, and sound that did not exactly meet with the NIMBY's idyllic view of what living in the country should be.
While having to act as peacekeeper with the entitled NIMBYs, Meg is also having to deal with her father setting up a bee hive in her back yard and a nosey reporter following her grandmother for a magazine that Meg had never even heard of. Given the reporter's standoffish and uninterested demeanor, Meg cannot fathom what this reporter wants with her grandmother. But all of this gets pushed to the back of her mind when Meg discovers a body in the woods while they are searching for an old family graveyard. Given who it is and where they are found, Meg finds herself thrust into yet another murder investigation.
Luckily, she has a close relationship with local law enforcement, having already proved a useful asset in solving murder mysteries. They even ask her directly for assistance at times, and whatever evidence she comes across that she thinks might be important she does not hesitate to reach out and share. But there is another murder, one that went unreported to police. A local bee farm suffered malicious attacks that resulted in several dead hives. The loss of the hives takes an emotional toll on their owner as well as Meg's father, but also has several economic impacts on not just the owner's farm, but also on a local aspiring business that was to rely upon the honey from the hives. Bringing justice to the bees becomes not only important for the owner, but also may be linked to the murder victim from the woods, too.
As usual, the Langslow family keeps readers engaged with their various antics, but in Birder She Wrote it is clear that, while eccentric, the family knows how to play to their strengths and help each other out. Working cooperatively, they manage to put clues together, and eventually Meg manages to stumble upon the true killer of both the human victim and the poor bee hives. Readers will find themselves pulled into Donna Andrews' world and struggling to take their time to savor the book rather than rushing through to the conclusion. I eagerly await the next installment in the Meg Langslow series, and I highly suggest Birder She Wrote to anyone who is a cozy fan, whether they are long time Donna Andrews readers or not.       –Carla Schantz