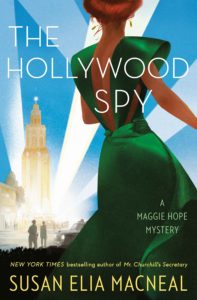 Today I'm really pleased to welcome Susan Elia MacNeal, author of the beloved Maggie Hope series.  Best news for readers – the new addition to this great series, The Hollywood Spy, will be published on July 6.  Susan agreed to give readers an advance look at what promises to be another great read.  You can pre-order it here.
**********************
Lassie Who? Meet Tallulah, the newest star of The Hollywood Spy.
 The Hollywood Spy has a wide range of characters—there's Maggie Hope, of course, and her ballerina friend Sarah Sanderson, who's in Los Angeles to dance in the film, Star Spangled Canteen. There's Maggie's former fiancé, John Sterling, a wounded RAF pilot now working for Walt Disney. And there are cameos from historic figures—Cab Calloway, Howard Hughes, Walt Disney, and Lena Horne, among others. read more