Spice Shop #7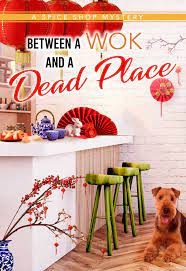 As I hadn't read this series before, it took me a minute to navigate both characters and setting, but once I did, I was all in.  Set in Pepper Reece's spice shop in Seattle's Pike Place Market, the setting in this book was a character all on its own.  This book focuses on the "CID" (I had to look that up), or Chinatown International District during Lunar New Year celebrations, and Pepper is enjoying them with her buddy Seetha.  She runs into an acquaintance (connected to her present boyfriend in a labyrinthine manner), Roxanne, who is coming out of a building looking completely freaked out.  She's found a dead body.
Roxanne, a curator, has been working in an old hotel, the Gold Rush, helping the owner figure out the value of anything left behind in the long abandoned place, and she'd discovered a complete, antique Chinese pharmacy.  Unfortunately, she's also discovered a body there and Pepper, luckily, is on the spot to help. While Roxanne is upset about damage that might be done to her rare find (as well as flipping out about the blood), Pepper is more concerned with the killing itself as well as hooked on the history involved.
The police, when they are called in, have little luck figuring out who the man might be, but Pepper is on the case, trying to unravel the community strands that might have brought this man to that particular place.
Meanwhile, Pepper has to run her spice shop, where she's attempting to hire a couple new employees (a frustrating task in this day and age); take care of her dog Arf (she's lucky enough to take him to work with her); worry about her parents, who are trying to find a house in Seattle's pricey market; and miss her boyfriend, Nate, who's in Alaska running his own fishing business.  She manages to squeeze in some investigation time, nevertheless.
The family who owns the old Gold Rush hotel provide puzzles of their own.  The evaluation is being undertaken by the son, Oliver (who is dating Pepper's friend, Seetha), but the parents seem to be the owners.  The father, Bobby, who owns a comic book store, appears completely uninterested, and Oliver's mother, Abigail, while appearing somewhat interested, also seems to be ill and frail.
Budewitz supplies a very vivid and complete background, including the trouble the merchants in the area have with traffic and parking (as a former retailer, I know this obsession is completely believable), and she paints a good picture of the Lunar New Year celebrations, which include lots of delicious sounding food.  The spice shop itself is a great backdrop, and Pepper's love of herbs and spices as well as detective novels often prompts her to wonder what would her favorite mystery solving monk, Brother Cadfael, do. I love a character whose spirit guide is Brother Cadfael.
The mystery part of the novel is nicely tricky with a resolution involving decades and decades of built up resentments.  Reading through Budewitz's blog, I was interested in her definition of a cozy, which she says have "two parallel investigations" one run by the police, one run by the amateur sleuth.  Because the amateur is enmeshed in the community, she (or he) brings something to the table the police do not. She says, "Ultimately, these books are about community."  I don't think I've read a better explication of a cozy, and it's one I had in mind as I read this thoughtful and well written mystery. — Robin Agnew