Review by Nancy Shaw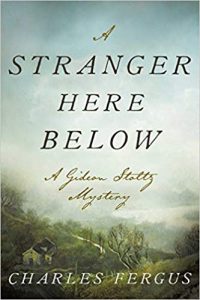 Gideon Stoltz has come to Adamant, Pennsylvania, in the 1830s from his family's farm in Pennsylvania Dutch country. A run-in with brigands has led him to the sheriff of fictional Colerain County, an area of deep hollows, heavily-forested hills, small farms, and a prosperous ironworks. He becomes the sheriff's assistant, despite being out of his element. The local Scotch-Irish deride his Pennsylfawnisch Deitsch speech and habits. When he marries, he endures his in-laws' teasing. He adores his wife and son, but feels he is a stranger. The historical mystery A Stranger Here Below is the first of a planned series about this sympathetic protagonist.
When the sheriff dies, Gideon is appointed to take his place. After a day out hunting with his friend Judge Hiram Biddle, he returns the next morning to find the judge dead of a self-inflicted shotgun wound. Everyone is stunned. Why did Biddle do it? Gideon can't shrug the death off.
Only after Biddle is gone does Gideon learn how the judge's life was blighted 30 years before. Biddle's fiancée's father, the Reverend Thomas McEwan, was accused of killing an insolent young man, Nathaniel Thompson. Thompson's older and more serious brother Adonijah is still the area's wealthiest and most powerful man, the owner of the ironworks. He and Hiram Biddle had been at loggerheads over a court case, and as rivals for Rachel's hand. Biddle had doubts about the murder case—the Reverend McEwan admitted hitting Nat with a maul, but said Nat had jumped up and run away. Yet the minister had a history of sleepwalking–and a head injury himself from the altercation. He confessed he must have found Nat's body, dug a grave, and buried him, unaware of his actions. Judge Biddle sentenced him to hang, and Ad Thompson stood smiling as the minister died. Rachel departed.
In a story within the story, Gideon pores over Biddle's journal from 1805. The judge describes his joy when Rachel accepts him, and his bleak feelings over the trial's outcome.
Soon a young Pennsylvania Dutch clerk is found brutally beaten and robbed behind a tavern, and Gideon suspects a glib newcomer who calls himself George England, about whom Gideon's grandmother-in-law has warned him. She, like Gideon's wife True, has "the sight." (Power to sense things to come is handy to have in the family when forensic techniques are primitive).
Gideon also seeks a weathered old tramp who had talked with Judge Biddle a day before the judge's suicide and had also barged into the Thompson mansion asking, "Is Ad here?" Gideon looks for a connection. Another murder comes to light. It's up to Gideon to bring justice.
Author Charles Fergus steeps his story in folkways, portents, and religious themes. Halley's Comet orbits closest to Earth as good and evil accost each other in this backwoods post-Eden, where the flames and danger of the blast furnace—Adonijah's source of wealth—evoke hellfire.
Among the Biblical names, Gideon's given name has echoes of a hero who leads the Israelites to defeat their enemies, while his last name comes from the German word for "proud." True's name speaks for itself.
Many of the locals believe in ghosts, and Gideon's often-awkward English has him pronouncing "hunt" as "haunt." He is haunted as he hunts murderers. Witnesses to old wrongdoings are haunted, too.
Shape-note hymns provide the book's title and introduce the chapters. "The harmony was raw, in the minor mode, utterly different from the Hoch Deutsch hymns of Gideon's childhood…The hymns' poetry, their lyrics, never failed to move him. Each song, it seemed, had the power to inspire him, or terrify him, or uplift him—or wound him. Some of them made him recall things he didn't want to remember."
Gideon and True later stand in church, singing,
Is there here a trembling jailer,
Seeking grace, and filled with fears?
"He was the trembling jailer, the sheriff who had no business being a sheriff, the man stumbling around looking for questions he barely knew enough to ask." The book is a meditation on family bonds, the fragility of life, and power and corruption. It also deals in ironies: using lies to combat lies. In a place of brawls and predators, which blows to the head will have deadly consequences? If you like your mysteries charged with religion and history in a minor key, come spend some time searching for answers with Gideon Stoltz.
**************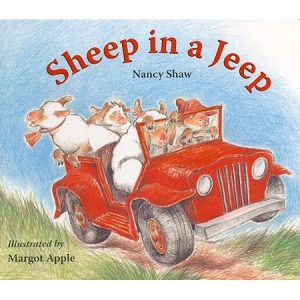 Nancy Shaw is the author of ten picture books, including the Sheep in a Jeep series, and an avid mystery reader.  Her Scotch Irish ancestors settled in central Pennsylvania shortly after the time in which A Stranger Here Below is set. She lives in Ann Arbor, MI.