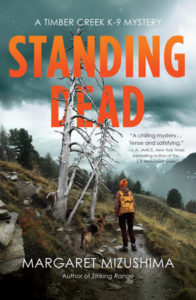 Book eight of this strong, enjoyable and very readable series finds Mattie Wray on the precipice of avenging the family trauma that made her childhood an extremely difficult one.  Two books back (Hanging Falls) Mattie at last reunited with her long lost sister; in the previous installment, Striking Range, she reunites with her mother.  As this book opens, she and her sister are heading to Mexico to see their mother together, but when they arrive, she and her husband have vanished.
There's quite a bit of backstory to wade through at the beginning of the book.  To set the stage for a new reader, Mattie is an officer in the Timber Creek, Colorado, police department, where she works with her K-9 companion, Robo, who always has a key role in the stories.  Mattie is involved (and on the verge of marrying) the local vet, Cole, and his veterinary work and family are part of the strong backstory of the novels that ground the books, making them pack an emotional and relatable punch.
As I had missed the last novel I had a bit of catching up to do, but when Mizushima launches the story that powers this novel it was hard to stop reading.  She uses two threads.  One involves the apparent poisoning of two horses and one involves the "standing dead" of the novel.  The horse story involves Cole; the other story, Mattie. The standing dead are the trees in the Colorado forest that have been decimated by insects, and they are literally "standing dead" in a ghost forest.  The other standing dead, of course, is a dead body lashed to a tree, the body turning out to be Mattie's missing stepfather.  And worse, there's a note on his body, specifically threatening Mattie.
As Mattie and the other officers clear the campground where the body was found, Mizushima sets up a nice pool of suspects for the reader.  She writes kick ass action novels, but she's also – like Lee Child or Sara Paretsky – a mystery writer, and her mysteries are well constructed and thought out, the action tied to the detection work taken on by Mattie and Robo. As violent incidents mount and more letters are found, there's a ticking clock element to the story, one that's accelerated when it's clear Mattie's sister has also disappeared.
As Mattie gets closer to a solution – and much closer to personal danger – the situation nicely illuminates the relationship and depth of commitment between her and Cole, and as always, the depth of the relationship between Mattie and Robo.  Robo finds the first body and he continues to be invaluable, discovering clues where human eyes have failed. When the ultimate ending to the story involves extreme peril to Mattie herself, I promise you your fingers will be glued to the pages as you keep turning them to find out what happens.  A page turner and a good mystery – that's what I call a great read.  — Robin Agnew