I had a really, really hard time keeping this to 10 books – hence my lengthy honorable mention list this year.  This is the first year this list is all women!  That was my goal when I closed the store – to cover new series and books by women and it looks like that's what's happening organically.  These are the books that stuck with me all year, books that when I read them, I was entranced and transported. They appeared in different ways. Mariah Fredericks pressed an early advance copy of The Lindbergh Nanny into my eager hands at Malice Domestic last spring – it was a book I was very excited to read and I was not disappointed.  I saw the cover of Blackwater Falls and it called to me – again, I was not disappointed.  I was interested to see Deanna Raybourn doing something so different – again, no disappointment.  It's such a fun journey of discovery. Some on this list are veterans turning in great books, some are new series or standalones – all have that great, memorable sparkle.  What a wonderful year to be a reader. I did include one reference book this year, one so exceptional it would be criminal not to give it a shout out.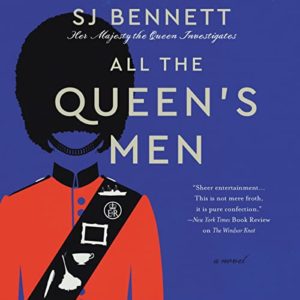 All the Queen's Men, SJ Bennett (Her Majesty the Queen Investigates #2). I love this series.  I love that Bennett was clever enough to set these books a few years back – the Queen is still alive, and so is Prince Philip.  Along with exposing the inner workings of running a massive enterprise like Buckingham Palace, these are wonderful detective novels with a nice synergy between the Queen and one of her private secretaries, Nigerian born Londoner Rozie Oshodi. The Queen and Rozie are always one step ahead as they solve the murder of a housekeeper drowned in a pool on the palace grounds.  This is also a sly look at the way women are often treated and dismissed by men.  The Queen listens to her advisors…but despite their mansplaining, she already knows the answers.  I can't recommend these books highly enough, and happily, there's a third one scheduled for 2023.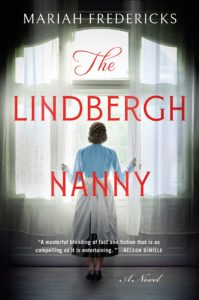 The Lindbergh Nanny, Mariah Fredericks. Mariah Fredericks presents readers with a standalone focused on the Lindbergh's nanny, Betty Gow, who was the main caretaker for little Charlie before he was kidnapped.  The Lindberghs are of course present in the story, but this is Betty's story, a story of a young woman trying to make her way in a new country, and the story of a large household visited by an awful, unthinkable tragedy.  The prose is lovely, the characters are defined and memorable, and the explication of the crime seems absolutely reasonable.  This gives the reader an emotional "in" to one of the crimes of the last century, when Anne and Charles Lindbergh were two of the famous people on the planet.  A beautiful, spectacular, and memorable read. (Full review in Mystery Scene).
The Woman in the Library, Sulari Gentill. This odd, endearing and weirdly tricky book is a meta meditation on the traditional detective story.  Playing off of Agatha Christie's The Body in the Library, author Sulari Gentill yanks this classic into the present.  In Christie's Body the corpse of an apparently unknown young woman appears in the library of a private home.  In Gentill's update, four young people are sitting near each other in the Boston Public library.  The main character, Freddie (or Winifred), a mystery writer, is working on a new book and she's observed the others sitting near her, giving them nicknames as she slots them into a possible book.  Freud girl, Heroic Chin and Handsome Man have all invaded her imagination, when their real iterations hear a blood-curdling scream. The scream unites the four, and when no one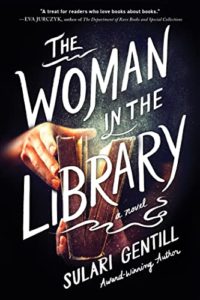 can find a body in the library, they disperse – but of course a body is discovered later.  The four form a loose group to try to understand what happened to the dead girl and how she got that way.  The story is particularly meta as the story of Freddie and her friends – who are actually named Marigold, Whit and Cain – is a book being written by a "real" woman named Hannah.  She is writing her novel in Australia and sending chapters to a beta-reader named Leo in Boston who offers critiques as well as putting her on the right path as far as American expressions and Boston locations go. If novels as ingenious as this one continue to be written, there is so much to look forward to as far as the mystery genre goes.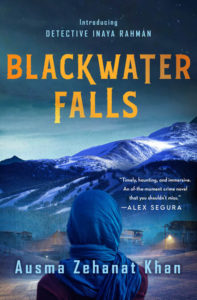 Blackwater Falls, Ausma Zehanat Khan (Detective Inaya Rahman #1). This book opens with a bang and doesn't let up.  A young woman is found crucified on the door of the local Evangelical Church in Blackwater Falls, Colorado.  The dead woman, Razan, is a Muslim, which brings in Denver's Community Response Unit, or CRU, who are called in on cases of racial sensitivity.  The squad is headed by Lt. Seif, but the book centers on one of his officers, Detective Inaya Rahman. The local sheriff is annoyed that his case is being preempted by the CRU and does his best to be unhelpful. Khan then proceeds to unpack the cultural discomfort and hatred that's aimed at the Muslim community in this tiny, apparently idyllic town.  She uses the police procedural format to do it, but gives it a cultural slant that makes it new and gives it a totally different point of view.  Rahman and her partner, a Latina who has had her own immigrant horror story, solve the case, ruffling establishment feathers and keeping Lt. Seif on his toes.  There's plenty more to unfold in coming installments as the characters she's created are so rich and fascinating, as is the community she's created.  This book was outstanding.
Back to the Garden, Laurie R. King. With 20 plus novels to her credit, including a long and popular series, I was surprised and delighted to read this unruly, memorable book by King, set long ago in the early 70's as the swinging 60's were breathing their last.  King, as always, is mistress of the great set up, and as the book opens, a statue on the grounds of an estate-garden-museum in California is being moved, as it's about to fall over.  Underneath, the workers discover a skeleton.  Using twin narratives, King posits to the reader that the skeleton could be the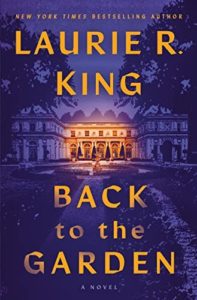 work of a serial killer, whose victims are being tracked down by Inspector Raquel Laing; or it could be connected to the commune that existed on the property when it was inherited by Rob Gardner.  King recreates the idealism of the 60's – with many references to the Garden of Eden – contrasting it with life's messy reality.  As usual her delicious prose and story set up draw you in. This was a lovely read. (Full review in Mystery Scene).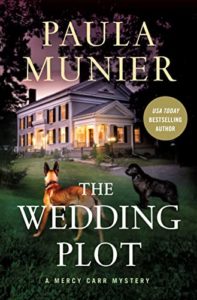 The Wedding Plot, Paula Munier (Mercy Carr #4). Sometimes a series installment can be such perfection it must be acknowledged.  Four books into her Mercy Carr series, Paula Munier is really cooking with gas and all her story elements are a smoothly operating machine.  With the slightly cozy set up of a missing yoga instructor at a bespoke wedding in Vermont, Munier then rocket powers her story, featuring Mercy Carr and her dog, both of them vets of the Afghanistan war.  Mercy (and her dog, Elvis) are still finding their feet but when it comes to action, they are all in.  If Sara Paretsky included cozy elements in her books, they might read like Munier's.  Munier has her own deal though, involving Vermont, Shakespearian epigraphs, and the relationship between Mercy and Elvis, as interesting as any human romantic relationship. Start at the beginning (A Borrowing of Bones) – all the books are great reads.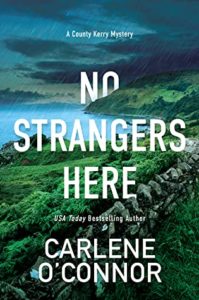 No Strangers Here, Carlene O'Connor (County Kerry #1). What a leap for talented cozy writer O'Connor, who takes her writing in a many shades darker direction, putting her in a league with writers like Ann Cleeves and Deborah Crombie. Set in tiny Dingle in County Cork, vet Dimpna is called back home as her veterinarian father is suffering from dementia, and her tarot card reading mother is linked romantically to a dead man whose body was recently found on the beach. Dimpna finds chaos at the clinic and ends up smack dab in the middle of a murder investigation.  She's also dealing with the whereabouts of her adult son. O'Connor creates an entire community, with history, long standing relationships and feuds, and an array of deeply felt and defined characters.  Dimpna's vet skills are part of the plot, advancing the story and lending an All Creatures Great and Small feel to the narrative. O'Connor also tells a wonderful story, which, while dark, is far from missing hope at the end of the novel.  A great read. (full review in Mystery Scene).
Under Lock and Skeleton Key, Gigi Pandian (Secret Staircase #1). This first novel in a new series from Gigi Pandian is so rich, so stuffed with character, plot and setting, it takes a moment to absorb everything the intelligent Pandian is throwing at you.  She expects you, the reader, to hit the ground running.  Her main character, Tempest Raj, is a magician and illusionist whose career has been crushed by a spectacular failure onstage in Las Vegas, and she's back home reconsidering her life. Her father runs a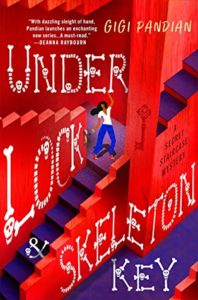 company called Secret Staircase Construction – they add witty hidden rooms and staircases at the request of a homeowner.  At the moment they are working on an old Victorian recently acquired by a man and his young son.  The day Tempest visits the construction site, a dead body – resembling Tempest – comes tumbling out of the wall.  It's not Tempest, of course, but her former, lookalike assistant, and the discovery of her body leads to many, many questions. While this book is at once an almost fey look at the tricks and secret construction of the houses her father works on as well as her own family homestead, Hidden Creek, it's also a peeling back of the layers of Tempest's backstory.  Tempest uses her smarts and a little bit of magical misdirection to get to a solution. This is a true locked room mystery, and Pandian's reverence for the classics – not a shallow love on her part, but a deep one –  held my interest and made me appreciate this odd and precious book all the more.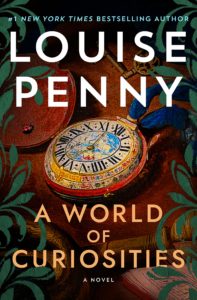 A World of Curiosities, Louise Penny (Chief Inspector Gamache #18). Penny hits it out the park in book 18 of her beloved series, finding more to unwrap in tiny Three Pines.  This is Gamache and Jean-Guy's origin story.  Jean-Guy is a surly malcontent, but Gamache sees something in him and together they investigate the death of an addicted mother on a beach.  The two men become interested in the fate of her children, and as the book fast forwards to the present, the children are now adults.  The daughter is graduating from the Ecole Polytechnique, and this brings the memory of a (real) shooting back all too vividly to Gamache.  It's the reason he refuses to carry a gun.  Meanwhile, bookstore owner Myrna needs more space, and when an extra room is discovered in her attic, they discover a copy of a famous painting, which, as it happens, is salted with clues.  Penny tells a detailed and complex story that, in her capable hands, is a delight to read and unpack.  She deepens Gamache's and Jean-Guy's characters and relationship and she takes many disparate threads and expertly weaves them together into a compelling whole.  This is an author who only continues to grow and develop, and, as a reader, it's a pleasure to be a part of the journey.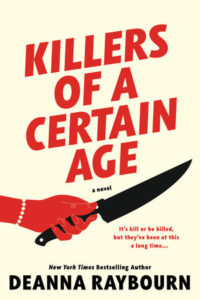 Killers of a Certain Age, Deanna Raybourn. The most fun "between the covers" all year long.  Raybourn's blast of a read featuring 60 something lady assassins on a retirement cruise could not have flown faster through my reading fingers. When the retirement cruise goes all wrong and it's clear there's actually a hit out on them, the ladies take their varied skill sets and withdraw to figure out why their former employers are trying to have them killed.  Studded with perfect little vignettes that not only demonstrate the professional skill sets of the different women but also manage to advance the plot, this story could not be in more masterful hands. With trademark humor, snap, and sparkle, this was so much fun it should almost be illegal.  There's also the world's most hilarious phone app, and for those of us of a certain age, the sore knees will strike a realistic note.  Run, don't walk, to obtain a copy.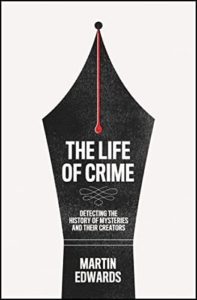 And this year, I must include Martin Edward's incredible reference book, The Life of Crime, an absolutely essential tome for a full look at this genre.  You can dip in and out – he explores noir, golden age, police novels, and more – and he goes back to the very beginning, which is not, as you might think, Edgar Allan Poe.  It's far earlier.  Edwards has long been known as a scholar as well as a novelist, but this may well be his masterwork.  Despite the cost, it's a worthy addition to your library.