One reason I love historical mystery fiction so much is that the characters are operating without technology – they are using old fashioned deductive reasoning to solve their cases.  This year there was an incredible variety of wonderful work to choose from, embracing periods from just pre-WWII America in both the Southwest and in LA; to the East Coast in the 50's; to Ohio in the 20's; to Emily Dickinson and her maid investigating a crime close to home.  And of course there are some new installments of some always excellent series fiction, as well as two break outs with first in series books.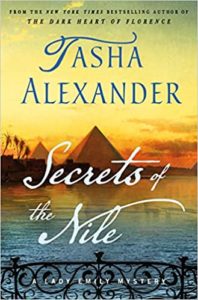 Secrets of the Nile, Tasha Alexander. The annual return of Lady Emily – wherever she may journey – is always something to celebrate. In this outing, Tasha Alexander's 16th, Lady Emily and the dashing Colin have chosen to accompany Colin's mother on a trip down the Nile.  The host, Lord Deeley, is an admirer of Lady Hargreaves, Colin's mother, as well as an old friend, and joining the expedition is Colin's daughter Kat.  Emily has a slightly prickly relationship with both women, one she tries very hard to set right.  When they arrive at Lord Deeley's home in Luxor and he drops dead, Emily and Colin investigate.  This book is a story of family alliances and tensions as much as it is a murder mystery.  There's a parallel narrative of family tensions in ancient Egypt, where the focus is on a family of artisans.  They had their own community set up near the great tombs of the pharaohs, where the statuary and decorations were created. This is also a novel of assumptions.  Look at things one way, and they appear to have a certain solution, look at them from another angle, and a different solution becomes clear. This, along with the obvious Nile journey similarity, highlights Alexander's homage to Agatha Christie. And it's with this very Christie like method that Emily solves the crime. Alexander puts together a wonderful traditional detective story as well as a deeply felt and illuminated historical novel.  As always this was a blast of a read, and it will be a very long year for me before I can again meet up with Lady Emily.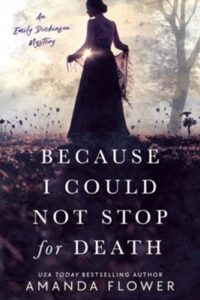 Because I Could Not Stop for Death, Amanda Flower. Amanda Flower's charming historical mystery is set in the household of Emily Dickinson and her family around 1855.  The main character is not Emily herself (though she is a strong second) but the new maid in the Dickinson household, Willa Noble.  One of the more fascinating aspects of this novel is Flower's ability to put the reader into a different mindset – Willa's simple expectations are so different from the highly enlarged expectations of the early 21st century. The other revelation is Emily Dickinson herself, who hires Willa on a whim and whose character is delineated, quite believably, by Flower as intelligent, unconventional and clear and direct in thought.  As Flower is a mystery writer, however, she also supplies a heartbreaking mystery involving the death of Willa's brother.  Emily takes matters in hand and insists they investigate. What was really front and center for me was not the gentle mystery but the character of the two women who are investigating it. Made new, to a degree, is Emily's poetry.  Scraps of paper are everywhere around her and at one point Willa discovers a scrap with the words of the poem "Because I Could Not Stop for Death" on it.  Flower takes the reader to a moment when these words, which must have been both radical and odd for their time, were new, and not familiar as they are now.  It's quite a feat on Flower's part. I very much enjoyed this book and hope it will be the beginning of a series.  The working bond between Willa and Emily was beautifully drawn, and I feel there is more shading to come.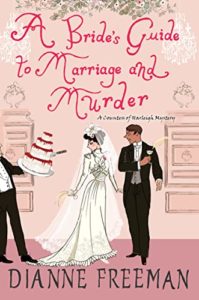 A Bride's Guide to Marriage and Murder, Dianne Freeman. I knew from Dianne Freeman's first book that this was a special series, and the subsequent books have done absolutely nothing to change my initial opinion.  In this installment, she manages to carry off the wedding of the main character without destroying the interest and tension in the novel. These books are nice historicals – set in 1900 London, the details of houses, clothing, social rank – all add to the stories.  But they are the back drop to Freeman's true gift, which is assembling and telling a good mystery story.  Because of the time period the detecting has a golden age feel. There's a small circle of suspects, and the fact the main character, Lady Frances and her now husband George, are amateur sleuths is completely believable as the police force was still kind of a work in progress. Frances and George put off their honeymoon when a body is discovered next door just as their wedding celebration concludes.  Frances' brother, Alonzo, is the main suspect, and Frances' family feel comfortable coming to her at all hours with their ideas and thoughts on the investigation. Freeman's tone is light and often funny, and she has a truly deft hand with character, from her mainstays down to some sidebar characters in this outing, thugs named Sidney and Archie, who make a couple of appearances and further the storyline when they do appear.  They were the cherries on this particularly delicious cupcake.  I am also awaiting the honeymoon – I know it won't go smoothly, but I am sure it will be a happy one.  Frances and George are that rare couple in literature that work in sync, are happy together, and make the stories better by simply being a unit.  These books are funny, well plotted, and filled with characters I have grown to love.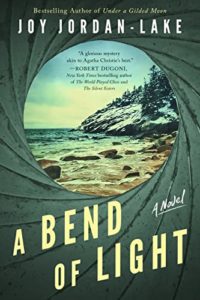 A Bend of Light, Joy Jordan-Lake. Joy Jordan-Lake's novel, set in 1950 about a minute after the war ends, takes an unusual slant.  Her main character, Amelia "Amie" Stillwell worked as a photo interpreter during the war and she's just lost her job – her boss was sure she'd understand the promotion went to a man with a family, also a vet.  As she's a vet herself, she heads home in an angry stew, to reunite with her foster mother, Shibby, and to figure out what to do next. Amie is also reckoning with her past, good and bad.  She's missing the boy she was closest to growing up, Jake, who she's assuming was killed in the war though she can't seem to discover any details, even after calling the war office repeatedly.  Amie is also re-connecting with the town, and with various people she'd known growing up, who have, of course, changed in various ways.  The reckoning with her own past is a big part of the novel, but there's also a body in a barn, which may or may not have been an accident (was the woman kicked in the head by a horse?) and another, truly shocking, accident that turns the town inside out.  This is a mystery, so of course neither of these events are accidental. I loved the Maine setting, which is vividly drawn and brought even more to life by Amie's photographic outings as she works to set up a gallery downtown.  I also loved that Amie uses her actual skills – photography and her artist's eye – to solve the crime.  And I also loved the beautiful prose.  Jordan-Lake has a way with a sentence that can break your heart.  This was a wonderful and unusual read. (full review in Mystery Scene).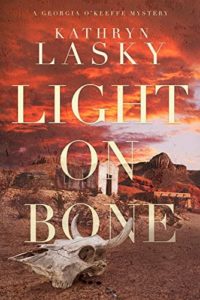 Light on Bone, Kathryn Lasky. This is the first in a series featuring Georgia O'Keeffe as the detective.  That made me hesitate, but this was an intriguing and interesting read, and it gave me a new appreciation of O'Keeffe.  I can only assume the author is a huge fan – I was before I read this book, but am now even more so after taking this well-imagined trip inside O'Keeffe's creative brain, and (virtually) visiting the Ghost Ranch in Abiquiu, New Mexico, where she did the paintings that have made her an icon. I loved this glimpse into O'Keeffe's life and I loved the early morning walks where she never leaves the house without her snake stick.  She beheads a rattler right off the bat, establishing her bad-assery, as if that were needed. Georgia has come to the desert for clarity and to recover from what was called a nervous breakdown of sorts after discovering that her husband, Alfred Stieglitz, had cheated on her.  Georgia appreciates the solitude, quiet, beauty and light she finds in the desert.  Unfortunately, as she's out on an early painting expedition, she discovers the dead body of a priest.  The law, in the form of the sheriff and an unusual female coroner (it's 1934) are summoned and the mystery is underway. The mystery is not completely front and center.  This is a character study, and since the character is Georgia O'Keeffe, it's very hard to look away. The story, while set in '34, anticipates the next war, and it's a very different take from many of the books set during the war in Europe.  It gave me a different way in to what was happening. All in all, a nicely assembled story with a fabulous woman at the center of everything. (full review in Mystery Scene).
Mother, Daughter, Traitor, Spy, Susan Elia MacNeal. In her Maggie Hope series, Susan MacNeal has seemed to be more and more interested in the US side of the outbreak of WWII (see The Hollywood Spy, 2021).  In this novel, a standalone, she pursues that interest, creating a terrifying account of Nazism in America in 1940.  Her central characters, mother and daughter Vi and Veronica, kick off the action with Veronica's graduation from Hunter College in New York.  Veronica is looking forward to an internship at Mademoiselle magazine, but thanks to an unfortunate turn of events the internship is rescinded. She and her mother, along with her Pasadena based Uncle Walter (in town for her graduation from Hunter) make plans to move to California.  Uncle Walter is willing to let the women live in his beach house. The two women end up enmeshed in the America First movement, working undercover, Veronica as a secretary, and Vi plying her skills at embroidery.  MacNeal has stuck pretty closely to facts, but she illuminates the emotions and extremely divided politics that existed in our country just prior to the war.  In this novel, as in reality, Pearl Harbor puts a cap on things, but MacNeal makes clear things were much messier and more unsettled than you may have thought.  There's also a scary parallel to what's happening in our country today.  In 1940, America and the world were on a knife's edge. MacNeal's beautiful and deeply felt prose takes the reader there.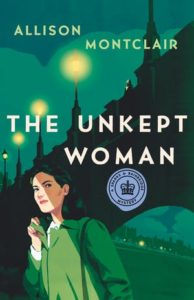 The Unkept Woman, Allison Montclair. This series goes from strength to strength. Set in just post WWII London, Iris Sparks and Gwen Bainbridge run The Right Sort, a marriage bureau (apparently something that existed at the time). Iris worked in intelligence during the war, and Gwen, a daughter of privilege, is a bereaved widow who lives with her inlaws and young son as they have had her declared mentally incompetent.  The two find solace and purpose in running a business together. Like the other books, the story begins when a woman shows up at The Right Sort supposedly looking for a match.  To Iris' surprise, Gwen turns her down, and she follows the woman out the door.  It turns out she's pregnant.  That's something The Right Sort doesn't handle.  Then there's the matter of a dead body in the apartment Iris lives in, leased for her by her ex, Andrew.  When he turns up again, Iris calls in reinforcements in the form of her gangster boyfriend, Archie, and takes off for Gwen's place to wait out Andrew's infestation of her apartment.  Through a clever series of events, the dead woman is mistaken for Iris, and then Iris in turn is suspected of killing her.  These are incredibly intelligent, well written novels that hinge on plot as much as they do on character.  The complications introduced make way for a solid solution, one that has some interesting twists to it.  This series is a real standout.
The Echoes, Jess Montgomery. This is the kind of book you read with a lump in your throat.  Jess Montgomery's portrayal of 1920's Ohio is so deeply felt, so evocative, so redolent of history and memory and shared experience, that to read one of these books is to be completely immersed, while at the same time feeling all of  human experience. Montgomery covers it all – birth, death and everything in between.  This novel seemed to me to be the most focused of her books plot wise, and that seemed to give this story an extra intensity. It's centered on a young girl named Esme, who, it turns out, is Lily's illegitimate half sister.  Lily's mom, unknown to her family, has arranged for her to come to Ohio.  When Esme is kidnapped on the way there, the book becomes both a chase novel, and a novel of memory, as Lily's brother, Esme's father, was killed in WWI.  The true narrative and emotional backbone of the story is Roger himself.  He was respected and beloved in town, and many of the men in the story, including Lily's beau, Benjamin, are veterans who served with Roger.  Then there's Esme, and the connection she brings, and there's Lily's friend Hildy, who was engaged to Roger before he left for the war.  All of the threads of memory and loss belonging to these various characters wind through the story.   The connections to Roger are strong or slight, but he's influenced those he's left behind in more ways than one.  The main connection of course is his mother Beulah, and the ways his loss has affected her life. Montgomery creates and writes about community in all its pain, beauty, and necessity.  While there are several deaths in the book the message of community is the one I took with me.   I can't recommend this series, and this particular book, more highly.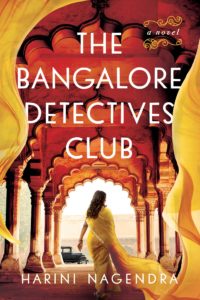 The Bangalore Detectives Club, Harini Nagendra. What a joy it is to read a first novel that truly sings, as Harini Nagendra's first effort does.  Set in Bangalore, India, in 1921, the book follows Kaveri Murthy, a new bride who has been married for awhile but has just come to live with her husband.  She and her husband, Ramu, a doctor, are adjusting to married life and slowly discovering that they like being married.  As natives in a country run by another country, they are in an uncomfortable position, and in 1921 India, freedom was beginning to be afoot.  However, closer to home, Kaveri is learning to cook, finding ways to take a swim, and hoping to continue her mathematical studies. When the Murthys attend an event at a country club, with a mix of British and Indian couples, Kaveri discovers she has much to learn about living in Bangalore and functioning as a high level society wife.  When a dead body is discovered in the country club garden later that night, her mathematical and curious mind sets to work. This was a lovely novel of exploration – Kaveri's of Bangalore; the Murthys as they discover their marriage will be a strong and loving one; and the exploration and solving of the murder of the man in the garden.  He is not to be the only victim.  This is a book for fans of the traditional mystery novel – Sherlock Holmes is even referenced.  The setting is rich, and the characters are wonderful, with room for further development in future books. I am now counting myself as a fan and am looking forward very much to book two. (full review in Mystery Scene).  Read my interview with Harini Nagendra here.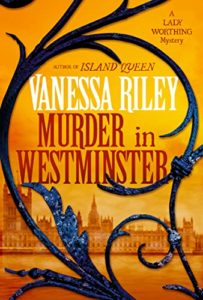 Murder in Westminster, Vanessa Riley. Sometimes all it takes is a small change in point of view to make a huge difference.  Vanessa Riley's lively historical mystery set in 1806 London sets itself apart from the several other Regency historicals out there at the moment by simply creating a black main character.  Her main character is Lady Abigail Worthing, a young Blackamoor married to a naval officer.  Through her marriage she saved her family from debt, but in the process became estranged from her sister.  Her husband is rarely home (not at all in this novel, but I'm thinking he might appear in future installments), so when her neighbor's wife is discovered murdered in their mutual back yard, she is forced to deal with it alone.  Abigail manages to solve the crime by looking deeply into the dead woman's backstory.  She has the help of her well-placed godfather as well as her cousin, Florentina. Abigail has a smattering of her mother's gift of second sight and another smattering of plain old intelligence that allows her to analyze events and evaluate them clearly.  In short, she's a perfect detective.
Riley's storytelling gift is strong and her prose is lovely and evocative.  She made me see 1806 London in an entirely new way – I'm a fan of Jane Austen as well as Dianne Freeman and many others – but she gave me the gift of an expanded perspective, along with a really well told mystery.  The denouement is particularly clever and includes both grim irony and a dandy twist.  This is a wonderful series set up.   Read my interview with Vanessa Riley here.