So many cozies – so little time!  Reading cozies for my Mystery Scene column has been a real joy, and an extra joy was that the column focused on my favorite of formats, the mass market paperback.  A long ago customer, a pilot during WWII, told me he learned to love Agatha Christie during the war as he was able to stick a paperback in his back pocket.  This format is slowly being squeezed out, but to me it's the best way to have a little rectangle of affordable, portable happiness always on tap.  Hopefully this list will give you a place to start (not ALL on this list are mass markets, but most of them are). Dive in!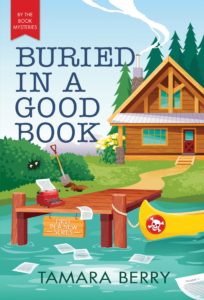 Buried in a Good Book, Tamara Berry.  The premise of the novel is quite meta:  thriller writer Tess Harrow has headed to her grandfather's cabin in the woods with her surly teen daughter, Gertie.  The cabin has no electricity or running water and, horror of horrors, no cell phone coverage, but Tess wants to get away to write and to get Gertie's mind off the fact that her father has abandoned her.  It's a rough landing for the two women as they are greeted with the sound of mysterious explosions and shortly after, fish corpses as well as human body parts start raining from the sky. The story is a complex one with some pretty thorough red herrings.  Berry is excellent at the nuances of character and human behavior. Tess operates with a combination of smarts, instinct and memories, making her lurch toward the truth a lurch that is extremely relatable. Thankfully, she never rushes into the dark alone (though she still ends up in some dicey situations).  This first in a series is truly original, funny, and well written.  A real standout.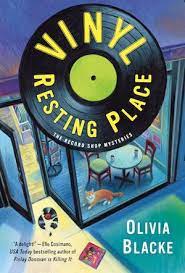 Vinyl Resting Place, Olivia Blacke.  This series opener is based in a newly opened vinyl record shop just outside musical Austin, Texas.  It's owned by three sisters, Juni, Maggie and Tansy, but Juni is the heroine.  There are two romantic possibilities lurking, though the two must get past her protective older sisters; and when their opening night is ruined by a dead body in the storeroom, it's investigated by one of them, her ex, now a cop.  This is a really well plotted mystery with actual very mysterious elements (for example, Juni's uncle has disappeared after cutting off the tether the cops put on him). The details of running a shop feel just right and also make the story full of interestingly specific detail, and Juni herself is a great, funky character who gets around town on a lime green trike.  Fun AND smart, a great combo, and I can't wait for more.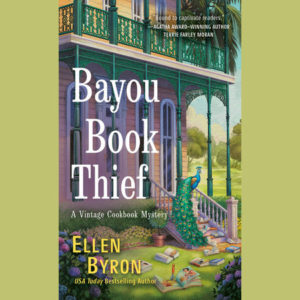 Bayou Book Thief, Ellen Byron. Recently widowed Ricki James heads back to her place of birth, New Orleans, in search of a fresh start.  The shadow of her dead husband, an internet star who did crazy stunts (and died doing them) follows her, as does her recent gig working for a disgraced Bernie Madoff type.  She's in New Orleans licking her wounds in a shotgun house whose air conditioning has gone kaput.  As the book opens, Ricki is getting ready to make a presentation that will hopefully score her a gig selling vintage cookbooks and cooking equipment.  The shop would be inside the Bon Vee mansion, the stately home of the late "Miss Vee", a storied New Orleans restauranteur and chef.  Ricki gets the green light to set up her shop, and Byron introduces the reader to an array of characters who make up the staff of the home-museum.  One of the more unpleasant folks she encounters, Franklin, turns out to be a book thief – caught by a kid in the store – and it's not long before he turns up dead in a box of books being delivered for Ricki's perusal. Ricki uses deductive smarts gained from her skills as a book appraiser and dealer to pursue the killer.  Much of the strength of this series opener lies in Ricki's hunt for vintage cookbooks and vintage gadgets. I liked Ricki, I loved the visit to New Orleans, and I loved her shop at Miss Vee's.  Byron includes some dandy vintage recipes at the end of the book.  Here's hoping this series will be a long one.
Death by Bubble Tea, Jennifer J. Chow. Jennifer Chow's first in a series focuses on Yale Yee, who is laid off at the bookstore where she's been working as the book opens.  Even worse, her fancy, successful cousin is coming to town, and her restaurant owning father orders Yale to make her cousin feel at home.  The two girls, who are like oil and water, take on her Dad's new enterprise: a bubble tea booth at a night market in Yale's LA neighborhood.  When there's a corpse discovered at the market, Yale and her cousin become suspects and decide to investigate for themselves.  This is a great look at a slice of LA life, at the restaurant culture, and at two cousins who are more and more fleshed out by the end of the novel. This is a great series set up as well as a great read all on it's own.  Yale is well worth meeting on the page.
Evil Under the Tuscan Sun, Stephanie Cole.  This novel, set in a cooking school in Tuscany, features the manager of the school, Nell Valenti, who must manage, along with guests and the nuts and bolts of basically running a hotel, a moody but talented chef.  When a special group arrives – a son paying for his 80 year old mom's birthday experience – Nell is thrown into the heart of things, especially after someone is found dead in the school's olive grove.  Cole has a great hand with character and in making the reader feel for and relate to the people she's writing about.  The setting is delicious, and Cole's prose is truly lovely.  This was a beautiful confection of a book, with dark undertones that were well set up and added depth to the story. Brava.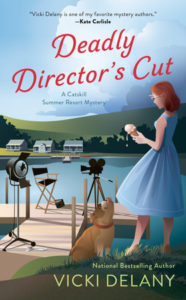 Deadly Director's Cut, Vicki Delany. This is the second book in Delany's series set in the Catskills in the 50's.  While the Catskill resorts that served so many families back in the 50's and beyond are now gone – even the great Grossinger's is a ghostly version of itself – Delany nevertheless manages to make the area come alive for the reader.  She doesn't dip into the pure historical novel category.  Instead, she provides period details that set the reader where she wants them to be, and she somehow manages to invoke the feel and atmosphere of a very specific place and time.  The time period is close enough that with a little bit of yearning and nostalgia you are right back there with her. Her main series character, Elizabeth Grady, runs the resort her mother owns, Haggerman's.    This summer, there's a movie being filmed on her property, and one of the stars is an old buddy of her mother's, Gloria. The obvious unpleasant character is shortly dispatched, unfortunately at Haggerman's, and Elizabeth investigates. Delany is a pro at setting up a story and telling one clearly and with precision.  This book is no exception.  This is a well thought out, well paced, and captivating mystery.  For this particular reader, who grew up in her parent's northern Michigan resort, it's almost a forcefully nostalgic read.  One of my favorite memories is being in the hotel's ballroom, sipping a Shirley Temple, watching the ballroom captain sprinkle the dance floor with a bit of wax for easier and smoother dancing.  Delany's book brings it all back in a whoosh.  This is a truly delightful series and I can't recommend it more highly.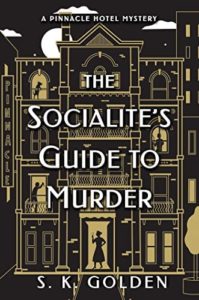 The Socialite's Guide to Murder, S.K. Golden. This charming, frothy concoction is as charming and frothy as it's heroine, Evelyn Elizabeth Grace Murphy, daughter of the owner of New York City's Pinnacle Hotel.  She lives in the penthouse, and she never leaves the building – there's no need!  She has a social life, friends, food delivery, even a dog walker.  It's 1958 and she loves to dress like her favorite movie star, Marilyn Monroe.  Her fluffy white dog – she carries him around in her purse – is named Presley.  As the story opens there's a big art exhibition opening, and Evelyn is on the arm of movie star(let) Henry Fox.  Things go all to heck when the big reveal of the artist's masterpiece proves to be an empty canvas, the painting somehow having been stolen during the fancy soiree. Things really fall apart when the painter is found murdered in the hotel a day or two later.  Evelyn investigates with the help of her friend Mac, who is skilled at picking locks and who walks her dog for her twice a day.  He's a bellman at the hotel but he's much more than that to Evelyn.  This historical depicts Evelyn's character in deepening shades as the book proceeds. Golden provides the reader with a tight but varied circle of suspects. Within this tight circle of suspects, the author also provides the reader with a very nicely done traditional mystery novel, complete with a summing up by the detective (that would be Evelyn) at the end. I loved Evelyn, I loved her dog, and I enjoyed her relationships. This is a wonderful series launch, filled with a delightful amount of sparkle.
Death a Sketch, Cheryl Hollon.  Hollon's main series character Miranda Trent runs a business in the Appalachians where she takes customers on nature/painting tours of the area, ending back at her place for bespoke moonshine.  Her last of the season tour is a complicated one and she's not happy when she discovers the organizer has set it up as a competition. When the boss is murdered, Miranda gets to work sorting through the cauldron of bad feelings and resentment among the tour participants who are now aware that losing the challenge also means losing their jobs. Hollon creates a nice, complicated group of suspects and she's helped in her investigation by her boyfriend, forest ranger Austin, and even the sheriff, who is starting to take Miranda's detailed, artist's eye observations to heart.  I am a big fan of these books, not just for the readability factor, but also for the fact that they are one of the rare mystery series based around art.  While the art in the books is basic, it's also a way to see the world a little differently.  I always appreciate a different lens.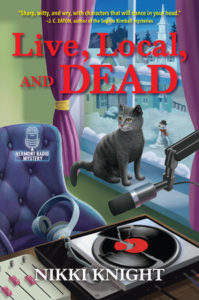 Live, Local and Dead, Nikki Knight. This is a wonderfully vivid and well told first in a series outing. Newly single (but amicably divorced) mom Jaye Jordan has settled with her daughter in a tiny Vermont town, close, but not too close, to her ex and his family. The town is also a character in the story, from maple syrup to a friendly Moose, to neighbors who range from the Episcopal priest who shares the make-up stash her sister sends her to the bar owners up the street.  The book opens with a literal blast as the frustrated Jaye, who has taken over and reimagined the local radio station, is being constantly harassed by the followers of a former host on the station who has had to move on.  She grabs a musket from one of the protesters and blows the head off a snowman across the street. There are plenty of laughs to be had over the musket shot – and it scares off the protesters – but when a dead man, who turns out to the controversial former radio host, appears inside the snowman, things get serious. The mystery part of the story is suitably complicated and there's a nice twist at the end to settle matters. The book was full of emotion and heart, bringing me to tears a few times as I was reading, from interactions with Jaye's ex's family to a show of support from her Vermont neighbors to the believable and emotional way all of the characters relate to one another.  I whipped through this book and hope it's the start of a very long series.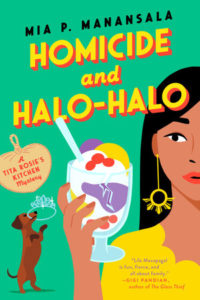 Homicide and Halo-Halo, Mia P. Manansala. This charming second novel in Mia Manasala's standout new series is as delectable as the first.  Instead of being set in the main character, Lila's, aunt's restaurant, it's set in the world of a small town beauty pageant.  Lila, a former winner turned business owner, is now a reluctant judge.  Manansala takes several typically cozy tropes and slightly tweaks them.  There's a bit of a romantic triangle for Lila; there's a new business she's setting up with her two best friends, the Brew-Ha café; and then there's the beauty pageant to provide a rich array of suspects for the eventual murder. This is all a fairly typical cozy set up but Manansala makes it special by injecting a few different ingredients into the mix.  One is simply the Filipino American food that plays almost a character role in the book.  I've never had the dessert described here, Halo-Halo, but it sounds delicious as does most of the other food, which almost jumps off the page as it's described.  It's a very rich aspect of the books so far. The other aspect that isn't so typical is Lila herself.  While it is typical to have a main character leave the big city and come back to her home town, as Lila did in book one, what's not so typical is for her to be a woman of color, one whose experience as a woman of color is an integral part of the character.  None of these things hang heavy over the plot, but they are a part of Lila's character.  That said this is a fun cozy plot – the beauty pageant is all you might hope for, with tears, achievement and back stage mom management – making the whole set up pretty delectable.  As they say on many cooking shows, this is a "perfect bite."