With over 500,000 books published each year (not all are mysteries, obviously), there's no way I can even read a solid sample of what's out there.  I do gravitate toward historicals, cozies and traditional detective fiction, and out of the 80 plus books I read this past year (all but two were mysteries) these are the (additional) ones I found remarkable and worthy of a look.  Happy reading!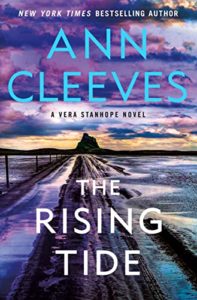 The Rising Tide, Ann Cleeves (Vera Stanhope #10 ). Cleeves always provides a spectacularly thoughtful read, and this one is no different.  Set on "Holy Island", an island cut off by the tides every night, a group of high school friends have been meeting up for 50 years.  When one of them commits suicide, Vera is sure it's murder, and of course she's right.  As expected from Cleeves, there are complex characterizations and a spectacular setting that assumes its own part in the story.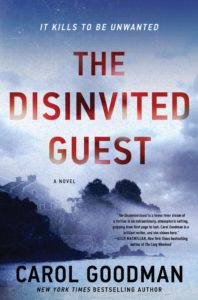 The Disinvited Guest, Carol Goodman. Carol Goodman is one of the best at the type of stand alone suspense novel so popular at the moment.  Her premise for this book, which is unfortunately all too believable, is that a second pandemic (this is set slightly in the future) has forced us all back into isolation and quarantine.  She then creates a And Then There Were None type scenario on a remote Maine island, where a group of friends have decided to quarantine together.  Of course dead bodies ensue, featuring Goodman's trademark razor sharp characterizations and a fantastic setting (there's even a map).
The Locked Room, Elly Griffiths (Ruth Galloway #14). Elly Griffiths has also taken the pandemic into consideration, setting her novel at the beginning of the COVID lockdown a few years ago.  There's a series of crimes set in – locked rooms – that could almost be suicides, but Judy, a stellar member of DCI Nelson's team, can't let it go.  There is a covid death and a covid infection – Griffiths writes with her heart on her sleeve, and she often (always, speaking for myself) captures the reader's heart and emotions as well with her stories.  And what's next for Ruth and Harry? (Find out in the penultimate novel, due in 2023).
A Twist of the Knife, Anthony Horowitz (Hawthorne & Horowitz #4).  I would say Anthony Horowitz is simply one of the smartest mystery writers at work today.  The brains behind Foyle's War and Magpie Murders as well as a far ranging scope of work that includes the YA Alex Rider books (referred to here) as well as a Sherlock series, he's one of those authors that require you to pay attention.  He doesn't include things that aren't a part of whatever genius plot he's assembling – this one, with the meta concept that Anthony Horowitz is also the hero of the book, a writer who captures the investigations of detective Hawthorne, finds Anthony trying to set Hawthorne loose.  He's written a play, about to open in London's West End.  When a critic who gives the play a horrible review is murdered after opening night, Anthony becomes the main suspect, and only Hawthorne can save him.   Fasten your reading seatbelts.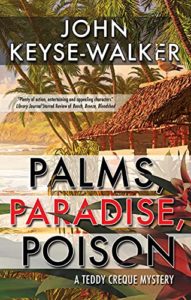 Palms, Paradise, Poison, John Keyse-Walker (Teddy Creque #3).  Keyse-Walker's Teddy Creque series has a real Death in Paradise feel – charming and quirky.  Teddy is the constable on the tiny island of Anegada in the Caribbean.  In this installment, however, Keyse-Walker really lets his freak flag fly as the island is hit with a hurricane and Teddy ends up following a lost boat all the way to Cuba.  There he encounters a true force of nature (and evil) known as Queen Ya-Ya.  If you haven't lived through a hurricane, you'll feel like you have after reading the really incredible nature writing in this novel, and the story is a blast.
Wild Prey, Brian Klingborg (Inspector Lu Fei #2). Lu Fei is a policeman in Harbin, China – he hasn't quite made the big time, but he's happy where he is.  The first book, Thief of Souls, was a favorite of mine, with it's deep dive into a small Chinese police department.  This book goes wider, taking Lu Fei undercover to Myanmar where he's trying to find who's behind a ring of wild animal smugglers.  He's also trying to help a young girl who shows up at the police station every day demanding he find her sister.  Klingborg is wonderful at characterization – Lu Fei is a wonderful creation – but Klingborg sometimes lets his plots get the upper hand.  He's still an interesting writer with a grounding in his subject matter that adds real heft to the books.  There's a third installment scheduled in 2023.
Fox Creek, William Kent Krueger (Cork O'Connor #19).  The 19th Cork O'Connor installment is a chase novel focused on the extremely elderly Henry Meloux (he's 100) and Cork's wife, Rainy, who have fled deep into the Boundary Waters area of Northern Minnesota.  They are pursued not only by Cork but by a tracker named LaLoup, a character Krueger obviously had some fun fleshing out.  This is a wonderful pure chase novel, steeped in the beauty and danger of the Minnesota woods.  Kruger makes you care about every character he creates, and this novel is no different.  I was as interested in LaLoup as I was in whether Henry and Rainy would make it home.  Another great read in one of the greatest of all contemporary series, by a writer chased by writers like C.J. Box, Craig Johnson, and Paul Doiron, but who, to me, is still is the best of the best.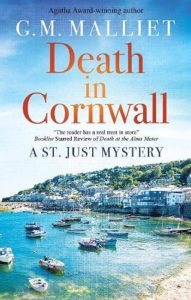 A Death in Cornwall, G.M. Malliet (St. Just #4). There are really very few practitioners of the traditional British detective novel working at the moment, and Malliet is one of the best.  Her novels are very much golden age in pattern, with a series detective, a fast paced and tidy narrative, and in this case, a setting to die for – the Cornish coast. Her series hero, St. Just, is on vacation with his fiancée (the wittily named Portia De'Ath – I hope she keeps her maiden name!). This is a well plotted and assembled mystery, and St. Just, calm and kind, is there to set everything to rights when Lord Bodwally is discovered dead in his library.  A delight in every way.
Peril at the Exposition, Nev March (Captain Jim and Lady Diana #2). I was a huge fan of March's first novel, Murder in Old Bombay, where she combined adventure, romance and a smart detective novel. In this one we have the same elements, though Jim and Diana are now married and living in Boston instead of Bombay.  I missed India!  However, March sets her novel at the 1893 Chicago World's Fair, where Jim has disappeared, and that's almost as exciting as Bombay.  This is very much Diana's book, as the first one was Jim's, and it's also very much the story of an immigrant finding her way in a new country.  Luckily, Diana is fierce, fearless and smart and it takes all her smarts (and Jim's) to crack the complicated mystery presented to them by March.  This is an outstanding new series.
Death on a Winter Stroll, Francine Mathews (Merry Folger #7).  This book, set on Nantucket at Christmas, is a blast of a read, focusing mostly on the stepson of the Secretary of State (a recovering addict) and the daughter (a recovering bulimic) of a movie star shooting a streaming TV show on the island. There's a complex and full cast of characters (give yourself a chapter or two to acclimate), but once you're drawn in, and I assure you, you will be, this book is impossible to put down.  Certainly, don't miss meeting the reclusive wildlife photographer who trains wild birds to eat from her hand.  This is a lovely novel of young love, personal discovery, a good police investigation, a wonderful and evocative setting, a terrific mystery and a fun Christmas read.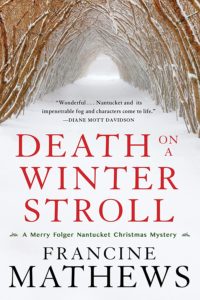 A Deadly Covenant, Michael Stanley (Detective Kubu #8). Set in Botswana, these charming novels featuring the absolutely – I'll say it – adorable Detective Kubu are always must reads.  This novel is Kubu's "origin story", as he starts his career as a police detective and makes his first, shy advances to his future wife, Joy.  His boss sends him out to the sticks to observe the forensic pathologist, who has been called in when the skeletons of several Bushmen are found on a construction site.  It's supposed to be a two day trip, but it's extended when more skeletons are found and two bodies turn up.  Kubu is somewhat hamstrung by working within the department of another officer, but he keeps his boss back home updated and it's his smart deductive reasoning that saves the day.  Classic novels of detection, these books are also saturated in setting, and grounded by the delightful Kubu, who loves his food and wine and never misses catching a murderer.  It's fun to see the beginnings of his relationship with his wife, too.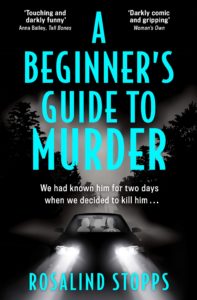 A Beginner's Guide to Murder, Rosalind Stopps. This standalone is a charming companion to Deanna Raybourn's Killers of a Certain Age, but while Raybourn's killers are professionals, the older ladies in this book are anything but, as the title indicates.   As three friends sit in a coffee shop one day, they see a young girl come in and head to hide in the restroom.  When a man comes in looking for her, they just don't like him, and offer misdirection instead of help.  They then take the girl home with them.  When she's later abducted they make it their mission, no matter their lack of expertise, to save her.  This was both unexpectedly charming and moving, as the three women are fleshed out, find the strength of their friendship (as well as their own strengths) and learn the truly tragic story of the missing young woman.  This is like a Donald Westlake novel, only written by a woman, and what's better than that?
The Drowning Sea, Sarah Stewart Taylor (Maggie D'Arcy #3). Stewart Taylor's evocative novels set in Ireland find her character Maggie, no longer a Long Island cop, in Ireland on an extended vacation with her boyfriend and her teenage daughter.  It's very much a novel of Maggie's personal crossroads as she works out the messy business of life, complicated by children and romance and family.  They are staying in a little Irish village overshadowed by the manor house, which has decayed and has assumed gothic mansion status.  When a body washes up on the beach, Maggie, very much missing police work, can't help but investigate. These books are a love letter to Ireland, and are the best kind of armchair travel, grounded with a good story and wonderful characters.  This series is really a joy.