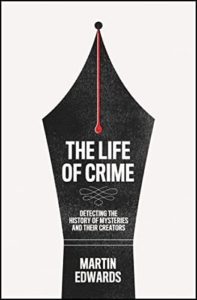 Lately I've felt few hardcovers are actually worth owning, but there are always exceptions.  I'm sure many of us have our collections – all of Agatha Christie or Michael Connelly or Sue Grafton, for example – but Martin Edwards' new reference book, The Life of Crime, is the exception to the rule.  First of all, it's beautiful.  The paper is smooth and creamy; the jacket is simple and elegant; and the endpapers – a collection of classic crime covers – are to die for. But while the cover draws you in, it's what's between them that's the point.
Edwards, in an exhaustive, thorough fashion has documented the crime novel from its inception – he bookmarks William Godwin's 1795 tome, The Adventures of Caleb Williams as the first. Who among us, other than the erudite Edwards, has read this novel?  But he usefully traces it to contemporary and more familiar books, who can trace their origins back to 1795.  His list includes John Buchan, Frederick Forsyth and Lee Child as children of this long ago adventure novel.
He continues to trace the crime novel forward. In his chapter on Conan Doyle and Sherlock, he cites one of the most (to me) influential developments in mystery fiction: the creation of the series detective.  The series detective is the reason the detective in these novels is often beloved.  That long form relationship with the reader cannot be matched.
In a chapter on transition from the golden age to the present (Private Wounds), Edwards says "The depressing truth is that it is exceptionally difficult to be entirely original."  This instance was occasioned by the similarities between Nicholas Blake's A Penknife in my Heart (1958), and Patricia Highsmith's Strangers on a Train (1950).  Blake had even cited Highsmith as an influence on his own work.  The two books are very different, though with a similar premise. To me the joy and interest of the mystery novel is found right there.  It's a form with certain parameters, but within that form and those parameters, there are endless variations. Martin Edwards is saying nothing radical here (to crime fiction fans, at least), he's making a case for the longevity, importance, and lasting nature of crime fiction.  There's a reason a book written by Doyle in 1887, A Study in Scarlet, is still being read today.
The careful Edwards follows the threads of mysterious history in many, many directions.  Scandinavian crime, Simenon and European crime writing, American police novels, female private eyes, the "Had I But Known" school – he illuminates all of them in this 600 plus page book, heavily footnoted and indexed.  You can dip in and out – enjoy a chapter, think about it, put it down, return.
I don't think it was in his purview to write about crime fiction that's being read and created at the moment, though he includes authors like Michael Connelly, Val McDermid, Charles Todd and Attica Locke.  That will fall to another researcher in the future.  He ends his book with a wonderful chapter on P.D. James, a favorite author of mine (and obviously, of Edwards'), whose first Dalgleish novel, Cover Her Face (1962), was a bridge from the golden age of the past to the darker, more psychologically minded present.
And finally, this stuck with me: "More wisdom is contained in the best crime fiction than in philosophy" (Ludwig Wittgenstein). Edwards' tome, and the wisdom within it, has a permanent place on my bookshelf where I can refer to it again and again, as with any great reference book.  Kudos to Mr. Edwards for what I am sure was years of hard work on a genre that he loves.