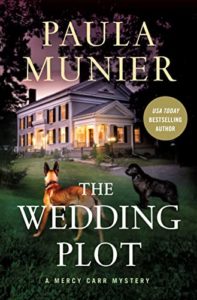 Paula Munier's insanely readable Mercy Carr series has so far never disappointed, and The Wedding Plot is no exception.  As the book opens, Mercy's mother, Grace, has been meticulously planning her mother's wedding to her long-time beau Claude at the swanky inn her aunt Prudence runs (with an iron fist).   Between these two intimidating ladies, the wedding is proceeding on a path that looks to have Mercy in bridesmaid's satin pumps and a blowout hairdo before she knows it.
It would not be a mystery novel, however, if all went as planned.  Frist, the spa's yoga instructor disappears, and Mercy is pressed into service, leading the wedding guests through the classes he was supposed to take on.  And while all this sounds slightly like a cozy set up – wedding, yoga instructor (and wait, there are goats) – it's far from it.  Munier takes a normal domestic situation – a wedding, something everyone has experienced as guest or participant – and turns it into an action novel.
Turns out the yoga instructor may not have been exactly as he presented himself, and when a dead man turns up in one of the barns at the goat farm (I told you!) where he lived, things accelerate.  While in previous novels, Munier has brought the wild beauty of Vermont to the forefront, in this novel she writes about the goat cheese that also makes Vermont famous. The details of the goats and the woman who owns the farm all provide the rich Vermont background readers have come to expect.
When the wedding festivities actually begin, with Mercy and her boyfriend Troy (and their dogs) in attendance, troubles on the groom's side of the family begin to make themselves apparent.  Again, Munier is using this very normal domestic situation and amping it up with a kind of legendary family friction, devolving at one point to fist fights.  The book is grounded by the domestic, and kept in flight by the action, which involves Mercy, Troy, and their trained rescue dogs, Elvis and Susie Bear, with a healthy tally of bodies and gun fights throughout.
Mercy reminds me very much of the character that drew me to mystery fiction as an adult: Sara Paretsky's V.I. Warshawski.  Like V.I., Mercy is incredibly stubborn, incredibly brave and incredibly smart, but all those things sometime combine to make her actions horrendously irritating to her family who are (somewhat foolishly) hoping for a no-drama wedding weekend.  When Mercy finally dons her bridesmaid's dress you feel sorry for the dress.  You just know it's destined for ruin.
The mystery part of the novel is clever and intertwined with all the threads of the novel, including some old bones discovered by Elvis and Susie Bear in the woods by the inn where the wedding is taking place.  I was rooting for the wedding to happen but in true master of suspense fashion, Munier keeps the reader guessing until the very end about what is going to happen on that front, as well as many others.  This was a fast, fun, intelligent read, sweetened (as these books always are) by the literary epigraphs that begin each chapter.  True to this book's theme, they are all about love.  I'll jump in – I loved this book.