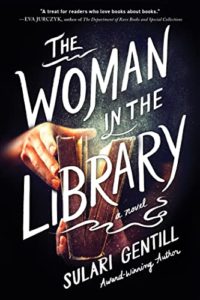 This odd, endearing and weirdly tricky book is a meta meditation on the traditional detective story.  Playing off of Agatha Christie's The Body in the Library, author Sulari Gentill yanks this classic into the present.  In Christie's Body the corpse of an apparently unknown young woman appears in the library of a private home.  In Gentill's update, four young people are sitting near each other in the Boston Public library.  The main character, Freddie (or Winifred), a mystery writer, is working on a new book and she's observed the others sitting near her, giving them nicknames as she slots them into a possible book.  Freud girl, Heroic Chin and Handsome Man have all invaded her imagination, when their real iterations hear a blood-curdling scream.
The scream unites the four, and when no one can find a body in the library, they disperse – but of course a body is discovered later.  The four form a loose group to try to understand what happened to the dead girl and how she got that way.  The story is particularly meta as the story of Freddie and her friends – who are actually named Marigold, Whit and Cain – is a book being written by a "real" woman named Hannah.  She is writing her novel in Australia and sending chapters to a beta-reader named Leo in Boston who offers critiques as well as putting her on the right path as far as American expressions and Boston locations go.
This was, for me, a framing device for what I found to be the "real" story of Freddie and her friends.  Even as Freddie, who is living in Boston on a grant (which comes complete with a swanky apartment) is working on a book about Freud girl et al., she is drawn into the real life mystery of the dead girl with these people, a.k.a. characters, who have become her friends.
In true golden age style, Gentill has created an extremely tiny suspect pool.  The killer could really only be one of three people, and she deftly keeps the reader guessing throughout the story. The four of them become fully developed and interesting characters who hold your attention, as do their developing relationships and tensions.  While creating a tricky mystery, she also gives the readers characters that are real enough to make the reader truly feel affection for them. This, of course, gives the book some real depth and heft.
The surrounding layers – Hannah's increasingly disturbing exchanges with Leo, the technical aspects of writing a novel as discussed by several of the characters – are merely the frame for the jewel of a story that Gentill has presented to the reader.  Freddie's increasingly almost foolish detective work illustrates her increasing desperation to discover the killer's identity, adding to the suspense of this well written novel.  If novels as ingenious as this one continue to be written, there is so much to look forward to as far as the mystery genre goes.