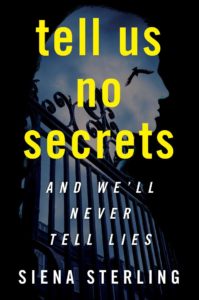 Set at a girl's boarding school in 1970, Siena Sterling's debut novel was immediately attractive to me, as a 1977 graduate of a girl's boarding school myself.  There is no doubt Ms. Sterling attended boarding school as the details are pretty much spot on. Happily, I had a much better experience than the four girls in the novel, Abby, Zoey, Cassidy and Karen. Boarding school is a time of intense bonding – girls are there from the ages of 14 to 17 or 18 – and as that coincides with the surge of adolescence and self discovery, the friendships formed during that time of your life often prove to be the most indelible.
Sterling creates four characters that are quite different from one another.  Abby is the most obvious boarding school denizen, coming from a big East coast family with brothers at Harvard and Yale; Zoey, the daughter of a well known movie director, is the biggest rebel, questioning everything; Karen is the slightly shlubby, slightly overweight girl who just wants to belong; and Cassidy is the mystery – a drop dead gorgeous girl from the Midwest, something, along with a more middle class background, that seems exotic to girls who have never even had a summer job.
As freshman year began, Abby and Karen were roommates, and Zoey and Cassidy were roommates and best friends.  As the book opens on senior year, Abby and Cassidy have become friends to Karen's intense jealousy, and she and Zoey bond in the senior smoking lounge.  The two pairs of girls and roommates have flip flopped, and, boarding school or public school, the flare up of female jealousy, resentment and payback are pretty universal.  Sterling has created her witches brew, and she proceeds to stir the pot.
To begin with, Zoey and Karen post "The List" in the senior common room – when you lose your virginity, you are supposed to not only put a star by your name, but to rate the experience. In 1970 this was out there behavior and it gets the girls riled up.  It adds to the tension Sterling has created with her characters.  She is expert at delineating them, not only for themselves, but at delineating the ways their changed interactions and friendship relationships affect everything they do.
As things start to go very badly wrong, Sterling uses the various odd rituals that exist in boarding schools to highlight the ways they do go wrong. One of the rituals is "friendship weekend" where the girls are selected, two by two, to be literally tied together for the weekend, only being let off the leash to use the bathroom or go to bed.  This amps up the action, amplifies resentments and jealousies, and pretty much rocket powers the narrative.
This is almost more of a character study than a mystery.  The tension is high, as it should be in any good suspense novel, and there is actually a murder, but all of that action occurs at the very end of the book, complete with unexpected twists.  Sometimes reading about adolescent girls is just irritating, and sometimes it's revelatory, as in the hands of someone like Megan Abbott.  This book falls into the revelatory category.  Sterling is able to explicate and analyze friendship in a way that is authentic and that, if our own formative friendships had taken a wrong turn, could have gone as wrong as the things in this novel do.  As a reader, it makes you think.  There's not much more I can ask from a book.