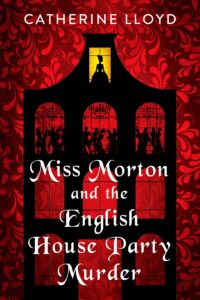 This charming first in a series has some kissing cousins – it bears a resemblance to Dianne Freeman's Lady Harleigh series and to Darcie Wilde's Rosalind Thorne books.  Set in the same time period, 1830's Britain, this book has a vivid, fast paced story telling style that makes it difficult to put down.  Young Lady Caroline Morton has been disgraced by her father's bankruptcy and suicide, so she's left her aunt's household and is – gasp – earning a wage as the companion of Mrs. Frogerton, a forthright, wealthy widow who is sending her daughter, Dorothy, out into the wilds of the London "season."
I won't say I haven't seen this type of set up before – even Ngaio Marsh's 1939 novel Death in a White Tie features a deb who is being assisted through her paces – but in Catherine Lloyd's capable hands there are new aspects to discover.  For one thing, despite Lady Caroline's pedigree and connections, Dorothy is reluctant to take her advice.  But when Caroline's aunt, Lady Eleanor Greenwood, invites Caroline and by extension her employer and her daughter, to a house party honoring her daughter Mabel's birthday, even Dorothy can see it might be nice to make some connections before the start of the season.
The three women set out to the countryside where they are greeted politely but a trifle frostily by the family. Caroline's main goal is to visit with her sister, Sarah, who still lives in their aunt's household.  Mabel has included an odd mix of people for her birthday ball, and some of the folks she's included are the grown versions of Lady Eleanor's "charity children" who have made their way through the Greenwood nursery to employment.  Lord Greenwood had agreed to this despite Lady Eleanor's objections, so the odd house party, ranging from men who now work at sea or at a dairy are mixing with an Earl who, it turns out, was once engaged to Caroline.
The whole party is further complicated by the disappearance of the butler, so the household is at sixes and sevens.  When the butler is discovered wandering confused in the cellar with a possible concussion, Caroline's curiosity is not only piqued, but she also tries to figure out why this has happened to him.  She finds two unlikely and delightful allies.  One is Mrs. Frogerton herself, whose lack of pretense and frank way of looking at the facts make her a perfect assistant in solving a crime, and the other is Dr. Harris, new to the district, a bit on the rude side, and as forthright as Mrs. Frogerton.
Both of these characters breath life and immediacy into the novel which turns out, despite its fairly light tone, to have some dark threads beneath it with a complicated resolution that leaves the reader with some ambiguity.  Normally that kind of things drives me nuts, but it made sense as far as this story goes.  The resolution was in line with the tone of the entire book and fit into the context of the time period.
I truly enjoyed the way Lloyd writes and tells a story – there's no let up from start to finish, and she not only has a way with character, she has a way with atmosphere.  As there are eventually two murders to be resolved, this is a welcome skill on her part.  This is a great kick off to a new series, and I finished the book wanting to know more about Lady Caroline, Mrs. Frogerton, and the rude Dr. Harris.