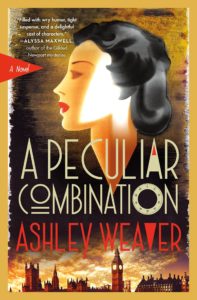 Our June book club will meet on Sunday, June 26, 2 p.m. at my home to discuss Ashley Weaver's charming A Peculiar Combination.   The zoom group will meet on Wednesday, June 29, at 7 p.m.  Please message us at store (at) auntagathas.com for a zoom link or directions.
This first in a series for Ms. Weaver follow safecracker Electra McDonnell, who works with her Uncle Mick cracking safes during WWII.  Caught red handed, they are recruited by the government and the following story is a well written adventure story with a great twist on the WWII novel.  There are a lot of them out there, but this is a great one, and Electra is a wonderful character to build a series around.
The book is for sale here at a discount.