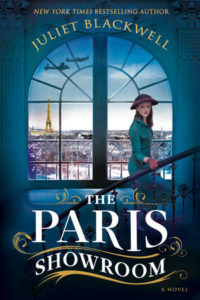 This is not a mystery, but an historical novel by the talented Juliet Blackwell, who has two cozy series to her credit as well as several novels.  This novel is set in a now very familiar time period: WWII.  Blackwell's story takes place in occupied France, and she has a slightly different and original twist to her story.  The main characters are Capucine, a fan maker, and her estranged daughter, Mathilde.  The two live lives that haven't intersected much, but this is not only the story of Mathilde's growth from a callow, privileged young woman into something much more, but the story of Capucine, a true flapper in every way, who is now being held prisoner by the Nazis on the top floor of a Paris department store.
Mathilde, who has been raised by her conservative grandparents, is starting to chafe a bit under their house rules, which include a suggested marriage to a man she finds exceedingly dull.  Early on she discovers that her mother and her grandfather have both been arrested, and she starts to take an interest in her mother's life and to try and understand what drove them apart.  Her grandfather, arrested as a Communist, is unfortunately deported to somewhere called Auschwitz.
Because Capucine was mostly guilty by association, she's kept captive in France.  I had never heard of the camps the Nazis set up in Paris itself.  The men and women in the store have the heartbreaking work of sorting through the crates and crates of belongings delivered by German soldiers, belongings confiscated from Parisian Jews.  The Nazis seize everything, down to the lightbulbs.  All the items are carried into the store by the men, and the women sort them to be sent on to Germany.  Some of the higher end items, furniture and art, are kept in the store for higher up Nazi officers to use in their Paris apartments.
One of them lives with a woman Capucine had known (and not liked too much), and she ends up being their decorator, by virtue of her work in her father's high end fan shop and her connection with design and fashion.  This gets Capucine out of the store and into the homes of Nazi wives around Paris where she selects items for them to use.  It's a very strange and uncomfortable half-life, but she also realizes she is lucky, because unlike most of the people she lives and works with, she is allowed to see daylight and Paris itself, which all of them miss.
Meanwhile, Mathilde is discovering her two best childhood friends have taken very different paths – one is dating a Nazi officer, and one is apparently a part of the resistance. While Mathilde is sorting through her feelings, she's also sorting through the wreck of her grandfather's fan store and, discovering love letters written to her mother, discovering more about her mother as well.  The language of fans and the feathers used to make them are a fascinating part of the book. Mathilde is slowly becoming, as we would say today, woke.
I liked the characters in the book, I loved the joyous and chaotic liberation of Paris scenes, and I was interested to learn more about the occupation of Paris.  But I have a bit of a caveat – the book is slightly wander-y and lacks any real drive.  There are many interesting bits and details but ultimately the story was a little flat, though I was happy enough at the end as the characters find some resolution in their lives.