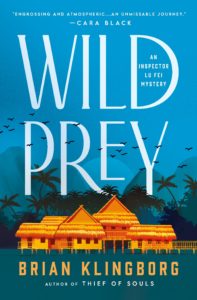 This is the second novel about Inspector Lu Fei, who works in a small town outside of Harbin, China.  The charm of the first novel, Thief of Souls, were the inner workings of a small town Chinese police department and the lives of the officers, including and especially Lu Fei, who is an incredibly appealing character.  In Wild Prey Lu Fei remains appealing, but the topic Klingborg has chosen to spotlight is far more difficult.  The first novel was a serial killer story; this one focuses on the illegal (and immoral) killing of rare animals for food.
The book opens with an incredibly awful scene (power through it) that involves the killing of a tiger.  What was especially well done, however, was Klingborg's portrait of the two men who kill the tiger – they are absolutely desperate and will use whatever money they gain to help feed their entire village.  It doesn't excuse what they do but it makes it understandable.
Then the reader is invited back to Lu Fei's tiny town where a young girl begins showing up at the police station and refusing to leave.  She's looking for her missing sister, who was not only the economic backbone of their little family (their mother is dead, and their dad is an unemployed drunk who "can't work") but the emotional center of the girl's life.  Meixiang, the older sister, worked as a waitress at an exclusive place in Harbin; Meirong, the younger sister, shows up every day demanding answers, and Lu Fei cannot refuse her.
Lu Fei's investigation takes him to the Meixiang's restaurant, which appears to be the place she was last seen, and in doing so he upsets the status quo and alarms some Harbin higher ups.  He's suspended, and that's when he recruited by an officer in the National Forestry and Grassland Association.  They are looking to curb the illegal consumption of exotic animals (including bear, pangolin, tiger, wolf, and many others) and shut down a large operation that appears to be based in Myanmar.
One of the delights of the book is Lu's trip to Harbin with his hopefully soon to be girlfriend, Yanyang, to effect his undercover transformation, which includes euro trash clothes, a fake tattoo, and a new haircut.  He then heads to the airport where he'll meet with the mystery man he's seen only on video.  His incentive: to find out what happened to Meixiang, and hopefully regain his job in the police department.  He can't imagine doing anything else with his life.
The book than becomes a nonstop adventure story, studded with memorable characters.  While what the people in the book are doing to animals (and also, frequently, to humans) is completely grotesque, Klingborg manages to create some fascinating and compellingly interesting characters who prove to be unforgettable, especially Khaw, the woman at the center of the action.
While I think Klingborg's gifts are character based, he's fond of action as both of his novels prove, and he's also fond of the unexpected twist.  There were at least three in this book I didn't see coming, including the final one, which is very well done.  While the idea that Lu Fei would be killed seemed remote – he's the hero of the series – he sure comes close many times in this novel.
I loved the explication of culture, and the look into a life so different from my own. Books are such an expansive way to see the world – while I may never go to Harbin, China or the jungles of Myanmar, I feel like I made a journey, and that the talented Klingborg has lifted the veil a bit for me to see what's behind it.   I very much look forward to book three.