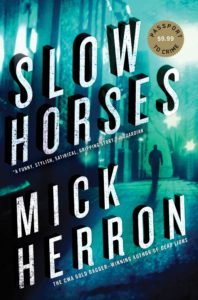 Join us in May for our book club read of Mick Herron's Slow Horses, the first in his series about MI5 agents who have made some epic fails.  We'll meet in person on Sunday, May 22 at 2 p.m. or via zoom on Wednesday. May 25, at 7 p.m.   Email us at store@auntagathas.com or message us on facebook for details.
Here's the publisher's description of Slow Horses (now an excellent TV series): London, England: Slough House is where the washed-up MI5 spies go to while away what's left of their failed careers. The "slow horses," as they're called, have all disgraced themselves in some way to get relegated here. Maybe they messed up an op badly and can't be trusted anymore. Maybe they got in the way of an ambitious colleague and had the rug yanked out from under them. Maybe they just got too dependent on the bottle—not unusual in this line of work. One thing they all have in common, though, is they all want to be back in the action. And most of them would do anything to get there─even if it means having to collaborate with one another.
River Cartwright, one such "slow horse," is bitter about his failure and about his tedious assignment transcribing cell phone conversations. When a young man is abducted and his kidnappers threaten to broadcast his beheading live on the Internet, River sees an opportunity to redeem himself. But is the victim who he first appears to be? And what's the kidnappers' connection with a disgraced journalist? As the clock ticks on the execution, River finds that everyone has his own agenda.