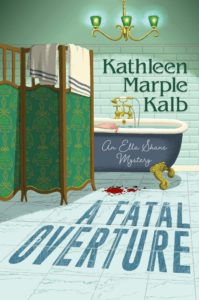 A Fatal Overture is the third in Kathleen Marple Kalb's wonderful mystery series set in New York City at the turn of the 20th century, featuring opera singer Ella Shane, a mezzo soprano "trouser diva," known for singing male roles.  Ella, the daughter of an Irish father and a Jewish mother, grew up in a tenement on the Lower East Side and was orphaned at an early age.  The trauma of finding her mother's body, frozen to death in their tiny room, has never truly left Ella.  After being raised by her aunt on her father's side of the family, Ella found a mentor, a famous opera singer, who discovered she had a great voice, and so, by the time the series begins, Ella has also become famous.  She owns her own company and lives in a brownstone on Washington Square with her cousin Tommy, the son of the aunt who brought her up.  Tommy, a former champion boxer, is a closeted gay man who manages her career and helps her fend off unwelcome admirers.
When this book begins, it is 1900, and Ella is secretly engaged to the only man she has ever loved: Gilbert Saint Aubyn, a British duke.  She has put off the wedding, though, because, in spite of her love for Gil, she doesn't want to give up her career and her independence.  Gil has told her he will allow her to keep singing after their marriage, but they disagree on how often she will perform in New York.  Ella's scheduled appearances in London have been postponed because of illness in her soprano colleague Marie's family.  Marie is a married woman with children, whose husband also lets her keep her career, and, in fact, it is Marie's marriage that has made Ella realize she can marry Gil and still have a singing career.
Gil's mother and aunts unexpectedly arrive in New York.  Ella has never met them before, and at first she is afraid they have come to break up her engagement, but in fact, the opposite is true: they are there to encourage her to marry Gil as soon as possible.  These three Scottish ladies are an absolute delight, and lend a sense of humor to the book.  When the ladies go back to their hotel room after their first visit with Ella, they find a dead body in their bathtub.  It turns out to be the son of the hotel owners, a brutal man who has sexually assaulted the hotel's maids and threatened to turn them out on the streets if they accuse him.  The three ladies tell the police the murder was the result of a robbery gone wrong.  Ella knows they're not telling the whole truth, and when she learns of the dead man's reputation, she assumes they're covering for one of the maids.
Shortly afterwards, Gil joins his mother and aunts in New York and learns of the murder.  The kindhearted Ella has taken the three ladies into her home, because they can not stay in the hotel any more.  The ladies practically order Gil and Ella to negotiate the terms of their marriage contract, so Ella will be guaranteed a certain number of performances a year, but the couple disagree on the number of New York performances, which has always been the sticking point between them.
While Ella is trying to get Gil to change his mind, she has to rehearse a difficult Joan of Arc aria for a benefit for a children's hospital.  In the middle of all this, the murder case takes a sudden turn when Ella's friend Hetty, an investigative reporter, confesses to the crime, even though Ella and her friends know she's innocent.  Hetty had been going undercover as a hotel maid for a story where she's planning to expose the horrible conditions under which they have to work.  Ella assumes Hetty confessed in order to protect one of the maids, so she finds a top defense lawyer for her.  Gil, who had been a barrister before unexpectedly inheriting the dukedom, also agrees to help with Hetty's defense.  Ella doesn't know if the claim of self-defense will hold up in court, and she is afraid her friend will die, or at least go to prison for life, for a crime she didn't commit.  Then a series of accidents happen to Gil, Tommy, and Tommy's "close friend" Cabot, the son of one of New York's most prominent families.  Ella receives news from a friend in the criminal underworld–there's a long and complicated story between them–that Gil is a target for violence.  But who would want to harm him?  Ella has to keep both her friend and her beloved alive, and find the criminal.
The murder investigation is actually secondary to the drama of whether Ella will marry Gil and still be able to keep her career, and which of the two will yield in  the matter of the number of performances she can give, but the mystery is a compelling one, and Kathleen Marple Kalb makes us care about her characters.  Ella is a wonderful leading character.  Not only does she have a great voice, but she has a warm heart and an independent spirit.  Gil is the perfect match for her, as everyone knows (except themselves, at first), and he is supportive of her career, even if he's a bit stubborn about allowing her the number of New York performances she wants.  Ella is also an expert swordswoman, and the two of them often duel to a draw in Ella's studio while her lovable parrot, Montezuma, looks on and sings drinking songs in the background.
Kalb's characters are definitely the strength of this series.  In addition to Ella and Gil, there is her group of close and supportive friends.  I have already mentioned Tommy, her cousin and manager, a strong protector anyone will want to have on their side.  Kalb writes sympathetically of his problems as a gay man in those times, not being able to openly acknowledge his relationship with Cabot.  Also important is Ella's cook Greta, who is about to marry sports writer Preston.  Greta is a marvelous cook, and another problem Ella faces is how to replace her.  There are some extremely funny scenes that involve a temporary cook and the elaborate, but tasteless, meals she provides.
Hetty, the reporter, is another outstanding character.  I am sure that she is modeled on Nellie Bly.  Having recently read a novel about Nellie Bly, I can see the similarities, and there are several references to Bly in Kalb's book.  Hetty can't stand being confined to writing about hats and hairstyles, and she goes undercover in order to expose evils and injustices in society.  Hetty has an on-again, off-again romance with sports writer Yardley, who thinks women belong in the home, even though, in this book, it seems that she will reject Yardley, and there is a potential new love interest for her.
Also important are Ella's friends in the opera world: soprano Marie and her husband Paul, and composer Louis and his wife Anna, who is Ella's costume designer.  Since Ella is between operatic performances in this book, we don't see as much of them as we do in the previous books, but they are definitely a presence in this book as well, and they are always there to support Ella.
I highly recommend this series, which  should be much better known.  The first book had the misfortune to be released right around the time the pandemic started, but it's not too late to look for these books.  A Fatal Overture can be read on its own, but I would definitely recommend starting with the first one, A Fatal Finale, because Ella's life and background are just as important as, or even more important than, the mysteries themselves.  I will not spoil what happens, but A Fatal Overture ends in a very satisfactory way, and it will be interesting to see what Ella's and Gil's lives will be like as they go forward.   — Vicki Kondelik
***************
Vicki Kondelik is a cataloger at the University of Michigan's Graduate Library, and edits their book review blog, Lost in the Stacks.   She writes book reviews for the Historical Novel Society, and is currently writing a historical novel.  She has been an avid mystery reader for a long time.