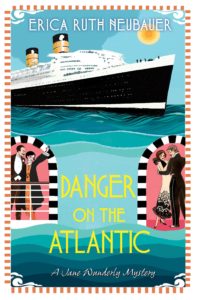 Danger on the Atlantic is the third novel in Erica Ruth Neubauer's series set in the 1920s, featuring American war widow Jane Wunderly and the handsome, enigmatic Englishman Redvers, the only man who might change Jane's mind about remarriage.  As readers of the previous two books, Murder at the Mena House and Murder at Wedgefield Manor, will know, Jane was traumatized by her abusive first marriage and still has scars on her back.  She was relieved when her husband was killed in World War I.  For years she has refused to consider the thought of another marriage.  Then she met Redvers while working on a case in Egypt in the first book of the series, and their relationship has developed steadily through the next two books.  She cannot deny her attraction to Redvers, but she is still fearful about marriage, even though she knows he is nothing like her first husband.
Each of the books in the series has a different setting: the Mena House in Egypt (where Agatha Christie wrote Death on the Nile) in the first book, an English country house in the second, and the ocean liner Olympic, the sister ship of the Titanic, in this book.  As was revealed earlier in the series, Redvers is a secret agent working for the British government, and he is on the Olympic on a voyage from Southampton to New York in order to track down a German spy.  For the first time, Jane is allowed to take a role in one of his cases.  They travel in first class, posing as a married couple, because it would be easier to explain why they are traveling together.  Although Jane and Redvers share a suite, they sleep separately, a fact which is known only to their steward Dobbins, who was planted on board the Olympic by the British government and knows what their actual situation is.
Jane makes the acquaintance of an American socialite, Vanessa FitzSimmons, who says her husband, Miles Van de Meter, whom she had hastily married in Monte Carlo just before the voyage, has gone missing, along with his luggage.  The captain and crew seem strangely reluctant to go looking for him, and they even try to convince Vanessa that her husband was never on board the ship.  Jane might almost have believed them, except that she had seen Miles with Vanessa as the ship was pulling out of the docks at Southampton.  The problem is that no one else has seen Miles, and he's not even listed among the ship's passengers.  Vanessa's maid Rebecca, who is traveling in second class, does not even think her mistress is married, even though it's true that she has not been in Vanessa's service for very long.
Then a series of bizarre incidents happen to Vanessa: all her clothes vanish from her suite, a laundry slip turns up with her signature, even though she says she never signed it, and she receives telephone calls from someone who hangs up right away without saying anything.  It becomes clear to Jane that the captain and crew want to make Vanessa think she's going insane.  The ship's doctor keeps her drugged and sedated.  But what are their motives?  Jane is determined to help Vanessa and find out what happened to her husband.
Redvers, however, has other ideas.  He doesn't want Jane to be distracted from their original investigation: finding the German spy on board the Olympic.  Because he didn't see Miles when the ship was leaving Southampton, he is not entirely sure that Vanessa is not deluded.  Meanwhile, Jane becomes increasingly frustrated with Redvers because he refuses to share all the information about the German spy with her.  They do not stay angry with each other for very long, though, and Redvers agrees to let Jane conduct her own investigation, as well as sharing what he knows about the spy.  There are three possible suspects on board the ship.  One is Heinz Naumann, a German passenger, and the others are members of the crew: the band leader and the ship's photographer.  While Redvers investigates the band leader, Jane befriends Heinz Naumann and finds herself charmed by him in spite of herself.
During a search of the photographer's room, Jane finds photos of Vanessa and her husband Miles, but in each of them, Miles has his face hidden, as if he didn't want anyone to discover his identity.  Jane begins to wonder if the missing husband and the German spy might be one and the same.  She asks Redvers to find out what his employers know about Miles, but he comes up with nothing.  Meanwhile, Vanessa starts to become very friendly with Naumann, the suspected spy.
Then the case takes a deadly turn as a body is discovered in the Turkish baths.  The dead man, of course, knew too much about Vanessa's missing husband.  Jane feels guilty because she had asked the man to track down a clue for her.  Will Jane and Redvers be able to solve the case before the Olympic arrives in New York, and before anyone else turns up dead?
Danger on the Atlantic does an excellent job of keeping up the reader's suspense.  The search for the German spy is not hard to figure out, with the limited number of suspects, but that plot is really secondary to the search for the missing husband, and I did not figure out what was really going on with that until the end.  I also loved the details Neubauer provides about life on board an ocean liner in the 1920s, and the differences between first and second class.  We can see the ship's dining rooms, Turkish baths, and first class lounge as if we were there, and as Jane takes walks on the deck in the fog, you can feel the cold along with her.  I also loved the descriptions of the dances and the fancy dress ball, and it's a nice touch that Jane doesn't dance well, and is embarrassed by that fact.
We also learn more about Redvers' background, which was only hinted at in the previous books, and why he is reluctant to talk about his family.  The relationship between Jane and Redvers deepens in this book, and we see that Jane is finally overcoming her reluctance to marry again.  I can not wait to find out where this couple's next adventure will take them.  I highly recommend this series for fans of Agatha Christie and Golden Age mysteries.
**********************************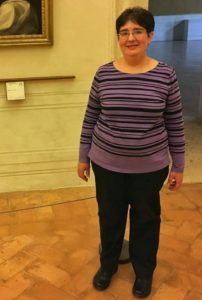 Vicki Kondelik is a cataloger at the University of Michigan's Graduate Library, and edits their book review blog, Lost in the Stacks.   She writes book reviews for the Historical Novel Society, and is currently writing a historical novel.  She has been an avid mystery reader for a long time.