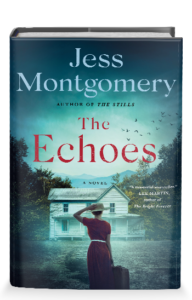 This is the kind of book you read with a lump in your throat.  Jess Montgomery's portrayal of 1920's Ohio is so deeply felt, so evocative, so redolent of history and memory and shared experience, that to read one of these books is to be completely immersed, while at the same time feeling all of the human experience. Montgomery covers it all – birth, death and everything in between.  This novel seemed to me to be the most focused of her books plot wise, and that seemed to give this story an extra intensity.
The book opens with a young girl named Esme, as she heads to America and a new life.  Montgomery switches narrators throughout, so the book returns to Lily, the sheriff in tiny Kinship, Ohio, who is listening to an old woman explain to her that she's seen a dead body floating in the pond near her house.  While Lily covers the pond in a rowboat there's no trace of a body and she's impatient with the woman, whose name is Maybelle and who may or may not have "the sight".
The book then shifts to Lily's mother, Beulah, who has been keeping a very big secret: Esme is the illegitimate daughter of her son Roger, conceived when he was fighting in France. Because Esme's French grandmother is dying, she's sending Esme to the only family she has left.  Unfortunately, Beulah has told no one in her family that they should be looking forward to having a niece or cousin joining them.
Beulah has relied on Maybelle's son, Chalmer, to facilitate the move, and it's Chalmer's family that provides much of the drama in the story.  He and his wife Sophie don't get along; Sophie refuses to let her mother-in-law live in the house; and there are some impoverished and bitter cousins, on the wrong side of a longstanding family feud, working for Chalmer.
There's a big opening of a new "amusement" park scheduled, named in honor of WWI veterans, and Lily and her entire family attend the opening ceremony.  The park has been mainly financed and built by Chalmer, and the ceremonies are interrupted by one of his cousins and later in the evening, an even worse tragedy: the body of a woman is discovered floating in the pond, just as Maybelle imagined.
And then there's Esme.  As she starts on the last leg of her long journey her chaperone leaves her for a moment and she's kidnapped.  So while Lily is investigating the drowned woman's death, she's also frantic to discover what happened to her niece, as her mother has finally revealed what's going on.
The true narrative and emotional backbone of the story is Roger himself.  He was respected and beloved in town, and many of the men in the story, including Lily's beau, Benjamin, are veterans who served with Roger.  Then there's Esme, and the connection she brings, and there's Lily's friend Hildy, who was engaged to Roger before he left for the war.  All of the threads of memory and loss belonging to these various characters wind through the story.   The connections to Roger are strong or slight, but he's influenced those he's left behind in more ways than one.  The main connection of course is his mother Beulah, and the ways his loss has affected her life.
Lily's feelings are more unresolved than her mother's, in my opinion, and she's struggling with them throughout the book.  Montgomery is a beautiful writer and one who creates in depth portraits of those she's writing about.  The characters of Lily and of Beulah, in this novel, are the central tentpoles but as with Roger's absence, there are many tributaries flowing from the connections that Lily and her mother have made in their lives.  It's these connections that move everyone forward.  Montgomery creates and writes about community in all its pain, beauty, and necessity.  While there are several deaths in the book, the message of community is the one I took with me.   I can't recommend this series, and this particular book, more highly.