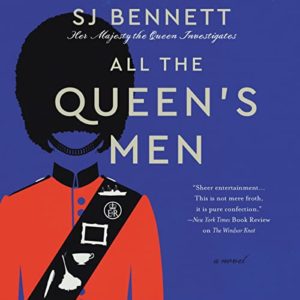 I am a devotee of this charming new series, where the detective is the most famous woman on the planet – Queen Elizabeth II.  She shares detecting duties (she's quite busy of course) with Rozie Oshodi, one of her private secretaries, a London born Nigerian.  She and Rozie formed a bond in the first novel as they investigated the mysterious death of a young Russian pianist at Buckingham Palace.
There are many things to love about these books.  One is the meticulous backstage look at how an enormous household like Buckingham Palace functions. One is the author's loving portrayal of the queen – a woman who is busy, organized, intelligent and curious.  One is the character of Rozie herself, who is almost, but not quite, a superwoman.  She's respected by her colleagues, but Buckingham Palace appears to be very much an old boy's club in many ways.  It's something the author turns her observant eye on in this novel.
The death that centers the story happens quickly – one of the housekeepers is discovered in the pool on palace grounds, apparently having bled to death after tripping on a glass that had been left carelessly close to the edge of the pool.  It transpires that the woman was not very much liked, except by the Queen, who appreciated her meticulous hand and artistic eye.
There's also a spate of poison pen letters, some of them received by the dead woman, some by another woman on staff who is resigning and heading to her childhood home in fear.   And some of them, both racist and sexist in nature, begin to be received by Rozie herself.
The Queen is upset about the woman's death, but it appears to have been an accident (spoiler alert: this is a mystery novel, and of course the death was no accident).  She's also concerned about a painting of her ship, the Britannia, that has been discovered in someone else's office.  She knows it is her painting and is utterly puzzled as to how it appeared somewhere else.  She sets Rozie to investigate why it's there and also to retrieve it.
The book is set in 2016, which is a smart move on the part of the author for a couple of reasons.  For one, it adds some years of investigating for her elderly detective who, in 2022, is extremely elderly.  It adds the background of Brexit and the 2016 U.S. presidential election.  And it allows Prince Phillip to still be alive.
The story is a complicated, well thought out, and intelligent one, that centers on art fraud on a grand scale and on the culture of the palace and the way the men around the Queen feel they are shielding her from things.  The Queen is always two steps ahead of them, as is Rozie.  It's a subtle bit of social commentary, and it threads through the whole book, including the life and treatment of the dead housekeeper.
I was reminded of how women in say, Victorian times (or even more recently) were deemed "crazy" or "hysterical" when they tried to speak up for themselves.  While Bennett's enjoyable novel is in no way a polemic, it is a thoughtful and realistic look at the way women are treated in our society.  (In the 2016 of this novel, Theresa May and Hilary Clinton serve as examples of this treatment). The Queen politely allows the men to have their say, even though she's always several steps ahead of them and has in fact subtly guided them in the right direction.  Being men, they tend to take the credit for themselves.
Mostly, though, this is a wonderfully told mystery novel, with unexpected plot turns, betrayals and most of all, the excellent partnership of the Queen and Rozie.  You could almost call it "The Queen and Rozie's Excellent Adventure."  I hope there are many, many more adventures to come.