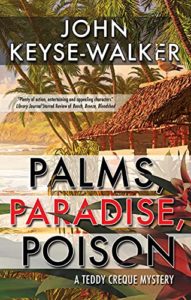 This is the third book in John Keyse-Walker's enjoyable Teddy Creque series, set on the fictional island of Anegada in the British Virgin Islands. Similar in tone and feel to the TV series Death in Paradise, Keyse-Walker's main character is not an imported British superintendent, but an island born constable, risen to the top of the heap in tiny Anegada.  He's also a fisherman, and his community plays a huge part in the story.
While the first book in the series was a traditional police procedural story with the added zing of the Caribbean setting, this one is a stripped down wonder that embraces the setting completely.  The book opens with a hurricane hitting the island (a sadly common occurrence in the Virgin Islands), and Teddy, while trying to evacuate the islanders to safety further inland, goes out to rescue a fellow fisherman who is out in one of the worst storms in island memory.
Combining the feel of the hurricane – I have never lived through one, but I now feel as though I have – with a daring and exciting rescue sequence, the book hits it out of the park from the start.  When Teddy improbably gets his boat out to a missing one, he finds the skipper dead and a strange woman aboard.  They make their way back to shore and the strange woman, a woman named Queen Ya-Ya, turns out to be an escaped prisoner.
Combining the best elements of both the adventure story and the quest – Teddy ends up following another lost boat as well as Queen Ya-Ya to Cuba (and the sequence of events that gets both of them there I leave to you, lucky reader, to discover for yourself). On top of these elements, he places the absolutely unforgettable character of Queen Ya-Ya, whose dastardly deeds are almost discovered by the reader in real time, just as Teddy himself discovers them.
The other major character is a Cuban detective, Luz, who practices the "good" version of Santeria, while Ya-Ya practices the more ominous side.  Teddy's unwillingness to believe either in Luz's version of faith or in Ya Ya's version gets him into some trouble and leaves the reader, in the end, wondering about what to believe themselves.
This was a skillfully told, suspenseful tale, saturated in atmosphere and setting, and full of the glories as well as the harsh realities of life in the Caribbean.  Somehow living on a beach seems romantic, but you can still starve to death on a beach, and Keyse-Walker illuminates that possibility.  This is a beautifully vivid and hard to forget book.