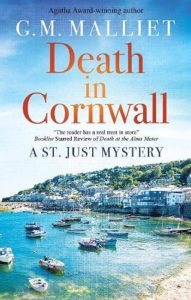 I was (am) a giant fan of Malliet's Max Tudor series.  I had always been aware of the St. Just series, but had never read one, and I am now a giant fan of this series as well.  There are really very few practitioners of the traditional British detective novel working at the moment, and Malliet is one of the best.  Her novels are very much golden age in pattern, with a series detective, a fast paced and tidy narrative, and in this case, a setting to die for – the Cornish coast.
Using a trope beloved of novelists from Agatha Christie to Deborah Crombie to Louise Penny, St. Just is on vacation with his fiancée (the wittily named Portia De'Ath – I hope she keeps her maiden name!) Like Crombie's Duncan and Penny's Gamache, St. Just seems to be the calm center of the storm.  It made it completely believable that the local constabulary would turn to him for advice.
Malliet sets her scene beautifully, with St. Just and Portia lost on their way to their destination, enveloped by sheep, and at last carting their luggage up to a quaint seaside cottage with gorgeous views.  I wanted to be there, and I really wanted to be there after their dinner at the foodie pub up the street.  Malliet then effortlessly begins to seed her canvas with the characters who will populate her mystery, making each one memorable and unique.
There's Lord Bodwally; there's the pub owner, Morwenna; there's Sybil, who tends the vaguely pagan stone circle at the top of the cliff; there's Sepia, the art gallery owner; and there's the temporary vicar, Judith, cheerful in Hawaiian shirts.  There's also a resident celebrity.
Of course into this paradise a death must come, and Lord Bodwally is the first to go, his body discovered in his library by Portia.  There are several factors that set this series apart from other series of its kind.  One of Malliet's sheer prose skill.  Her use of the English language is light, humorous, and perfect.  Her definition of character makes each memorable, giving each an appropriate presence in the plot.
In a more contemporary manner, she teases out the psychological backstories of most of the characters.  Some are red herrings and some are not, but all are both relevant to the whole and make the reading experience a more vivid one.  Her plotting, much like the great Agatha herself, is organic, with each element of the plot unfolding naturally from the one before it.
As I neared the end of the book (to my surprise, as I had been enjoying it so much the pages flew through my fingers faster than I might have liked) the various plot elements began to coalesce, providing a truly riveting denouement to the story.
I also grew fond of both St. Just and Portia, a kind, happily matched pair who seem destined to enjoy a long marriage together.  The gentle joke which ends the book was spot on and the trip to the Cornish coast was absolutely priceless.  I am now planning to read the rest of the series, in order, as these things are meant to be read – I'm just glad I've finally joined the party.