Our two regular reviewers, Cathy Akers-Jordan and Vicki Kondelik, have shared their top 10 lists with us, and the book club chimes in on their favorite reads of the year as well.  Lots of good reading here!
Cathy:
Daughter of the Morning Star, Craig Johnson.  The new Longmire book is always the highlight of my mystery-reading year. The rez isn't part of Walt Longmire's jurisdiction, but when Tribal Police Chief Lolo Long recruits Walt and Henry to protect her niece, we learn the shocking statistics on the abuse and murder of Indian Women. Walt deals with a teenage basketball star while trying his best to keep her alive.
The Madness of Crowds, Louise Penny.  Although I loved seeing the Gamache family in Paris, I was really excited to see them all back in Three Pines. It will be interesting to see the future family dynamics now that both Gamache children and Armand's godfather live nearby.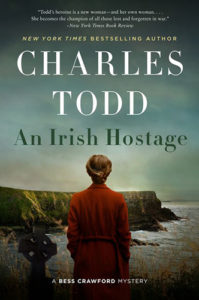 An Irish Hostage, Charles Todd. Bess Crawford goes to Ireland for a wedding. The "troubles" keep her from easily leaving. Of course she solves the murder but there's a surprising development in her friendship with Simon. I can hardly wait for the next book.
One of Our Own by Jane Haddam (last book).  Gregor Demarkian, retired FBI profiler, and his wife decide to foster a child. Where their new family is threatened by attempted murder on their own street, Gregor comes out of retired to solve the case. A nice wrap-up to the series. RIP, Jane Haddam.
The Weaver's Revenge, Kathleen Ernst. Kathleen writes in one of my favorite formats: parallel plots. In the modern story Chloe works at a restored Finnish family farm in Michigan's UP. In the past story, we learn about the people who lived there and the real significance of the artifacts Chloe is working with, when she's not busy solving a murder or two.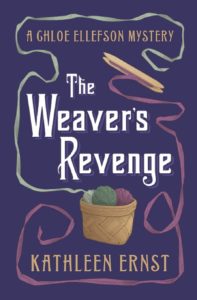 Murder in the Cookbook Nook by Ellery Adams. Seriously, I want to live in this book-lovers retreat where every public room is filled with books and named after a famous author. Manager Jane steward has her hands full with a competitive cooking show filming at the retreat turns deadly.
Laying Bones, Reavis Z. Wortham. Another highlight of my reading year ever year. Constable Ned Parker's nephew dies is a car accident, or was he murdered? While Grandpa Ned investigates a suspicious honky-tonk his grandson Top, meets the new kids in town. Twins who are nothing but trouble.
Dark Yule, R.M. Callahan. A cat cozy with a Lovecraftian twist. Pumpkin Spice protects her naïve human witch from an evil lurking in a nearby swamp. Evil grows stronger during the long winter nights as Pumpkin and the other cats work to save their village before the winter solstice. (You needn't be familiar with H. P. Lovecraft to enjoy this story.)
Chasing Jack, Parnell Hall (last book). This brilliantly funny dark-humor caper follows two killers who just can't seem to find the mysterious man named Jack whom they are hunting. Only Parnell Hall could write such a fun adventure while awaiting a lung transplant. Only Parnell Hall could promote it while rehospitalized for transplant complications. Sadly, it. was Parnell's last book and one heck of sendoff. RIP, Parnell Hall.
Furmidable Foes, Rita Mae Brown & Sneaky Pie Brown. This long-running series contains a series within a series, of which Furmidable Foes is the last. Books 23-28 have parallel plots, one set in the present and on set right after the Revolutionary War. It's fun to see the story of Harry and Susan's ancestors and their homes. Of course, the murders in the present have a connection to the historical plot.
Vicki: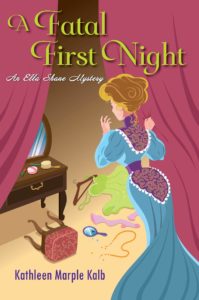 The Dark Heart of Florence, Tasha Alexander
Death of a Showman, Mariah Fredericks
The Postscript Murders, Elly Griffiths
A Fatal First Night, Kathleen Marple Kalb: "Wonderful series about Ella Shane, an opera singer who sings male roles in 1890's New York.  This series should be much better known."  (Agree!  ed.)
The Hollywood Spy, Susan Elia MacNeal
Murder in Old Bombay, Nev March
The Bombay Prince, Sujata Massey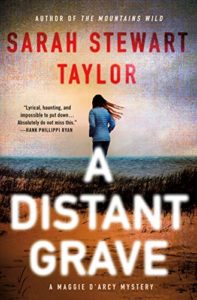 Murder at Mena House, Erica Ruth Neubauer
The Madness of Crowds, Louise Penny.  "Set in a post-pandemic Three Pines, this thought-provoking novel gives the reader insight into the nature of crowds, and why they get taken in by dangerous ideas."
The Mountains Wild, Sarah Stewart Taylor. "(And its sequel, A Distant Grave.  OK, I'm cheating a little, with two by one author in one entry.  But I liked them equally well).  Outstanding new series about Maggie D'Arcy, a Long Island homicide detective, whose cousin disappeared in Ireland over twenty years ago.  A present day case may provide clues to what happened to Maggie's cousin.  In A Distant Grave, Maggie investigates the murder of an Irish humanitarian aid worker on Long Island.  The books alternate locations between Long Island and Dublin, and make the reader want to go to Dublin.  These two books are the best I read all year."
Book Club Picks
Lisa Arnsdorf: The Night Hawks, Elly Griffiths; When No One is Watching, Alyssa Cole; The Guest List, Lucy Foley and A Ghost in the Garden, Elly Griffiths ("loving her YA series!).  Not a mysteries: You'll Grow Out of it, Jessi Klein, "so funny"; The Midnight Library, Matt Haig.  "A fun, easy mystery for the holidays": Miss Frost Solves a Cold Case, Kristen Painter. "It's a surprisingly tight mystery and lots of fun to read.  Magic, elves of various varieties, a few vampires, some entertaining romance, and a mystery.  Fun!"
Lesli Ballard: Firekeeper's Daughter, Angeline Boulley.  and "not a mystery but one of my absolute favorites for a fun funny book", The Rosie Project, Graeme Simsion.
Tori Booker: The Thursday Murder Club, Richard Osman and The Missing American, Kwei Quartey.
Jane Auringer Danjin: The Madness of Crowds,  Louise Penny.
Mary K Mcintire: The Merrick Dossier, Charles McCrarry and not a mystery, Great Circle, Maggie Shipstead.
Tammy Rhodes: "I have enjoyed the series by Paula Munier, most recently The Hiding Place. I also have enjoyed Margaret Mizushima, her latest in the series is Striking Range.  In addition I am 3 books into a….series by Dustin Stevens, 1st of which is The Boat Man.…All of the above series are about humans and their working dogs."  She also mentioned The Holdout by Graham Moore and Caroline B. Cooney's The Grandmother Plot and Before She Was Helen.
Kathryn Rybka: Arsenic and Adobo, Mia P. Manasala.  Kathryn says: "The expression, 'meet someone where they're at,' applied for me with this work.  I needed a book that was somewhat 'soothing', that moved along, had characters I liked, and offered the authentic voice of the author.  It also focused on family and friends — and with so little family, I treasure my friends ever more so.  I know this is not a perfect…book, but it was one I looked forward to picking up each night and read every word of it."
Rob Weaver: Dark Sky, C.J. Box; The Guest List, Lucy Foley; The Midnight Library, Matt Haig; Klara and the Sun, Kazuo Ishiguro and the Last Talk with Lola Faye, Thomas H. Cook.
Roxie Weaver: The Holdout, Graham Moore; Under a Dark Sky, Lori Rader-Day; The Last Mona Lisa, Jonathan Santlofer; the The Final Twist, Jeffrey Deaver. She says one she read that wasn't a mystery but "so weird but I really liked", Nothing to See Here, Kevin Wilson.