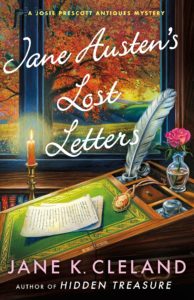 Long ago in a village named St. Mary Meade lived a spinster named Miss Marple, who could, through her knowledge of human nature, solve crimes.  Thanks to her status as an older lady who knitted and gardened, she was frequently overlooked and underestimated.  This was an asset to Miss Marple.  Fast forward to the present day.  The slew of amateur female detectives at work in the form of the contemporary cozy novel are not overlooked (though many of them are starting over).  They are strong women who in general run their own businesses and have successful relationships.  It's no longer an asset to be overlooked – in fact, one of the characters in Jane Cleland's new book has "Be Bold" tattooed on her arm.
Now while the trappings of the detectives have changed, the brains have not.  It still takes an astute and intrepid woman to get to the heart of a murder mystery, and Jane Cleland's Josie Prescott has all of that going on.  Josie is the owner of Prescott's Antiques in New Hampshire, where she lives with her husband, Ty.
One of the things I like best about Cleland's books is the Josie used her skills as an antique appraiser and expert to solve the crimes she encounters.  In this novel, as the book opens, she's filming an episode for her antiques-centric TV show (sounds very much like the popular Antiques Roadshow), discussing the provenance and authenticity of a first edition of Peter Rabbit.
As the filming process proceeds, Josie forms the start of a friendship with one of the experts, Gloria.  The two share a work ethic and an intelligence as well as a love of old books and documents that gives them a bond.  Of course, Gloria is murdered, and Josie feels like she can hardly help but look into the matter as the body is discovered near her property.
Josie has also been distracted by the appearance of a stranger who leaves a box and drives off.  When Josie opens it, she discovers not only that it's from her father, who perished on September 11, but the portfolio of watercolor sketches inside also happens to contain two letters apparently signed by Jane Austen.  Not only that, but the mystery woman has identified herself as a friend of her father's, someone Josie knew nothing about. As she'd thought she and her father were close and had known everything about each other, it throws her off emotionally.
So Josie has several things on her plate – the murder of Gloria; the authenticity of the Jane Austen letters; and the fact that there's a woman out there somewhere who knew her beloved father.  Josie is distracted but determined, and the intelligence with which Cleland assembles her plot is practically golden age.  There are clues, red herrings, and overlaying it all, the expertise of both Josie and the now deceased Gloria.
There's some good detail about the antiques business, Jane Austen, authenticating documents and handwriting, and a pretty clear eyed look at the way used and rare bookstores are run.  The story was compelling and engaging, and Josie is a wonderful central character.  Though it's a secondary character who has the "Be Bold" tattoo, Josie might consider getting one for herself.  This is a wonderfully engaging series.