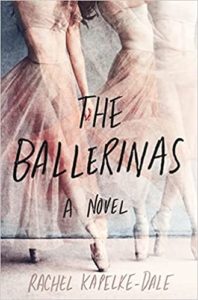 This is a delicious swoon of a book.  It's not a mystery though there are some (very) low level crimes involved, but it's mostly a story about ballet, female friendship, and the efforts women make to be heard and acknowledged in their lives, professional and personal.  The central character is Delphine Legere, and as the book opens, she's a young student at the Paris Opera Ballet (POB), an elite dance training school.  Delphine and her best friend, the tempestuous Margaux, are challenged by the arrival of the beautiful American student, Lindsay.
As the three grow together, advancing up into the corps de ballet and beyond, Kapelke-Dale focuses on the hard work and pure ambition it takes to form a ballerina.  While the outer layer of the ballerina is beautiful, soft, and (in general) pink, the hard-working interior is another story.  The girls work their bodies to within an inch of their lives, always striving to be better – to be perfect.
Delphine's mother is a genuinely famous ballet star – her rank is the highest at the Opera, Etoile.  As a mother she's remote and aloof, and her main message to her daughter, other than to be a perfect ballerina, is never to get pregnant.
Of course, as the girls grow, life and the different limits of their talents intervene.  There are boys.  There are the ambitions to make it beyond the corps – to become a principal.  While Margaux and Lindsay advance slowly within the Opera hierarchy, Delphine chooses a different route: choreography.  She ends up in Russia with a domineering boyfriend and a shakily advancing career as a choreographer at the iconic Mariinsky theater.
While she's left Paris apparently on purpose, the main thrust of the book happens as Delphine returns as a choreographer, staging a ballet she's calling Tsarina, about the last Empress of Russia's relationship with Rasputin.  As she returns to reunite with her old friends, it's clear there's something not quite right.  There's an incident referred to and not revealed until late in the book that shaped all three women.
As Delphine gets to work with Lindsay, who she's chosen as the star, she's sees Lindsay is all wrong for the part.  Margaux has become bitter, a working alcoholic in the ballet ranks.  The there of them have many things to work through.  All of them are in their mid thirties, a time when their bodies as dancers are beginning to give out (retirement is mandatory at 42), and a time when they are assessing their life choices and the things they've been and done to one another.
This is certainly a ballet story – I loved all the dance details, from choreography to the brutality of toe shoes – but it's primarily a story where three women learn to speak up for themselves and figure out what they truly desire from life.  It's a blast of a book especially if you're a dance fan.