This review is by our frequent reviewer Vicki Kondelik.
A Counterfeit Suitor is the fifth in the Rosalind Thorne series of Regency mysteries by Darcie Wilde (a pseudonym for Sarah Zettel).  Rosalind is a gentlewoman living in reduced circumstances after her father–an alcoholic, gambler, and forger–left England to escape his debts and avoid criminal charges for forging promissory notes.  He had taken Rosalind's sister Charlotte to Paris with him, while Rosalind and her mother stayed in England.  Her mother has died since these events took place, a few years before the beginning of the series, and Charlotte has become a courtesan.  To support herself, Rosalind solves problems for gentlewomen in trouble, to avoid family scandals.  Usually, that means investigating murders with the help of her love interest, handsome Bow Street Runner Adam Harkness.
In December 1819, Mrs. Walford, a widowed French exile, asks Rosalind to look into the background of her daughter Augustina's suitor, Horatio Salter.  Mrs. Walford's late husband made his fortune in trade, which means that the high society of London looks down on the family, and Mrs. Walford wants to improve her daughter's fortunes by making a brilliant marriage for her.  She has doubts about Salter, and Rosalind's investigation proves her right, when it turns out that Salter had been involved in a financial scandal in 1814, when false rumors of Napoleon's death sent the stock market into a collapse.  Rosalind plans to expose Salter in front of his prospective in-laws at the opera, but her plans go disastrously wrong.
Rosalind's father has escaped from the house in Bath where her sister Charlotte has been keeping him.  Charlotte turns to Rosalind in desperation, terrified that, now that he is free, their father will ruin the whole family.  Charlotte is now pregnant, and engaged to her latest protector, and she is afraid her father will ruin her plans for a respectable life.  Rosalind agrees to help find her father, but, that night at the opera when she hopes to expose Salter, her father makes a sudden appearance in the company of blackmailer Russell Fullerton and threatens Rosalind.
Fullerton has been Rosalind's nemesis in several previous cases, since she has a way of foiling his schemes.  She knows that her father and Fullerton can ruin the reputation of her whole family.  Before she can think of a plan to stop her father, he is found murdered in Fullerton's house.  Fullerton has blood all over him, and he has burned incriminating letters in the fireplace, so he is the obvious suspect, and soon Adam Harkness and the other Bow Street Runners take him to prison.
Rosalind, however, has doubts about whether Fullerton is really guilty, even though she wants him to be.  Then she receives a letter from Fullerton, asking her to visit him in prison.  He insists he is not guilty, and asks Rosalind to find the real killer before he hangs for a murder he didn't commit.  As much as she would like to see Fullerton dead, Rosalind agrees, because she does not want her father's murderer to go free.
Rosalind searches for the killer with the help of her sister, her childhood friend Sanderson Faulks, her friend Alice Littlefield, a gossip columnist and aspiring novelist with whom she shares rooms, and, of course, Adam Harkness.  Soon she discovers a potential connection between her father's murder and the other case she's investigating, the background of Horatio Salter and his involvement in financial scandal.  It seems that Fullerton and Salter may have worked together to bribe Rosalind's new maid, Amelia, to spy on her.  As she speaks to the members of the Walford family, the French exiles who are Salter's prospective in-laws, she discovers that they may be involved with a Bonapartist plot to rescue Napoleon from St. Helena.  It seems that Fullerton might also have a connection to the plot.  Will Rosalind be able to untangle this web of intrigue and foil the plot, before the wrong man hangs for her father's murder?
A Counterfeit Suitor is another excellent entry in the series, and it stands on its own, even though, of course, it is probably best to have read the previous books.  This book explains the background of Rosalind's family scandal very well, and in more depth than previous volumes, which had only hinted at the nature of it.  I was glad to see the complex relationship between Rosalind and her sister Charlotte explored in more detail.  Rosalind never understood why Charlotte abandoned the family, went to Paris with her disgraced father, and turned to prostitution, but she still loves her sister.  At one point, she suspects her sister of murdering her father, and hopes it does not turn out to be the case.  Even when Rosalind no longer suspects her sister of murder, she realizes Charlotte is keeping secrets from her.  It will be interesting to see how this relationship develops in future books.
Rosalind's relationship with Adam Harkness progresses in this book, as the two of them finally admit, at least to themselves, that they love each other.  There is a great difference in their social classes, though, and there is still much that has to happen before they can be together.  And will Rosalind want to give up her independence?  As readers of the previous volume know, Rosalind had turned down a marriage proposal from a duke because she didn't want to give up her life as an independent investigator.  We will have to wait and see how things turn out between her and Adam in future volumes.
Darcie Wilde, as always, brings Regency London to life with many details about the manners and customs of the time.  She begins her chapters with quotations from Maria Edgeworth and other Regency authors (usually female authors), and the quotations give insight into the events of the chapter.  I was also glad to see more of Rosalind's friend Alice Littlefield, an aspiring novelist herself.  While most of the chapters are told from Rosalind's point of view, some are told from other points of view, including Alice's, Adam's, and even the villain's, and the changing points of view help to build up suspense.  A Counterfeit Suitor is quite a bit longer than the previous volumes in the series, but it has a complex plot, and Wilde does an excellent job making everything clear to the reader.  We know the various threads will come together eventually, but we don't know exactly how until the very end.  I highly recommend A Counterfeit Suitor to anyone who enjoys historical mysteries.
********************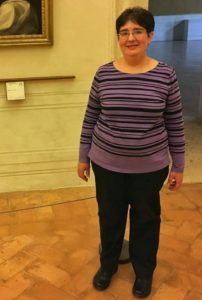 Vicki Kondelik is a cataloger at the University of Michigan's Graduate Library, and edits their book review blog, Lost in the Stacks.   She writes book reviews for the Historical Novel Society, and is currently writing a historical novel.  She has been an avid mystery reader for a long time.