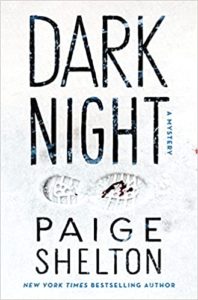 This is the third in Paige Shelton's insanely enjoyable Alaska wild series, set in tiny Benedict and featuring Beth Rivers, who is hiding out. She'd been kidnapped and got away, though sustaining a concussion and other injuries as well as suffering from PTSD.  She is wary when she arrives in Alaska but by book three has begun to relax into life in Benedict – more or less.
She had left the lower 48 after her kidnapping, leaving the hospital against her doctor's orders and in fear of the man who took her, who so far in the series has not been captured (though I'm assuming that will eventually happen).  She's also a well known writer under a pen name, so she's able to maintain cover by writing the tiny town paper while using the paper's "office" – a tiny shack behind the library (good wifi and cell phone coverage, which happens few other places in town).  She's made a connection with the librarian, a stoner Willie Nelson type who nevertheless has some special ops skills as far as obtaining information goes.
The other giant hanging lose thread in Beth's life is her mother, Mill, who is on the run after shooting and injuring Beth's alleged attacker.  She has gone to ground though naturally she turns up when Beth least expects it.  One of the strengths of this book is this fraught though loving relationship.  Mill dragged Beth around for most of her childhood hunting for her father, who disappeared years ago without a trace.  Mill is still hunting for him.
Into this situation, of course, a crime must fall, and it's a doozy.  As the denizens of Benedict are gathered in the bar one night, a woman comes in, beaten and bloody.  Everyone in town is pretty sure the person responsible is her husband, Ned, whom no one seems to like. The woman, Claudia, more or less confirms this and the doctor is called.
Beth lives at a halfway house (basically by accident), under the strong watchful eye of Viola, who ends up serving as the de facto town jailer.  She also takes in probationers and reforms them. Her sister, Benny, runs the bar, and Benny steps up to take care of the Claudia situation.  Claudia ends up under her supervision as Beth and Viola head home, but of course the next morning Ned's body is found in what passes for the town square.
Shelton spins this into a locked room mystery as most of the suspects were under lock and key, or within sight of each other, at the time of the murder. The wild card is Ned's sister, Lucy, on the run from the law herself and Viola is asked by the town lawman to keep her under locked up until either a flight or a ferry to Juneau can take place, which, because of weather, is not happening.
Shelton manages to combine the more quaint small town aspects of Benedict, which is a cozy trope, with the ferocity of the Alaskan winter and the different ways the residents of Benedict react to the long months of isolation, dark, and cold, which is more of a noir trope.
Mill turns out to be mostly a help to the situation, earning at least a grudging respect from most of Beth's friends, and granted a look-the-other-way from the town cop – as long as she doesn't stay in town too long.  Beth is happy to be reunited with her mother, but also frustrated, wary, and curious. Family is complicated, and the deft Shelton never lets the reader forget that fact.
As the mystery unravels and Mill and Beth reach an epiphany of sorts, the clever Shelton leaves a dandy hanging thread for the reader on the last page, making it very difficult to wait for book four.  This is a wonderful series, balancing relationships and a clever mystery with a well paced and told story.  I'm a huge fan. I love the female centric universe as well as the complicated Beth.