There are two authors whose work is so consistently excellent I don't add them to my best of lists anymore, but I can tell you that William Kent Krueger's prequel to his Cork O'Connor series, Lightning Strike, is beautifully written, felt and told; and Louise Penny's The Madness of Crowds, a sly look at devotees of a flawed charismatic leader, is a beautiful read.  Both writers have a quality of heart and spirit that give their books an extra something, and their main characters, Cork O'Connor and Armand Gamache, are beloved by readers. Soon to join these two are Elly Griffiths and Ann Cleeves, both of whom turned in stellar reads this year (see below).  I invite readers to cast their reading nets a bit wider and consider some of these other fine titles.  These are all books that stayed with me and left me thinking after I finished them.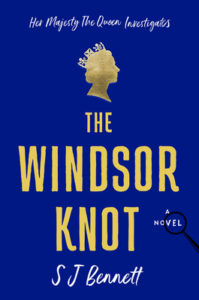 The Windsor Knot, SJ Bennett. This book is adorable in the best possible way.  I usually hate it when real people are used as the detective, and in the case of this novel "the detective" is one of the most famous people on the planet, Queen Elizabeth II.  But SJ Bennett has real affection and reverence – in the nicest way – for her majesty and the actual detecting is mostly done by the Queen's Assistant Private Secretary, Rozie Oshodi, a British Nigerian who shares the Queen's affection for horses and would do anything for the "boss." When a murder occurs at Windsor, Rozie is assigned to the awkward task of investigating a crime at the Queen's home.  The detective skills of both women are a nice yin and yang.  The slight grittiness of the story is balanced by the witty storytelling and wonderful characterizations of both Rozie and the Queen.  Simply delightful.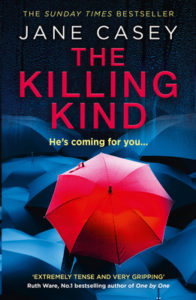 The Killing Kind, Jane Casey. This outing from Jane Casey is whip smart and terrifying.  In this standalone, the central character is a barrister, youngish Ingrid Lewis, happily involved with Mark.  As Ingrid goes through her court routine in the opening scene, which sets up not only the legal surround but some of the relationships and events that carry through the book, she lends a colleague her umbrella.  As she's hurrying out later to another case, she sees that the umbrella borrower has been a victim of a hit and run.  As she is interviewed by a police officer about her colleague, she mentions a stalker from her past.  She's afraid the man saw her umbrella and pushed the wrong woman under a bus. From there, Casey expertly dips between timelines to delineate Ingrid's involvement with the stalker, her breakup, and her own detection skills, in which she uses her barrister skill set to help resolve her situation.  Tense, well written, beautifully imagined and written, this is a thriller that leaves you thinking after you finish the last page.  Read my interview with Jane Casey here.
Fallen, Linda Castillo. It's amazing to me that Linda Castillo can work within such a tight construct and still, every time,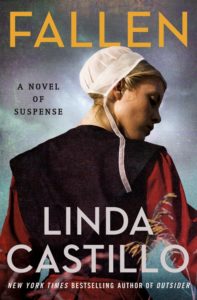 produce an original and thoughtful book.  Her set up: Chief of Police Kate Burkholder, who has grown up Amish, is the insider/outsider head of law enforcement in tiny, Amish centric Painter's Mill, Ohio.  She has connections with the Amish but they don't fully trust her as she's left the faith, but she still has insider knowledge of the culture that help her to solve the crimes that occur in her community. The book opens with the truly horrific murder of Rachael Schwartz, a "fallen" Amish girl – her acts are so far outside the boundaries of Amish culture that she's viewed as unsavable.  When she's discovered beaten to death in a Painter's Mill hotel room, however, Kate, who knew her as a child, is outraged and determined to find out who did this to her.
Castillo is a top notch thriller writer.  She creates suspense, she provides clues and an interesting investigative process, and she always includes a good twist.  Her books are insanely readable.  I was especially taken with this one.  Rachael is a fascinating character and Castillo's musing at one point – about the foundation a parent can instill, for good or ill – is interesting as Kate speculates that Rachael's parental foundation was too strict and unyielding. A thriller writer who gives the reader something to ponder as they read really can't be beat.  I was annoyed to have to leave for work as I got to the end of the book, because I did not want to put it down until I finished it.  Is there a better reader endorsement?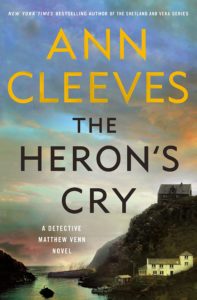 The Heron's Cry, Ann Cleeves. The second in Ann Cleeves' Detective Mathew Venn series finds Matthew investigating a case on the grounds of an artist's colony and farm.  The book opens with a party attended by a very drunk Detective Jen Rafferty, who meets the victim at the party, but didn't talk to him for long because of her condition – something she comes to regret. The dead man, Nigel Yeo, was a doctor who worked with people who had complaints about National Health.  He is discovered with a huge shard of glass in his neck, glass created by his glassblower daughter, Eve. The deaths include a mysterious string of suicides, one specifically being investigated by Dr. Yeo before he was murdered, and the death of a charming never do well artist who everyone tolerated but grudgingly loved. Cleeves creates an entire community around Matthew and it's a true strength of the novel. Cleeves' books are a slow burn as she builds her stories brick by careful brick.  With this kind of approach, the ending needs to be bangin' to carry it off, and Cleeves achieves this in spades as she wraps up her story in a heartbreaking fashion.  The detective work that brings a result is meticulous but illuminated – as all good detective novels are – by flashes of brilliant insight and connections on the part of the detective. A wonderful new series.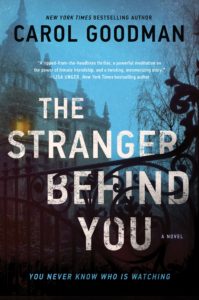 The Stranger Behind You, Carol Goodman. I loved Goodman's novel last year, The Sea of Lost Girls, and I love this one even more.  It's very of the moment, as it involves a powerful newspaper magnate who has been sexually harassing his female employees.  Like last year's novel, Goodman's concern is the shame the women feel for something that is not their fault. The book is told in alternating narratives.  One narrative comes from Joan, the reporter who breaks the story; the other comes from Melissa, the wife and ultimately widow (shades of Jeffrey Epstein) of the accused man, who has left his widow not only covered in shame, but more or less broke. Joan, who returns to her apartment after a night of celebrating her big story, is attacked.  While a book deal gives her the financial means to move out of her sketchy apartment and into a much nicer building, one with excellent security, it also leaves her both afraid to leave her new place and unable to work on the book that's garnered her a windfall.
Goodman also has a touch of the gothic to her storytelling.  The building where the two women end up, The Refuge, sits atop a cliff with deadly rocks below.  In the past it was the home of an infamous Magdalen laundry type operation, where the women who stayed were not in a refuge, but in more or less a prison. The ghosts of these long-gone women seem to haunt the place. The story is told in such a propulsive manner, illuminating the lives and thought processes of the two women as they inevitably draw closer to one another.  Goodman has layered her character study on top of an excellent thriller.  The gothic, atmospheric touches only serve to make the book more memorable and harder to forget after you turn the last page.  This is one of the reads of the year.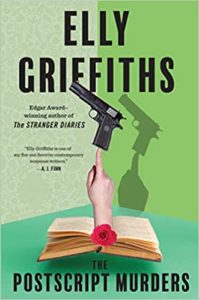 The Postscript Murders, Elly Griffiths. I'm an unabashed Elly Griffiths fan, but this book was so much fun, so delicious, so cleverly assembled, that it's a standout in her now lengthy career.  As the book opens, the very elderly Peggy is discovered dead in her favorite chair at the window by her caregiver, Natalka.  As Natalka waits for both her boss and the undertaker, she notices a book Peggy had been reading.  Out of it falls a card: it says Mrs M Smith, Murder Consultant. When Natalka is asked by Peggy's son to help close up her apartment Natalka notices that first of all, most of Peggy's books were crime novels; and secondly, that all of them are dedicated to Peggy, or thank her in the acknowledgements.  Natalka thinks this is so odd she consults DS Harbinder Kaur (The Stranger Diaries) about it. This is the thinnest of premises, really, but somehow the charm and magical qualities of this story make it sing.
The pace of the narrative is relentless, but perfect.  The tone is not too light and not too heavy.  The language and the storytelling are intelligent and witty. There's a poignancy to this novel that never veers into cheesy sweetness.  Some writers have "the touch" – while the stories they tell might technically be unbelievable, the way they tell them make them absolutely right.  This many books on, Griffiths' sure hand and confidence as a writer – as well as the sheer joy she obviously has in writing her books – makes reading them nothing but pure pleasure.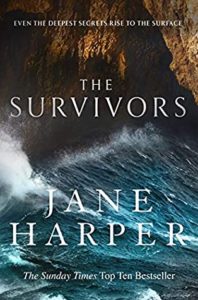 The Survivors, Jane Harper. Jane Harper uses nature to deepen and further her stories more than almost any writer I can think of.  In this novel, set in Tasmania, an island off the coast of Australia, the story takes place in a tiny seaside resort town, and the ocean and the caves surrounding the town are as much a character as any of the humans populating the book. This is a story of long held grief, secrets, and family dysfunction.  Kieran Elliott has brought his partner Mia and his baby daughter Audrey home to help his mother pack.  His father has dementia and he's moving to a home, while his mother is moving to an apartment near him.  The house is chaotic and full of boxes, and often all Kieran and Mia want to do it escape.
After a reunion with their friends at the local bar the first evening, the peace of the town is shattered when the body of a young woman, a seasonal worker, is discovered on the beach.  For the town, this dredges up memories of a terrible storm a decade ago, one that claimed the lives of three townspeople, including Kieran's older brother, Finn. While there may be other books written about long buried secrets and long held grief, Harper brings to the table a real skill with plot.  She is an original thinker and a brilliant narrative storyteller.  This is a book about dealing with the past, uncovering a killer, and looking forward.  It's beautifully written and emotionally true.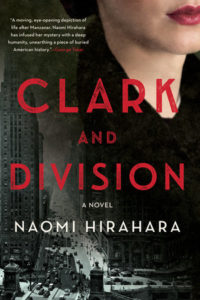 Clark and Division, Naomi Hirahara. This book is a knockout.  Hirahara, author of three different series set in contemporary Los Angeles and Hawaii, has turned her eye to 1944 and the plight of American born Japanese, as well as first generation immigrants, right after Pearl Harbor.  It is still shocking to me that we created internment camps for Japanese citizens who were simply going about their daily lives.  Hirahara brings it home by focusing intimately on one family, the Itos. The Itos – parents and daughters Rose and Aki – are hardworking, successful citizens.  One day the Itos are ordered to report to a camp where they will spend the next two years, sharing a room and a communal toilet that offers no privacy.  After a few years, the government begins to resettle Japanese all over the country, taking them from their familiar homes and plunging them into completely unfamiliar environments. Rose, the beautiful star of the family, goes on ahead to Chicago, and eventually, the rest of the family will be able to follow her. The day finally comes and the Itos head to Chicago, relishing the freedom of the train after being in camp for so long.  When they get to Chicago, it's dirty, noisy and confusing, and worst of all, when they arrive at the apartment Rose has found for them, they discover that she has died in a subway accident the night before.
Aki's journey to find out what happened to Rose mirrors her journey of growth as she becomes more confident and stronger, forcing herself into situations she would otherwise have avoided.  While the main part of the story – and it's beautifully told and rendered, and utterly heartbreaking – is the story of the family being sent to the internment camp and then resettled in a foreign place, it's also the story of Aki. This is a completely immersive reading experience and a completely unforgettable one. This is a shameful part of our history which Hirahara has turned a light on, but by giving the reader the gift of the Ito family, she provides some light and hope in the darkness.  This is a beautiful book, one of the reads of the year. Read my interview with Naomi Hirahara here.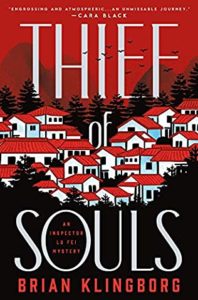 Thief of Souls, Brian Klingborg. This is a really solid start to a new series, one that reminded me of Stuart Kaminsky's classic Inspector Rostnikov series.  This new series is set in China, rather than Russia, but many of the societal and economic restrictions are similar.  Klingborg's Inspector Lu Fei is as bemused and practical a thinker as Rostnikov.  Lu Fei lives near Harbin, in northern China, but not in Harbin itself – he basically lives out in the sticks.  He prefers the steadiness of country policing and doesn't have a huge desire to move up. As the book opens, a young woman has been discovered dead by the neighbors. As Lu examines the scene and it appears they'll need more forensics help than their back water can provide, they send for the experts.  (I think in the US it's probably the equivalent of calling in the FBI.)  The experts quickly discover the woman's body has been cut open, and on further examination, that several of her organs have been removed.
Klingborg's real strength here is in portraying Chinese culture and life as it's lived by ordinary people.  Lu's small town life is enlivened by visits to a local dive bar – snacks are served but people are there to drink and admire the young widow who owns it, including Lu.  A portrait of his life – work, drinking, investigation, is incised on the reader's mind as though you're living it yourself.  To a western eye, it might seem a spare life, but Inpector Lu seems both satisfied and to expect nothing more – except to marry for love at some point. I love the character of Inspector Lu.  I think he is both sturdy enough and interesting enough to provide a strong backbone for a long series, and I would be delighted to spend more time with him.  This is a well written, thoughtful book.  Read my interview with Brian Klingborg here.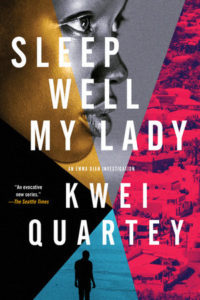 Sleep Well, My Lady, Kwei Quartey.  This is the follow up to Quartey's series debut, The Missing American.  The star of the book in every way is Emma Djan, who lives in Ghana and has left the police force to work at a private investigation firm.  She's a fully realized, complex, nuanced and charming character, and as a reader you are with her at every plot turn.  Set in Accra, Ghana, the Ghanaian culture is a character in the book as much as any of the people in the story.  Ghana sounds like an incredibly lively and vital place with a police department that's more interested in solving cases than finding the actual perpetrators of the crime.  Emma's boss, Mr. Sowah, is also a former cop, and he is excellent at working the system. 
As the book opens the beautiful Lady Araba, a fashion designer, is missed from her fashion show at the opening of Accra fashion week. Unfortunately, Lady Araba's gardener has just discovered her dead in her bedroom.  Quartey skillfully illuminates Araba's backstory, as well as her relationship with Augustus Seeza, a well-known talk show host (known for asking penetrating and difficult questions of his subjects).  Augustus, unfortunately, is also a raging alcoholic, and Kwartey's explication of his life and the toll it takes on those around him, from his parents to his ex wife to Lady Araba, is heartbreakingly and realistically depicted. Like any golden age writer, Kwartey's suspect pool is tight, and he deflects suspicion from one to another with ease and skill.  It's easy to suspect each one in turn as you try and figure out who really killed Lady Araba. Kwartey has a spectacular voice and his Ghanaian setting is not only unusual, it gives him plenty of scope. I think the sky is the limit for future installments as he has a wide canvas, a deft hand with a plot, and a real genius with character.  Emma Djan is someone to treasure. 
Also notable: A Distant Grave, Sarah Stewart Taylor; Her Perfect Life, Hank Phillippi Ryan; The Night Hawks, Elly Griffiths; Dead of Winter, Stephen Mack Jones; The Hiding Place, Paula Munier and Paige Shelton's Dark Night.   All are reviewed here.