I read many books in a year, but I still can't claim an encyclopedic reading of the cozies that were published in 2021.  These delicious morsels of storytelling are reason for joy, as the storytellers, even though they include murders, are in general optimistic.  You like the characters in these books, and would love to be friends with them.  These are my favorites this year.  For a really deep dive, check out Dru Ann Love's blog, Dru's Book Musings, which tackles everything in the cozy universe.  All of these titles are available on our website.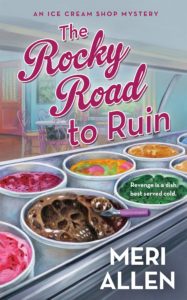 The Rocky Road to Ruin, Meri Allen.  In Meri Allen's inaugural series outing, heroine Riley Rhodes is returning to her small New England hometown after her stint as an undercover CIA operative (as a librarian) went horribly wrong. She's coming back for the funeral of her best friend's mother, and as is the way of the mystery novel, her friend's brother is murdered the night of the funeral. What was a stand out here was Allen's complexity with her characters and their motivations. Nothing is quite black and white – there are many shades of grey – as Riley sleuths to acquit her best friend.  She also takes over her best friend's mother's ice cream store.  This will obviously be a series staple going forward, and the homemade ice cream sounds delicious.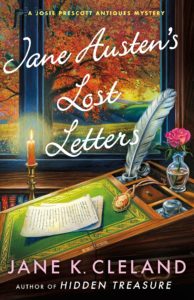 Jane Austen's Lost Letters, Jane K. Cleland. It takes an astute and intrepid woman to get to the heart of a murder mystery, and Jane Cleland's Josie Prescott has all of that going on.  Josie is the owner of Prescott's Antiques in New Hampshire, where she lives with her husband, Ty. One of the things I like best about Cleland's books is that Josie uses her skills as an antique appraiser and expert to solve the crimes she encounters.  In this novel, as the book opens, she's filming an episode for her antiques-centric TV show (sounds very much like the popular Antiques Roadshow). Josie forms a friendship with one of the experts, Gloria.  The two share a work ethic and an intelligence as well as a love of old books and documents that gives them a bond.  Of course, Gloria is murdered, and Josie feels like she can hardly help but look into the matter as the body is discovered near her property. While consumed with the murder, she's also consumed by a box a mystery woman has dropped off (without a word of explanation) from her long dead father.  The box contains some average watercolor sketches and what look like two authentic letters written by Jane Austen.   This book is a great mix of character delineation, antiques expertise, and a truly golden age style hand with plot. This is a stand out series, reliably excellent.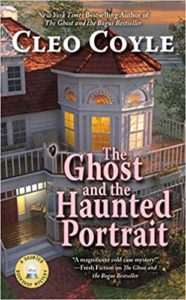 The Ghost and the Haunted Portrait, Cleo Coyle. This is the seventh in the series (the first five written as Alice Kimberly) featuring bookseller Penelope Thornton-McClure, or Pen for short, and as the book opens she and her aunt (and fellow bookseller) are planning a big launch party for a book on the art of pulp and early mass market paperback covers.  Making it more delicious is the fact that Pen "coexists" with a ghost named Jack Shepard, who was a P.I. back in the 40's. I loved the combination of the 40's private eye with the contemporary bookselling universe, as well as a little master class on pulp cover art.  The story was light, funny, and well told.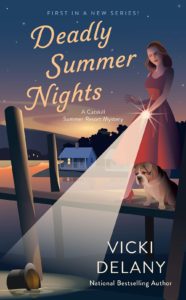 Deadly Summer Nights, Vicki Delaney. Vicki Delany launches yet another new series with Deadly Summer Nights. Set in a Catskill resort in the 1950's, Delany captures the feel of resort culture – wealthy New York families would spend several weeks of the summer at these resorts, enjoying the many planned activities, entertainments, and fine dining.  The heroine, Elizabeth Grady, works the nuts and bolts while her fading celeb mother works the front of the house, schmoozing the guests.  When a dead man is discovered on the property, an apparent Communist, all heck breaks loose.  The crime is tricky and character driven, and Delany, a total story telling pro, knocks this one out of the park.  It was one of my favorite reads of the year.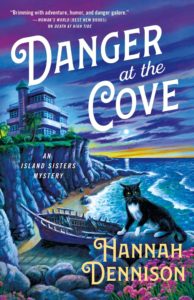 Danger at the Cove, Hannah Dennison This is the second installment in the charming Island Sisters series, set in Britain's Scilly Isles.  Sisters Evie and Margot have taken over an old hotel and are managing it for the owner.  They are on the hook for repairs, which are turning out to be massive. Because the books are set on the tiny island of Treggarick Rock, accessible only by boat and at certain times because of high or low tide, every story is going to be essentially a locked room mystery.  Because the décor of the hotel calls back to the 30's, this adds a decidedly golden age feel to the proceedings. Dennison has structured the book so that that murder is discovered just about exactly halfway through.  She spends the first half giving a thorough examination of her characters and setting, leading up to the remains of a shipwreck visible only at low tide.  It's on expedition to see the ship that the body is discovered.  The second half is then devoted to investigation. These books have a very real and enduring charm.  I love the two main characters, who are a good yin and yang (Evie is practical, Margot dreams big), and I love everything about the setting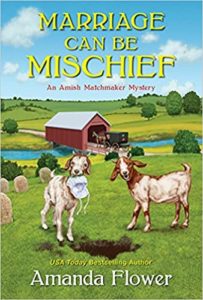 Marriage can be Mischief, Amanda Flower. The busy Amanda Flower (author of 10 series, 6 active), gifts us a visit with Amish matchmaker Millie Fisher, who makes a living as a quilter.  In this outing, Millie is wondering just how long her childhood friend Uriah Schrock will stay in town.  He's absent at the opening concert scene and it's only later that Millie discovers where he's been.  When the bones of Uriah's long missing sister turn up, Millie, called the "Amish Marple" gets to work.  Millie's relentless sleuthing gives readers a trip to a busy Amish restaurant, a buggy shop and a quilting bee, which both illuminate the Amish culture and advance the plot.  There's a matchmaking plot thread on the side as Millie settles differences between a young couple with doubts (on the part of the future groom).  The detective work is intelligent, and the clues are fairly laid   Though the suspect pool was small, I didn't guess the killer.  I loved the character of Millie, who in her 60's is happy to live on her own with her goats and her quilts.  Flower has that special sparkle that some writers have – the sparkle that makes the plot, characters and setting fly through your reading fingers faster than you can turn the pages.  She makes her situations and characters truly come to life, with a depth of emotion behind her characters that make them memorable.  This was a wonderful read.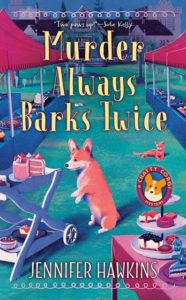 Murder Always Barks Twice, Jennifer Hawkins. Series heroine Emma has left a finance job in London to open a Cornish teashop as her true passion is – cakes. Along with her is her corgi, Oliver, who "talks" to Emma (she is the only one who understands what he says). Emma is taking on a huge catering job – providing food for the nearby Daphne du Maurier festival. So there are cakes, there's a corgi, there's Cornwall, and there's Daphne du Maurier.  What's not to love?  Really, I loved everything about this snappy, witty, well told mystery.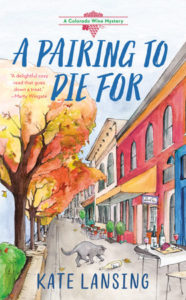 A Pairing to Die For, Kate Lansing.  This is the second entry in Lansing's Colorado Wine series. Main character Parker Valentine has just opened a winery in trendy Boulder, and as the book opens she's at an incredibly painful dinner with her boyfriend's family.  The boyfriend in question, Reid, owns the restaurant where the dinner is taking place so Parker is mostly left on her own, fending off the barbs lobbied by his family. When Reid is accused of the murder of his sous chef, Parker goes into overdrive with her lawyer best friend to prove his innocence.  This was a nice blend of setting, character, humor, and the details of wine making.  It made me either want to drink a glass or stomp some grapes.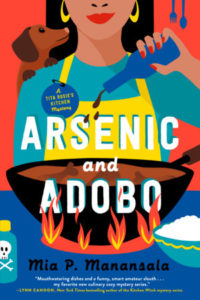 Arsenic and Adobo, Mia P. Manansala.  Rightly one of the reads of the year, Manansala, while adhering to the tropes of the cozy novel, nevertheless brings a fresh take to her telling of a poisoning at main character Lila's Aunt Rosie's restaurant.  The dead man is a food critic detested by every mom and pop restaurant owner in town.  Lila's family is Filipino and the presentation of the Filipino culture of family and food as an extension of love is one of the strengths of the novel.  (Also, the food is swoon-worthy.)  While the tone is cozy-ish there's an undertone that takes in the reality of living as a person of color in this country.  It's subtle, but present, and the book is the richer for it.  Paired with Manansala's natural storytelling chops, this is a series to keep your eye on.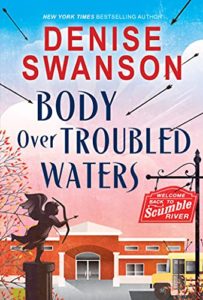 Body Over Troubled Waters, Denise Swanson.  It's no secret I'm a long time fan of Denise Swanson and especially of her Scumble River series, featuring school psychologist Skye Dennison, now the happily married mother of twins.  This is technically the 4th in her "Return to Scumble River" series, but it's actually the 24th book featuring Skye. In a series this long it's rare for one to pop out of the pack, but this one did, and part of the reason is Swanson's assured storytelling hand.  In this book, the Superintendent of Schools is murdered, and Skye is believably folded into the investigation as she works as a consultant to the police department (quite luckily, her hub is the police chief).  The combination of humor, a clever mystery, and characters readers have grown to love made this book a stand out.