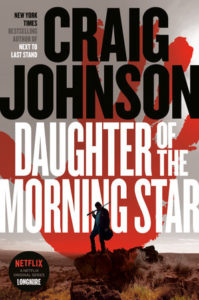 This review is by our frequent guest reviewer, Cathy Akers-Jordan.
Walt Longmire has been in some awkward and dangerous situations during his decades as Sheriff of Absaroka county. This year he faces one he had no way of anticipating: guarding a Indian teenage girls' basketball team. Longmire, big, tough, and a man of few words, is clearly out of his depth. He survives but only due to the help of best friend Henry Standing Bear and Deputy Vic Moretti.
The story focuses on Jaya Long, niece of Tribal Police Chief Lolo Long. A year after Jaya's sister Jeanie disappears, Jaya begins to receive threatening notes. Knowing she's unlikely to keep her niece safe when she's off the rez, Chief Long recruits Walt and Henry to do so and to find whoever is sending notes. Complicating the situation is Jaya's status as a superstar basketball player. Traveling to other schools for away games means there are more opportunities for someone to kidnap or kill Jaya.
On his website Johnson describes his new book as "part mystery, part thriller, part paranormal, part western fiction, part history, and part comedy. In essence, what I've been doing for seventeen years but with a few new twists…" I'd say that's an understatement.  One of the most shocking things we learn is the actual data on missing and murdered Indigenous women. Indigenous people make up 6.7% of the US population but account for 26% of missing persons, mostly women (Daughter of the Morning Star, p.51). Think about that. That means that every Indian family is missing a mother, aunt, sister, daughter, of niece – or more than one. This dark theme lurks in the background, even in the book's funniest moments.
Part of what I like about this series is the spirituality. Once again Walt experiences encounters with the supernatural, but still doesn't believe what he's seeing. It's that same stubbornness that makes him such a bulldog when he's on a case. This man will never stop trying until a case is solved, no matter the odds, no matter the personal danger, and we love him for it.
I also love the (nearly) life-long friendship between Walt and Henry Standing Bear. The Bear is all about spirituality and shrugs off Walt's doubts. His main concerns are protecting his people and his friends. Henry and Walt are an interesting dichotomy. They appear different on the surface, but deep down they could be twins, both strong, stubborn, and determined. Walt got the impetuous genes while Henry got the patient, sensible ones, so Henry always knows what to expect of his friend and when to provide unexpected back up. That's a relief for everyone who knows Walt. Sometimes I wonder if that stubborn streak became a death wish when his wife died before the series even started. While Walt has come a long way in dealing with his grief, he still doesn't hesitate to put himself in danger, even it means getting in a van full of teenage girls.
Speaking of girls, I hope we see more of Jaya Long in the future. The scenes of her fierce competitiveness on the basketball court truly had my heart racing. Jaya, as a representative of all the missing and murdered Indigenous women, had a story that made me yearn for her success in life on and off the court.
If I've made the story sound depressing, I assure you it's not. It contains Johnson's usual dose of laugh-out-loud humor – yet another reason I look forward to following Walt on a new adventure every year.
***************************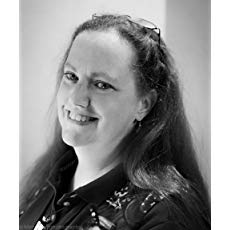 Cathy Akers-Jordan is a writing instructor at the University of Michigan-Flint where she teaches composition, business communications, and technical writing. She also works with independent study students who are writing fantasy and science-fiction. Her current works-in-progress are crime fiction.