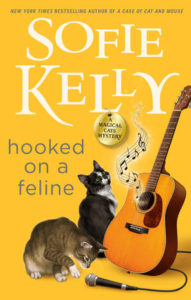 This review comes to us from guest reviewer Cathy Akers-Jordan.
Have you ever lost your cat indoors? You know what it's like. You look all over the house, in all the cat's favorite places, call its name, shout "treat!" while shaking the a container of the same, only to turn around and find the cat sitting in the exact spot you've already looked five times? Welcome to the life of Kathleen Paulson. Unlike our cats though, her gray tabby Owen can literally disappear. His brother, tuxedo cat Hercules, can walk through walls and other solid surfaces. Neither cat cares who knows about his magical ability but Kathleen tries to hide it so everyone will avoid the feral cat colony on Wisteria Hill where Owen and Hercules were born. Of course, the cats assist Kathleen in solving murders. If you like light-hearted cozy mysteries with a touch of magic, this is the series for you.
When Kathleen is not busy running the Mayville Heights, Minnesota, library, she's usually busy helping her police detective boyfriend Marcus solve murder cases. In Hooked on a Feline, they have an unusual case on their hands. After the reunion of a local rock band at the Mayville Heights music festival, one of the musicians is found dead. What appears to be a robbery cum murder becomes much more complex when Kathleen tells Marcus the victim was researching his family genealogy in the library right before he died. As the number of suspects increases, so does the threat to the victim's family members.
I really enjoyed the musical and genealogical aspect of this book. Music is included in all the books but not to this extent, and it's fun to watch Kathleen figuring out the clues based on the family records and research the victim left behind. Don't worry if you don't understand the DNA aspect of genealogical research. I didn't either and the author explains it so clearly that it doesn't slow the plot down, while also providing critical clues.
Owen and Hercules help Kathleen with every aspect of the investigation, whether she wants their help or not. Hercules is particularly adept at Internet searches, tapping the "wrong" key at just the right time to find pertinent info. Owen, who can turn invisible, manages to follow Kathleen to work, even when she's sure she's outsmarted him. For Hercules, who can walk through any solid surface, following Kathleen is easy. When she's confronted by the killer, Kathleen stalls him and tries to defend herself but the cats actually come to her defense. I would NOT want two swirling balls of claws and teeth attacking me from above and below, especially if I couldn't see them coming. Sometimes I almost, but not quite, feel bad for the killer!
If you like this series, you will probably like Kelly's other series, written as Sophie Ryan, the Second Chance Cat series. It features a secondhand shop and Elvis, the cat who watches Jeopardy!
***********************************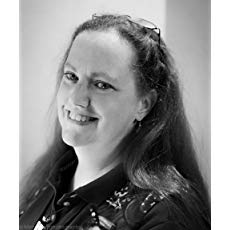 Cathy Akers-Jordan is a writing instructor at the University of Michigan-Flint where she teaches composition, business communications, and technical writing. She also works with independent study students who are writing fantasy and science-fiction. Her current works-in-progress are crime fiction.