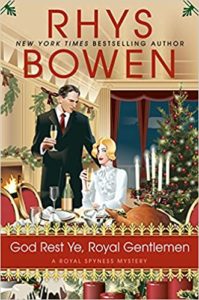 Poor Lady Georgie.  She's at last married to Darcy, in residence at a lovely estate, and all she wants is to have a happy family Christmas at her new home.  A typical wish for any young bride, but Georgie seems to have left her planning late, and her invitations are unfortunately declined as all and sundry seem to have made other plans.  Luckily Georgie's grandfather is able to come, and sadly for Georgie (but happily for the reader) her brother and sister in law, Binky and Fig, also plan to make an appearance.
At the last moment, Darcy's eccentric Aunt Ermintrude invites them for Christmas.  She's living at a grace and favor estate on the grounds of Sandringham, and the King and Queen are spending Christmas there.  It's 1936 and the King isn't well.  The ominous shadow of Mrs. Simpson hangs over everything, and the Queen has more or less requested Georgie's help.
The whole family – sans grandfather but plus Queenie – make the journey.  At the last minute Georgie's mother has turned up, declining to spend Christmas with the Nazis.  Also making an appearance: the Prince of Wales and Mrs. Simpson, who is pouting as David is expected to spend time with his ailing father.
Georgie's last Christmas outing (The Twelve Clues of Christmas, 2012) was a complete bloodbath so Georgie is understandable jumpy.  Happily for the reader, though unhappily for Georgie, the Queen shares that she senses an "evil" and the household staff is certain Sandringham is actually cursed.  While the body count is far, far smaller than it was in the earlier book, the reader is treated to several murders, some past, some present, as well as the delightful experience of sharing Christmas adjacent to the Royals.
Bowen really handles this with aplomb.  She never over plays her hand with the characters of the Queen, the little princesses, and the Prince of Wales and Mrs. Simpson, but they instead help to set the stage and create an atmosphere.  Georgie, the classic mystery insider-outsider (she's a cousin, but distant; she's royal blood, but impoverished), is often able to get to the heart of the matter thanks to her insider status and access to the Queen.
This was a well told story, and completely enjoyable, as Bowen's books always are.  She has a tricky bit coming up as she will have to address the King's death and the abdication of the next King.  If you read these books you are probably a fervent fan of Downton Abbey and The Crown, and any student of history knows what's coming.  The fun part is waiting to see just how the more than capable Bowen will take it on.  A delicious read, as well as a delicious amount of anticipation for Georgie's next adventure.