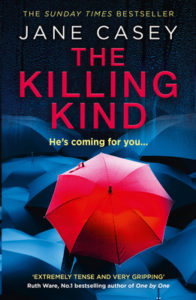 This stand alone from Jane Casey is whip smart and terrifying.  I am a big fan of her Maeve Kerrigan series, with its combination of character, complex plotting and nuanced look at police work.  In this standalone, the central character is not a policewoman but a barrister, youngish Ingrid Lewis, happily involved with Mark.
As Ingrid goes through her court routine in the opening scene, which sets up not only the legal surround but some of the relationships and events that carry through the book, she lends a colleague her umbrella.  As she's hurrying out later to another case, she sees that the umbrella borrower has been a victim of a hit and run.  As she is interviewed by a police officer about her colleague, she mentions a stalker from her past.  She's afraid the man saw her umbrella and pushed the wrong woman under a bus.
The story then backtracks in time, to where Ingrid is part of a team defending the stalker.  She interviews the stalking victim's friend and reading the exchange makes you uncomfortable.  As Ingrid has put it to herself: "we separated ourselves from questions of morality because we had to." She has a job to do and that involved decimating the victim of a stalker.  As the woman melts down after court, the stalker turns his attention to Ingrid.
Ingrid and Mark's life is made hellish by the man, who is completely relentless.  While Ingrid thinks he is off her back for awhile (he's been in prison) the hit and run has her on guard once again.  As Ingrid begins to be fenced in by other deaths, some very close to home, the threads that tie the victims together are not at all clear.
As she tries to make sense of everything that's happening, she has the help of police detective Adam Nash, who helps her to make sense of what's happening around her.  Unfortunately, the only other person who can help her make sense of what's happening is her stalker, John Webster.  Ingrid feels one predator understands another and she turns to him for advice, much to Adam's disapproval.
As this skillful storyteller sets her net, it becomes increasingly unclear who Ingrid can trust, and at times if Ingrid herself is to be trusted.  Casey allows no easy assumptions on the part of the reader.  While this book falls into a certain trend – a stand alone thriller featuring a woman – it also defies the trend.  There's the specific detail of the life of a barrister, detail which relates masterfully to the story at hand and to the choices Ingrid makes professionally and personally.
Ingrid challenges herself, turning the tables as she realizes her skillset – assembling evidence, putting together a story – can help her find a solution to what's been happening around her.  Casey has always been a subtly feminist writer, and it's something I've cherished about her books.  Her Maeve Kerrigan series follows a young police detective who is beset by sexism as she does her job, but she does it anyway.  In the same way Ingrid works through the system in place in her job as a barrister, and she uses these skills to solve the crime.
This is also a thriller though, so Ingrid's flashes of insight come almost a beat too late.  This complex story is so well put together, where each cog of the story turns the cog of the next bit.  Barbara D'Amato, a writer a revere, once said to me that she admired Agatha Christie because her storytelling was so "organic".  What she meant was that one part of the story flowed naturally from the part before it, making the whole a complete picture in the end.  Casey has this same gift.  A golden age gift, operating in the contemporary thriller world.  This book is enhanced by its specific setting and by the characters Casey brings to life on the page.  This is one of the reads of the year.