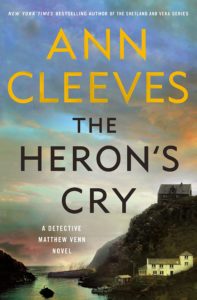 This novel will be published on September 7.
The second in Ann Cleeves' Detective Mathew Venn series finds Matthew investigating a case on the grounds of an artist's colony and farm.  The book opens with a party attended by a very drunk Detective Jen Rafferty, who meets the victim at the party, but didn't talk to him for long because of her condition – something she comes to regret.
The dead man, Nigel Yeo, was a doctor who worked with people who had complaints about National Health.  He is discovered with a huge shard of glass in his neck, glass created by his glassblower daughter, Eve.  This incredibly fabulist method of death is carried forward. Ann Cleeves, the most careful and meticulous of writers, nevertheless includes this almost gothic flight of fancy as a murder method.  It suits her updated golden age style of storytelling.
While the deaths mount and the horror factor (could) be high, what grounds the series is Mathew Venn.  Matthew, who had grown up in an evangelical Christian home and then abruptly left the faith, has found happiness with his husband, Jonathan.  Matthew and Jonathan are the classic opposites attract situation: Matthew is buttoned up and cautious, Jonathan is artistic, messy and welcoming.  It's one of the happier marriages in mystery fiction, and I would have a hard time forgiving Ms. Cleeves were she ever to split them up.
The deaths include a mysterious string of suicides, one specifically being investigated by Dr. Yeo before he was murdered, and the death of a charming never do well artist who everyone tolerated but grudgingly loved.  Cleeves creates an entire community around Matthew and it's a true strength of the novel.
We come to know glassblower Eve quite well, as well as the inhabitants of the artist's colony and farm where her father's body was found.   While an artist's colony could almost be a traditional mystery trope, it's one that I really love, and the addition of the organic farming is an interesting twist.  We also get to know the touristy town in North Devon where the series takes place.  I grew up in a tourist hot spot and could understand the native's irritation with the crowds while still appreciating that they are the ones bringing in income.
Cleeves' books are a slow burn as she builds her stories brick by careful brick.  With this kind of approach, the ending needs to be bangin' to carry it off, and Cleeves achieves this in spades as she wraps up her story in a heartbreaking fashion.  The detective work that brings a result is meticulous but illuminated – as all good detective novels are – by flashes of brilliant insight and connections on the part of the detective.
The beautiful backdrop of Devon and the details of the birds who live there, reflected in the title, provide both metaphor and illustration of the area Cleeves is describing.  She takes you to her location and then puts you inside it, thanks to the depth of her characters.  This is another brilliant read from one of the most gifted traditional mystery writers at work today.