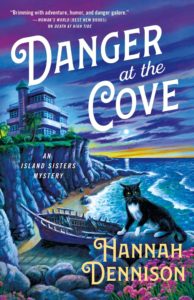 This is the second installment in the charming Island Sisters series, set in Britain's Scilly Isles.  Sisters Evie and Margot have taken over an old hotel and are managing it for the owner, though they are on the hook for repairs, which are turning out to be massive.  As the book opens, they are a few days out from their grand re-opening, and they are working full tilt to get everything ready in time.
Because the books are set on the tiny island of Treggarick Rock, accessible only by boat and at certain times because of high or low tide, every story is going to be essentially a locked room mystery.  Because the décor of the hotel calls back to the 30's, this adds a decidedly golden age feel to the proceedings.
Margot, formerly of LA, gets news that her buddy Louise, a very recent widow, is coming to stay to nurse her wounded heart.  When Louise shows up, she's not grieving that much (she is in fact waiting for the arrival of a new boyfriend), and she's incredibly high maintenance, refusing to take in the quaint charm of the hotel and instead looking for things like a helipad and high-speed internet (cell phone reception on the island is spotty).
Louise also comes bearing other news: she's optioned a book for film, a book that Margot has long wanted to make into a movie, and she seems to have found a financial backer in the form of her new boyfriend, Randy.  When Randy shows up, he's incredibly handsome and fit, and chats as easily with Louise as with Evie and Margot, as well as with the guys working on the electrical systems of the hotel.
Margot and Evie are working on a shoestring budget, however, and are not sure how Margot can supply any financial backing to the project.   Things are complicated when one of their employees takes off in their boat for the day and disappears. Increasingly alarmed calls from the man's girlfriend as to his whereabouts have everyone on edge, and indeed, he is discovered dead.
Dennison has structured the book so that that murder is discovered just about exactly halfway through.  She spends the first half giving a thorough examination of her characters and setting, leading up to the remains of a shipwreck visible only at low tide.  It's on an expedition to see the ship that the body is discovered.  The second half is then devoted to investigation.  By that time, as a reader, you are totally invested in the characters, in Evie and Margot's hotel project, and are probably dying to visit the Scilly Isles.
These books have a very real and enduring charm.  I love the two main characters, who are a good yin and yang (Evie is practical, Margot dreams big), and I love everything about the setting.  There's even a map provided in the front of the book to orient the reader to Treggarick Rock – another golden age touch.  This also had a wonderful mystery at the center, character based but with some great clues throughout.  This is a standout read.