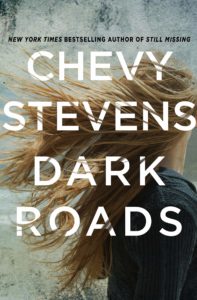 If you know Chevy Stevens you know Dark Roads will be a great read because, well, all her books are great reads. No one does the kind of contemporary suspense, rooted in the fabric of the way we live now (pre-covid anyway) like Chevy. She's kind of a female Harlan Coben, but to me she writes with more compassion and greater depth.
The titular dark road is Cold Creek Highway, a lonely, desolate stretch where many women have disappeared over the years and not quite as many bodies have been found. Hailey McBride moves into the town of Cold Creek to live with her aunt after her father dies, only to find that this refuge has a decided drawback in the form of her aunt's new husband, the menacing cop Vaughn.
Hailey is a great, spunky, somewhat exasperating character, trained by her father in natural lore, and when she finds her new living situation untenable, she takes to the woods. Things go from bad to worse when she discovers her girlfriend Amber's body buzzing with flies.
The book continues a year later when Amber's sister, co-lead character Beth, comes to Cold Creek for a memorial and is drawn into the place's dark web, working at the same restaurant as Amber and trying to solve the mystery of her death. Of course, the killer has other plans…
Pretty awful things happen in Chevy's books, but they never feel exploitative or gratuitous because of her marvelous powers of empathy. The reader can really relate to what these young women are feeling and believe in their interior conflicts. But at the same time the action sequences are second to none.
If you know Chevy through her social media as well as her books, the identity, or rather species of the third pivotal character will also come as no surprise. Wolf the dog is the fulcrum of the plot and a presence in his own right, brave and true as they come.
This is one dark road you'll want to go down, but, again, if you know anything about Chevy Stevens you don't need me to draw you a map — you already know that.  (Jamie)