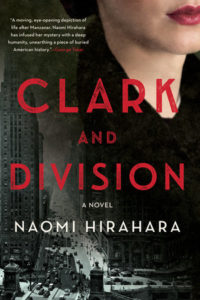 This book is a knockout.  Hirahara, author of three different series set in contemporary Los Angeles and Hawaii, has turned her eye to 1944 and the plight of American born Japanese, as well as first generation immigrants, right after Pearl Harbor.  It is still shocking to me that we created internment camps for Japanese citizens who were simply going about their daily lives.  Hirahara brings it home by focusing intimately on one family, the Itos.
The Itos – parents and daughters Rose and Aki – are hardworking, successful citizens.  Mr. Ito manages a produce market and Rose and eventually Aki work there too.  Rose is the star, the center of the family.  Aki looks up to her and wishes she had her strength.  This book could simply be the story of Aki discovering that strength in herself, but it is so much more.
One day the Itos are ordered to report to a camp where they will spend the next two years, sharing a room and a communal toilet that offers no privacy.  One of the more heartbreaking things in this book is the slow decline and implosion of Mr. Ito, who, deprived of work and freedom, begins to drink heavily.  Mr. Ito's situation is not front and center, but it's a heartbreaking through line that subtly illustrates the cruelty of the situation.
After a few years, the government begins to resettle Japanese all over the country, taking them from their familiar homes and plunging them into completely unfamiliar environments with instructions for not more than 3 to gather at one time.  Rose, the beautiful star of the family, goes on ahead to Chicago, and eventually the rest of the family will be able to follow her.
The day finally comes and the Itos head to Chicago, relishing the freedom of the train after being in camp for so long.  When they get to Chicago, it's dirty, noisy and confusing, and worst of all, when they arrive at the apartment Rose has found for them, they discover that she has died in a subway accident the night before.
Aki makes it her mission to discover everything she can about Rose's life in Chicago, talking to her roommates, going to the police department to retrieve her belongings, arranging a funeral and visiting her ashes, and delving deep into her sister's diary as she knows in her heart that her beautiful Rose would never have taken her own life.
Aki's journey to find out what happened to Rose mirrors her journey of growth as she becomes more confident and stronger, forcing herself into situations she would otherwise have avoided.  She finds her voice.  She and her parents find jobs – she ends up working at the iconic Newberry Library – and she finds a suitor, Art, whose family is well established in Chicago.
While the main part of the story – and it's beautifully told and rendered, and utterly heartbreaking – is the story of the family being sent to the internment camp and then resettled in a foreign place, it's also the story of Aki.  This intimacy with the character as a reader makes you experience, along with Aki, what's happening, almost in real time.  This is a completely immersive reading experience and a completely unforgettable one.
This is a shameful part of our history which Hirahara has turned a light on, but by giving the reader the gift of the Ito family, she provides some light and hope in the darkness.  This is a beautiful book, and one of the reads of the year.