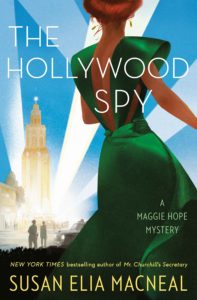 Susan Elia MacNeal somehow manages to write about incredibly dark topics – WWII, the Blitz, Nazis – with a non-heavy hand.  She visits the darkness but there's room in the world of her heroine, Maggie Hope, for light.  The last novel, The King's Justice, saw Maggie truly struggling with the many things she's seen and experienced since the start of the war.  It was a crie de Coeur. In this novel, while she's about to encounter more terrors, she's out in Hollywood enjoying the sunshine and the availability of food and drink not seen in England since the war began.
Maggie has been summoned by her old friend, RAF Commander John Sterling, who has lost his fiancée in an apparent accident.  He wants Maggie to investigate, as he is sure the woman was murdered. Maggie has come over with her friend, ballerina Sarah, who is dancing a short in a movie, directed by none other than George Balanchine.  The two women are being put up at the Chateau Marmont courtesy of Lincoln Kirstein.
It's 1943 in Los Angeles and things are not as they appear.  Hollywood is the perfect setting for this theme – a universe that's all shiny surface, with all kinds of undercurrents below.  While the message of the US at war is that everyone is in it together, MacNeal brings into stark relief the rise of the KKK, who were following the rise of Hitler and hoping for a complete takeover after the war. For the KKK "everyone" are white protestants and no one else.
The book is saturated in racism, from Maggie's discomfort at Schwab's when she notices a black nanny who cannot sit down next to her small white charge, to a depiction of the Zoot Suit riots. She also takes us into the KKK, a group that had infiltrated the LAPD and was running a candidate for Mayor.
While this book is certainly set firmly in 1943 and the war is very much front of mind, I went back to something I heard Laurie R. King say at a conference (this is a paraphrase): "When we write about the past, we are writing about ourselves."  I have never felt this more keenly when reading a book of historical fiction than I did when reading this book.  Written by MacNeal during the summer of 2020 when Black Lives Matter protests were blanketing our country and racial injustice was front of mind, this book has so many eerie echoes.
The attitudes, the organization, the dangers inherent in the KKK of 1943 are still manifested today, all too vividly. We haven't progressed so far. Though we are no longer a fully segregated society as we were back then, we are segregated, it's just more subtle.  We have yet to fully embrace the beautiful diversity of America, and mystery fiction is at the forefront of the examination of this issue.
MacNeal, as always, tells an incredible story, including the actual detection part, as Maggie quickly proves that Gloria, John's fiancée, was indeed murdered. Maggie's investigation takes her far and wide, deep into a KKK plot.  But MacNeal also gives the reader a glimpse of 1943 Hollywood, sprinkling her narrative with people like Walt Disney, Linus Pauling, Hattie McDaniel, Igor Stravinsky and others, as well as the glamor of places like the Chateau Marmont and the Garden of Allah, the bohemian hangout where Gloria was murdered.
This is a deft turn on MacNeal's part.  This is a great read, as always, but it's also a thoughtful and scary look at racism in 1943 that certainly brings the reader's mind many decades forward to today.  This series has now been around for nearly a decade, and I certainly hope it's around for at least another one.  Long live Maggie Hope, and the thoughtful skill of her creator.
For novels that take on racism check out:
Alyssa Cole's When No One is Watching
Sujata Massey's The Bombay Prince (while Massey is exploring India's struggle for independence, the struggle and passion she portrays have a large echo in today's world)
Stephen Mack Jones' August Snow books, featuring a half Mexican, half African American detective from Detroit.
Mia P. Manasala's Arsenic and Adobo.  This is a first in a series cozy that is definitely a cozy but still manages to give the reader an idea of how Brown people are treated differently by the police.
The miracle and gift of mystery fiction is that while these issues are certainly addressed, the authors are all ALSO great storytellers and spectacular writers.