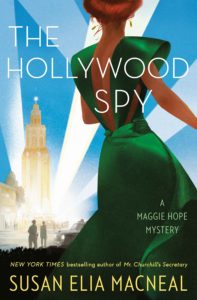 Today I'm really pleased to welcome Susan Elia MacNeal, author of the beloved Maggie Hope series.  Best news for readers – the new addition to this great series, The Hollywood Spy, will be published on July 6.  Susan agreed to give readers an advance look at what promises to be another great read.  You can pre-order it here.
**********************
Lassie Who? Meet Tallulah, the newest star of The Hollywood Spy.
 The Hollywood Spy has a wide range of characters—there's Maggie Hope, of course, and her ballerina friend Sarah Sanderson, who's in Los Angeles to dance in the film, Star Spangled Canteen. There's Maggie's former fiancé, John Sterling, a wounded RAF pilot now working for Walt Disney. And there are cameos from historic figures—Cab Calloway, Howard Hughes, Walt Disney, and Lena Horne, among others.
And there are also new characters—including Tallulah.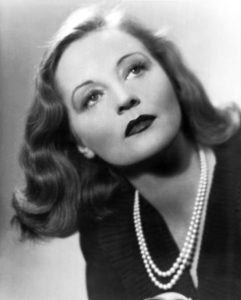 Tallulah (named after actress Tallulah Bankhead, of course) is a pitbull dog who flunked out of the LAPD's K-9 training program. But she was adopted by Detective Abe Finch, of the West Hollywood Division. And when Maggie teams up with Abe, Tallulah literally comes along for the ride, literally.
Here's how Tallulah's introduced:
After Maggie and John left, Abe returned to his desk; from underneath, Tallulah, his beloved small and muscular brindle pitbull, rose to greet him, and he patted her head. When she 'd been rejected for police work, Abe had adopted her, rather than see her go to the pound. He gave her a treat from his pocket, and she returned to her bed in the cardboard box under his desk. 
And here's another appearance:
Abe entered the bullpen with Tallulah on a leash. Even the most hard-boiled officers in their blues smiled and stopped to pet the pitbull, who enjoyed the neck scratches with an air of dignity and restraint.
And, of course, Tallulah and Maggie meet: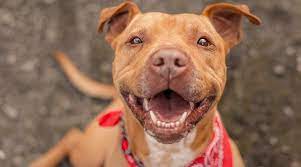 Abe pulled up to the Chateau in a patrol car, dressed in his uniform. Maggie was waiting for him, already wearing her green gown and silver shoes, her coppery red hair curled and pinned up. "Is this how the British dress to make an arrest?" he asked as she slid into the front seat. 
She blushed. "No, not usually—but I'm supposed to be going to the premiere at the Carthay after and I'm not sure I'll have time to change." 
"You're better-looking than my usual partner, that's for sure," Abe said as he pulled around, and then onto Sunset Boulevard. He jerked his thumb at Tallulah, who was curled up in the backseat. "Not as pretty as this one here, though." 
Maggie looked back. "Oh! Who's this?" she asked with delight. 
"My not-always-silent partner." 
"Well, hello, you!" Maggie said, reaching back and scratching Tallulah behind the ears. "Darling Tallulah!" The dog thumped her tail in happiness. They drove through air still thick with pollution as the cityscape gave way to a more suburban neighborhood. "So, what exactly happens on a stake-out?" she asked. "I've never been on one, actually." 
"We 're just going to wait until they pull out," Abe explained, as he tapped the brakes and pulled up to a curb around the corner from Woolley's house. "Then we follow. I'll see the broken taillight and pull them over. Then make the arrests." 
"Just like that?" 
"Well, sometimes," Abe said, cracking a smile, "there're snacks. Check the glove compartment." Maggie opened it. There were Candy Buttons, Red Hots, and a yellow box of Sugar Babies. 
"Impressive." 
"Pass the Sugar Babies, would you?" 
Maggie looked back to Tallulah, who let out a soft whine. "Anything for her?"
"Pig ear," Abe said, pointing to the glove compartment. "Somewhere in there."Maggie found it and passed it to the dog, who crunched down on it with great satisfaction. Maggie took a piece of paper for herself and peeled off colored dots, popping them into her mouth. The sugar was startlingly sweet on her tongue. "And now we wait?" 
Abe nodded as Tallulah continued her crunching in the backseat. "And now we wait." 
Tallulah's fictional, but she's inspired by a dog I knew, named Duke. Duke lived in London with his person, Christian, who drove a Mercedes Winnebago for various celebrities in the early aughts, including The Spice Girls. The Jim Henson Company used Christian for when my husband was doing appearances for Bear in the Big Blue House around London.
At first I was wary of Duke (all that bad pitbull propaganda), but soon fell in love. Duke only wanted cuddles and head scratches—and loved to sleep on your lap with his nose stuck into your armpit. He also love to play with a log (a huge log!) and adored clamping his huge jaws on one end, while you picked up the other to spin him around in the air.
We kept up with Christian and Duke, and years later learned that Duke was truly a hero. At a deserted traffic stop late at night, another vehicle pulled up next to Christian. A man slid over to the passenger side of his vehicle and tried to get the keys from the ignition.
But he didn't count on Duke. Duke saw what was happening and bounded up to the front seat, clamping his jaws down on the man's hand until the police arrived. (Later the man tried to sue Christian for his injuries and have Duke put down, but that did not happen.)
I knew I wanted to use this Duke-inspired story with Tallulah in The Hollywood Spy, but it needed a little more action. So I went to youtube, where I found a videos of some very, very good police dogs: https://www.youtube.com/watch?v=BnXkzLc8VhY and https://www.youtube.com/watch?v=S34aam-mGQE.
Want to find out what Tallulah does to save the day? Read The Hollywood Spy to find out!
***************************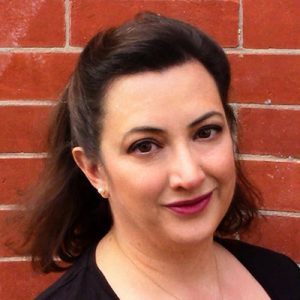 Susan Elia MacNeal is the author of The New York Times, Washington Post, Publishers Weekly, and USA Today-bestselling Maggie Hope mystery series, starting with the Edgar Award-nominated and Barry Award-winning Mr. Churchill's Secretary, which is now in its 22nd printing.
Her books include Princess Elizabeth's Spy, His Majesty's Hope, The Prime Minister's Secret Agent, Mrs. Roosevelt's Confidante, The Queen's Accomplice, The Paris Spy, The Prisoner in the Castle, and The King's Justice. The Maggie Hope novels have been nominated for the Edgar, the Macavity, the ITW Thriller, the Barry, the Dilys, the Sue Federer Historical Fiction, and the Bruce Alexander Historical Fiction awards. The Maggie Hope series is sold worldwide in English and has been translated into Czech, Japanese, Mandarin, Cantonese, and Turkish. It is also available in large print and audio. Magnolia Productions/Warner Bros. Pictures currently owns the film and television rights to the series.
Susan graduated from Nardin Academy in Buffalo New York, and also cum laude and with honors in English from Wellesley College. She cross-registered for courses at the Massachusetts Institute of Technology and attended the Radcliffe Publishing Course at Harvard University. Her first job was as the assistant to novelist John Irving in Vermont. She then worked as an editorial assistant at Random House, assistant editor at Viking Penguin, and associate editor and staff writer at Dance Magazine in New York City. As a freelance writer, she wrote two non-fiction books and for the publications of New York City Ballet.
Susan is married and lives with her husband, Noel MacNeal, a television performer, writer, and director, and their son in Park Slope, Brooklyn.