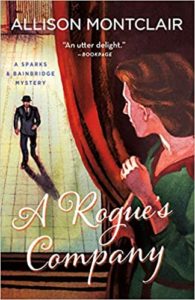 This has very quickly become one of my favorite and most anticipated series.  Set in London just post war, the main characters are Iris Sparks and Gwen Bainbridge, two opposites who work like clockwork together.  Iris is single and Gwen is a widowed mother living with her in-laws, and the two run a marriage bureau called the "Right Sort".  Each book opens with the approach of a client, and that sets off whatever delightful chain of events Montclair has in store for her reader.
Iris and Gwen have expanded their business a bit, and now boast a two-room office suite as well as a secretary.  The approach of their first African customer throws them off a tiny bit, but the ladies rally and agree to help find proper, polite Mr. Daile a match.  The book opens with a scene in Africa. It's brief though memorable, as a boat sinks and many are lost.  Certainly, you will be thinking to yourself, Mr. Daile is connected to this tragedy.  The cagey Montclair reveals no secrets before her time, though. Three books in, I was more than content to leave it in her capable hands and feel certain the link would be made clear.  (Reader, it was).
As the women prepare to match Mr. Daile, Gwen feels something is off about him – she thinks there is something he's not sharing with them, but they press ahead regardless.  Overriding Mr. Daile's matchmaking concerns are Gwen's concerns.  Her dictatorial father in law has just returned from Africa and overseeing his business there, and his desire to send her 6 year old son (and heir to the Bainbridge title) away to boarding school has Gwen in a frantic state of worry.
While Gwen and her mother in law had reached an armed truce of sorts in the last book, the arrival of her father in law blows everything to smithereens as he refuses to compromise and treats his wife like an afterthought, abandoning her each night for his club.  About half way through the book, Gwen and her father in law are kidnapped, and the distraught Lady Bainbridge reaches out to Iris for help as the two women have solved a crime or two.
This is the most personal of the books to date.   Putting Gwen in danger and allowing her to ultimately realize the many resources she actually has at her disposal, as well as giving her a chance to use her newly acquired self defense skills (she as taking a class at Iris' insistence), fleshes her character out even more.  This is handily done by letting the reader into the way her mind solves problems and seeing the result.
These books have a dash of adventure, a dash of (often thwarted, in Gwen's case) romance, a clever mystery, and much wit and intelligence.  The way the stories are put together are clever but not to the detriment of the characters, who are a complete delight.  In spirit these are very close to the Pamela Branch comic novels published in the 50's.  (Those hard to find gems were reprinted by the Rue Morgue Press around 15 years ago and I still snicker when I think about some of the scenes and the deliciously frothy humor in those books.)
Fifteen years later I am enjoying these books by Branch's kissing cousin and finding that they provide the most fun "between the covers" of any read all year.  Snatch up all three in the series to date and treasure them.