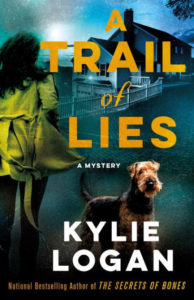 This is the third novel in Kylie Logan's Jazz Ramsey series, and a contribution to the growing number of mystery novels featuring cadaver dogs or rescue dogs.  Books by Paula Munier, Margaret Mizushima, Diane Kelly, Spencer Quinn, Robert Crais and David Rosenfelt all celebrate dogs in differing degrees.  Logan's is perhaps the least "doggy" series, though Jazz's cadaver dog in training, Wally, not only deepens Jazz's character, he advances the plot.
Jazz is an administrative assistant at a Catholic girl's school in her hometown of Cleveland, and as a hobby, she's training Wally to be a cadaver dog.  While he's still learning, he's come in handy in the first two books, and this one is no different.  Jazz is dating undercover officer Nick, who has asked her to keep an eye on his alcoholic mom, Kim.  When Jazz gets a call from Kim in the middle of the night insisting Nick is dead in her back yard – and that she killed him – Jazz rushes over.
There's nothing in the backyard and while Kim is sticking to her story, she's also really drunk, so Jazz, swallowing her irritation and the necessity of keeping tabs of her boyfriend's mother, tucks Kim up on the sofa and heads home.  The next day she brings Wally over after work to have him search the yard for a cadaver scent and to help put Kim's mind at ease. Wally doesn't alert, but Kim is still sticking to her story.
When a body is found a few days later, near Kim's but not in her yard, the plot thickens.  Jazz brings over a friend's dog, one who's more advanced in his training, to sweep Kim's yard again, and this time, he does alert.  Not only that, when the cops stop by on a neighborhood door to door asking about the dead man, Jazz is sure she's seen a photo of him of Kim's kitchen table though neither woman says anything about it, and Kim denies having known him.
Jazz is determined to peel back the layers of the mystery of both the photo on Kim's kitchen table as well as the identity of the dead man, so she starts asking questions, much to the annoyance of her boyfriend when he finds out what's happening.  She does get into physical danger but I appreciated that the main incident happened through no fault of her own – i.e., she headed into no abandoned buildings or remote locations on her own.
Logan folds in the details of Kim's working life at the girl's school – the principal and one of the teachers are friends and secondary characters in the novels – as well as her Cleveland setting, which is integrated seamlessly into the book.  The mysterious threads Jazz pulls apart are complex and sometimes heartbreaking.
Logan is a brisk storyteller, and the story moves right along, while at the same time investing the reader in  Jazz as a person.  She is very real on the page.  Her questions lead her often not just to answers to her puzzle but to some truly memorable human moments between the characters.  The central heartbreaker in this novel is Kim, who is struggling with alcoholism, and who disappears toward the end of the book.  The resolution wraps up all the threads brilliantly, mystery and character wise. I was wiping away a tear as I closed the book, and you might be too.  This is an extremely enjoyable and readable series.