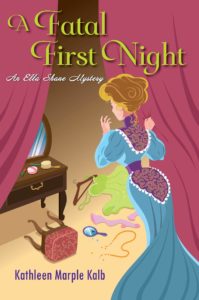 This is the second in Kathleen Kalb's delightful series about opera star Ella Shane, who is working in  New York City in 1899.  She and her cousin Tom run an opera company and live agreeably together in a large brownstone with Ella's parrot, Montezuma.  These books have a really vivacious quality, matching Miss Ella's own.  Not only is Ella a working woman in 1899, she sings men's parts – she's what was known as a "trouser diva".
Her first nights tend to be problematic, however.  In the first book, as she sang Romeo to her Juliet, Juliet was really dead.  In this book, though the stage portion of her new show goes perfectly, when she comes off stage she discovers one of her co-stars in his dressing room, covered in blood, a dead man at his feet.  The gentle singer is hauled off to the Tombs and Ella tries to wrap her head around his guilt.
This story has many interlocking pieces, all juggled (seemingly effortlessly) by the skillful Kalb.  Ella's buddy Hetty, a reporter usually banished to writing about hats, is actually covering the murder trial of a wealthy New York matron accused of stabbing her husband to death.  Ella's swain, the dashing Lord Leith, has returned from England for some mysterious purpose, but a large part of it seems to be to courting Ella. Ella, who adores her friends' children and has – feelings – for Gil (aka Lord Leith) is still torn about him, as she wants to maintain her career, not a common option for married women in 1899, on either side of the pond.
And then there's her poor co-star, Albert, languishing in jail and insisting on his innocence. Along with Albert's arrest, there are also several disparate incidents that occur backstage or "theater adjacent" that lead Ella, her cousin Tom, Gil, and their neighborhood buddy, now a mob boss in Five Points, to wonder who the real culprit is for the crime Albert is accused of, and how he or she can be caught.   The incidents, which include a fencing duel on stage that goes horribly wrong, seem to put Ella in danger and the men in her life are surrounding her with protection, much to her annoyance.
As in the last novel, it's Ella who gets both the last word and the last lick and vanquishes her foe.  She's planning to head to England after the conclusion of their New York run, as her show is booked in London, but what's left hanging is what to do about Gil, though the feelings they have for one another are never in doubt.
Kalb writes with vivid assurance.  Her stories are well paced and well layered.  Ella's matrix – the characters who surround her – are as interesting and flawed yet human as she is herself., as is the theatrical setting. While in this novel the mystery part was about of equal importance to all the other things happening in Ella's life – mainly her romance with Gil – I didn't care a bit.  This book is by a woman who knows how to tell a story.
A caveat:  these are well written and worthy novels, and the art on the cover is so egregious I feel I have to mention it.  The art is cartoonish and makes the books look silly, which they are not.  I hope the cover doesn't put any readers off (please don't let it) and I hope Kensington gives these book covers a little more thought going forward.