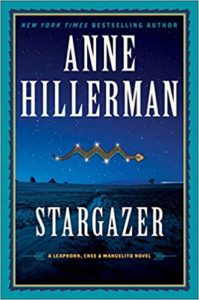 This seems almost unbelievable, but it's been 51 years since Tony Hillerman published his first Joe Leaphorn novel, The Blessing Way.  The books are now such revered classics I was hesitant when I picked up Anne Hillerman's first book, thinking there was no way she could continue the work of her father.  But Ms. Hillerman has made the series her own.  The central character is neither Joe Leaphorn or Jim Chee, but Bernadette (Bernie) Manuelito, giving the series an entirely new flavor.
Bernie and Chee are married and Leaphorn was literally dumb in the first book, recovering from a head wound.  He has his words back, but they are halting, and complex communication is done through the written word.  That makes him, as he should be, more or less the series oracle.  In this novel, Chee has temporarily become Bernie's boss, which makes them cranky with one another.  However, these books really belong to Bernie.
The case Bernie catches seems like a simple one.  A man is found shot in his car, an apparent suicide, but one of Bernie's high school friends quickly confesses to the crime, offering no details of any kind.  This simply doesn't sit right with Bernie, who knows the woman as someone she had supposed would never kill another person.  She's a single mom raising her son with the help of her brother, and the dead man in the car is her husband (not quite her ex) as well as her son's father.
Bernie's investigation takes her a bit far afield.  The dead man had been an astronomer, working at the VLA, or Very Large Array, a radio astronomy laboratory.  From Hillerman's afterword, the VLA studies "celestial objects that give off radio waves."  The dead scientist had been studying black holes and the possibility of other life forms in the universe.  While some of the science is complex (and the afterword offers a friendly explanation) Hillerman drills down to what I think she's truly interested in: the beauty of the New Mexico sky.  The VLA is located in a remote location to avoid light pollution.
These books, like her father's before her, are a nice mix of Navajo culture and an explication of family life and relationships ranging from Bernie and Chee's marriage, to Leaphorn's relationship with his partner, to Bernie's complicated relationship with her aging mother and a sister who has recently turned her life around.  This aspect of the books adds a rich background for the characters and for the reader.  In this novel, the family dynamics of the confessed murderer also come into play.
There's a secondary case as well.  When Bernie goes out to serve a warrant she runs into some errant cattle, and in trying to track down the owners, she discovers a woman tied up and beaten, along with a dead baby.  This case haunts her trough the novel and pushes her toward a different career path.
The central case, though, is the murder of the man in the car, a case that seems so simple and obvious everyone keeps telling Bernie to drop it.  When Leaphorn gives her a good nugget of advice, it helps Bernie crack the case.  While I appreciated the setting and beauty involved in the denouement, I was annoyed that Bernie had gotten herself into a classic woman in peril situation. However, it did provide a twist I hadn't seen coming – I thought I had figured the ending out.
This is a solid, enjoyable series, taking the flavor of Tony Hillerman's classic novels and centering them firmly in the 21st century.  I love the character of Bernie Manuelito and look forward to sharing many more adventures with her.