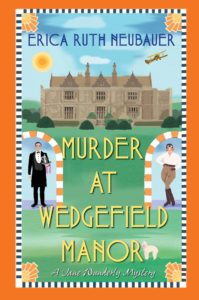 Murder at Wedgefield Manor is the delightful second book in Erica Ruth Neubauer's series set in the 1920s, featuring the adventurous American World War I widow Jane Wunderly.  After solving a mystery in Egypt in the first book, Murder at the Mena House, Jane, her matchmaking Aunt Millie, and Millie's secret daughter Lillian arrive at Wedgefield Manor, the English country estate of Lord Hughes, who had been Millie's lover years ago.  Quite possibly, Millie and Hughes are rekindling their romance.  Lillian is the product of their brief affair.  Lord Hughes and his wife had adopted Lillian and raised her as their own, and as far as Jane knows, Lillian is not aware of the fact that Millie is her mother–a fact that Jane had uncovered in the course of her investigation in Egypt, where she met Lillian for the first time.
Jane enjoys her time at Wedgefield Manor, and, much to her aunt's dismay, she takes flying lessons from Group Captain Hammond, one of several World War I veterans Lord Hughes employs on his estate.  Another is the mechanic Simon Marshall, who shows a romantic interest in Lillian.  Simon is killed in a car crash, and when it turns out the brake cables were cut, everyone realizes his death was no accident.  Because Simon was driving Lord Hughes' car, Jane wonders at first if Hughes was really the intended victim.
Soon the enigmatic Mr. Redvers, who had worked with Jane to solve the murder in Egypt, arrives on the scene and offers his help.  Redvers' arrival causes Jane to attempt to sort out her complex feelings for him.  She cannot deny her attraction to him, and she knows her aunt wishes her to remarry–and to Millie, Redvers seems a better prospect than the divorced Group Captain Hammond.  But Jane still bears the scars–literally–from her marriage to a sadistic man who enjoyed causing her pain.  The story of Jane's marriage is detailed more fully in  the first book, but we know that Jane's husband was Millie's nephew (or possibly the nephew of Millie's husband–this is not made clear, but it seems more likely because Jane and her husband were not first cousins), and Millie has no idea how cruelly Jane's husband treated her.  Jane was relieved to learn of her husband's death in the war.  While Jane knows that Redvers is nothing like her husband, she is still too wary of men to commit herself to a relationship, and she also doesn't want to give up her cherished independence.
As Jane and Redvers investigate Simon's death, a series of suspicious incidents occur: Jane is pushed into a stream where she has found an object that might be a clue, and the fuel line of the airplane is cut.  Then there are two attempted murders, of Lord Hughes' nephew and then of Lillian's devoted companion Marie.  All the evidence points to Lord Hughes.  As it turns out, Simon had known a secret about Lord Hughes' activities during the war, and Jane wonders if it is out of a sense of guilt that Hughes employs so many veterans on his estate.  In spite of his suspicious business deals during the war, though, Lord Hughes seems a kind man, and Jane believes someone is trying to set him up.
For a while, Jane and Redvers are suspicious of an intruder on the estate, but this proves to be a dead end, and they also rule out Lord Hughes' wartime contacts.  It begins to look more and more as if someone on the estate is trying to frame Lord Hughes for murder.  But who would wish to do that?  Inspector Greyson, the local police officer, leads the investigation, with a great deal of help from Jane and Redvers, of course.  Greyson also shows some romantic interest in Jane, but he doesn't think a woman should involve herself in a murder investigation.  Jane, of course, wants to prove him wrong.
I enjoyed Murder at Wedgefield Manor very much, even though I have to admit that at first I was disappointed that Neubauer was not going to continue the Egyptian setting of the first book.  Because I miss Amelia Peabody, I was hoping for a new series with a similar setting.  But the delightful English manor house setting won me over.  Fans of Downton Abbey and Kerry Greenwood's Phryne Fisher series will love it.  I am not certain whether the next book will also take place at Wedgefield Manor, or if Jane will return to the United States–that is left up in the air at the end.  In either case, Jane is a heroine I definitely want to follow.  She's a strong, independent woman, willing to put herself into danger in pursuit of a criminal, but at the same time she has a great deal of vulnerability as a result of her traumatic marriage.  Redvers is an intriguing hero, with his mysterious past, which is only beginning to come to light.  I do not wish to give away too much, but I think the book ends on just the right note, in terms of the relationship between Jane and Redvers, and I am looking forward to seeing how things develop.
The book also includes a great cast of secondary characters, beginning with Millie, who sometimes comes across as overbearing–although not as much so as in the first book–but who genuinely cares for Jane and wants what she sees as the best for her.  Lillian, Jane's long-lost cousin, is also a strong character.  Lillian wants to have a career in golf, which is unusual for a woman at this time, and she refuses to give up her career for marriage.  Although Jane has no interest in sports, she understands her cousin's choice of career over marriage.  The employees on the estate are also compelling characters.  The pilot, Hammond, has something of a mysterious past as well, which puts him on the list of suspects.  There is also Sergeant Barlow, a black gardener from the West Indies, who lost a hand in the war, and who faces prejudice because of the color of his skin.  Jane is surprised at first to realize that this prejudice is as intense in England as it is in the United States.  One of the most delightful characters in the book is Martha, the extremely competent cook, who always knows when Jane needs some food to comfort her.  The pool of suspects is worthy of Agatha Christie, and this book will appeal to Golden Age mystery fans.  This is an excellent new series, and I look forward to finding out where Jane's next adventure will take her.
****************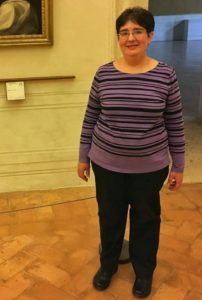 Vicki Kondelik is a cataloger at the University of Michigan's Graduate Library, and edits their book review blog, Lost in the Stacks.   She writes book reviews for the Historical Novel Society, and is currently writing a historical novel.  She has been an avid mystery reader for a long time.