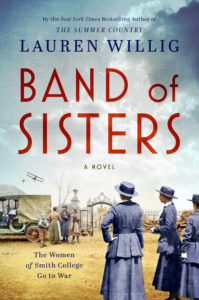 This is a slightly different book for Lauren Willig, as it's more straight up history than romance or mystery.  It's about a group of women, Smith College alums, graduating right before WWI, who form a relief unit and head to France to help the victims of the war in the French countryside.  They set sail for Paris in the summer of 1917, with ideas of what Paris will be like wildly out of sync with wartime Paris.  One girl is planning to buy her trousseau.
The two central characters are Kate, a scholarship girl at Smith who has been working as a French tutor, and Emmie, a wealthy daughter of a politically active suffragette.  The two had been best friends at Smith – Emmie's sweet goofiness balanced by Kate's practicality.  Kate wears a pretty big chip on her shoulder, though, and it often gets in the way of the friendship.  When they arrive in Paris, everything is topsy turvy.
The place they were supposed to stay isn't big enough, so Kate corrals the attic for them and they wait in Paris for passes, collecting goods they'll need for the countryside, before heading to their ultimate destination, Grécourt, just 7 or so miles from the front.  They have to find livestock, assemble the trucks they'll need (which arrive in parts), and lay in all kinds of supplies – blankets, books, pots, etc.  The list is long and when the girls finally arrive at their destination, they feel woefully unprepared.
The town is a ruin – the Germans have laid waste to it – and many of the townspeople are living in the ruins of the castle which has no roof.  The girls get a preassembled canvas barracks, so they do have a roof, but no one has warned them about the rain and mud and cold or the many, many families they'll be trying to help.  The two doctors in their group are quickly put to work and are quickly overwhelmed.
All of the girls evolve while they are in France, finding the skills they need – one is good with animals, one with children, etc.  Kate is good at mechanics, driving, and organization.  Emmie, who has a warm soul, is good at reaching out and figuring out what people need most and then trying to get it to them.  Their leader, Mrs. Rutherford, seems to conjure needed things out of thin air but a few of the girls are out to get her, and she's eventually sent on her way, leaving Kate mostly in charge.
This is also Kate and Emmie's story, so the gap between them is painful and hard to read about.  It's one of those friendship gaps that if not repaired will kill the friendship altogether.  Willig writes beautifully and not at all sentimentally about female friendship, and it's a true strength of this lovely, stuffed novel.  The way the women learn to work together and to bond to one another is wonderful to read about.
These women of Smith are truly an underreported, underrated story of WWI and Willig has brought their story to full, glorious light, often framing it with letters home (using a combination of real and fictional letters).  It gives a feel of the desperation, the cold, and she sheer unimaginable amount of work.  When they are forced to retreat toward the end of the novel it's incredibly heartbreaking.  Willig brings her novelist's eye and sense of suspense and pacing to her story, providing readers with an ultimately satisfying wrap up.  This is a book that will stick with you long after you've finished the last page.