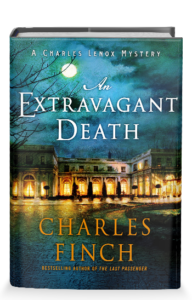 Confession: this is the first Charles Finch book I've read.  I'm not sure why as it falls in my reading wheelhouse – I love historical novels and Finch is covering a period of history I enjoy reading about.  I've certainly devoured books by Tasha Alexander, Deanna Raybourn, Dianne Freeman, Maureen Jennings and Anne Perry.  Finch takes a comfortable seat beside these writers, and his detective, Charles Lenox, is an appealing Englishman, covering the London streets of the 1870's.  This is a later book in the series and Lenox is comfortably married to the glamourous and capable Lady Jane, he's settled in his career, but he has always felt a yearning to travel.
When Prime Minister Disraeli calls Lenox to his office and asks him to go abroad – specifically to be away during a trial of top Scotland Yard officers he helped to expose – he's at first reluctant but the call of travel and of seeing the new world, especially as the Queen's agent, proves too much for him to resist, especially when Lady Jane gives him a gentle nudge.
Before he knows it he's at sea, heading for New York.  I found his point of view – an Englishman taking in a newly formed country – especially interesting and it made this novel stand out to me among the many other historical novels I enjoy.  He's not in New York for too long before he plans to head to Boston, but his train is stopped on the way, and a man comes aboard looking for him.  He has a request from someone in Newport to look into a local death, and there's a "special" (i.e. private train) standing by.  As he is learning, America runs on money, not titles, and the promise that everyone has a chance of earning some of it for themselves.  Newport turns out to be an especially garish example.
A man he had met in New York, Blaine, an admirer who also want to be a detective, turns up on his train to Boston and ends up accompanying him to Newport.  He is able to provide valuable local background, as his family owns one of the 50 bedroom "cottages" that made Newport so famous.  The murder turns out to be the murder of one of the loveliest girls of the social season, who is rumored to be engaged to one Willie Schermerhorn and it's on the Schermerhorn property that her body has been discovered.  It's his father who has requested Lenox though as Lenox makes clear, he's the Queen's agent, and not for hire.
He's certain the crime will be resolved before nightfall, but when it isn't, he takes up residence at a local boarding house and begins his investigation.  The descriptions of Newport, the food (both high and low), and the people that live there (again, both high and low) intrigue Charles and they intrigued this reader.  The denouement is Lady Astor's ball, and the descriptions of the almost grotesque lavishness of the affair is both fascinating and horrifying.
The mystery itself, in golden age style, has few suspects, but Finch plays his cards close to the vest. The resolution is both surprising and horrifying.  There are clues throughout that have laid the path and the ruminations of Charles at midlife as he both misses his family and relishes his experience abroad make this a book to be cherished.
.